SATURDAY BETTING REPORT - April 15
TAB betting report for Randwick and Caulfield on April 15.
RANDWICK
RACE 1: Mercurial Lad ($3.80-$4.80) was one of the better supported runners in the TAB Highway. Stalking the speed which was set by Fermanagh Lad ($8.50), Mercurial Lad held off the challengers down the straight to beat War Hero ($4-$5) while Tiger By The Tale ($8-$14) ran on strongly from the back to grab third.
BETS: Mercurial Lad $1,000 @ $4.60, $1,000 @ $4.20
RACE 2: Untamed Diamond ($11-$8.50) had specking in the market and despite a wide run was still too good for her rivals. Forced to sit three-wide for a good portion of the race, jockey Jason Collett got the best out of the four-year-old who kept coming down the Randwick straight to nail the leader Sweet Serendipity ($21-$31). Yuma Desert ($6.50), which had good backing earlier in the week, ran on fairly for third. The big disappointment for punters was Cannyescent ($3.80) who held 50 percent of the market.
BETS: Cannyescent $9,920 @ $3.80
RACE 3: Acatour proved to be a very costly proposition for punters here. TAB customers backed it from an opening price of $2.50 on Saturday morning into $2.15, with nearly 70 percent of the money riding with him. Settling second last for most of the race, Acatour came wide but couldn't make sufficient ground and was subsequently unplaced. Mongolian Wolf ($3.50-$5.50) was unwanted in comparison, however, relished the conditions to score an impressive win over Veladero ($8.50) and Screamarr ($11-$7.50-$9.50).
BETS: Mongolian Wolf $3,000 e/w @ $4.20/$1.58; Acatour $7,350 @ $2.20; Violate $2,000 e/w @ $21/$4.63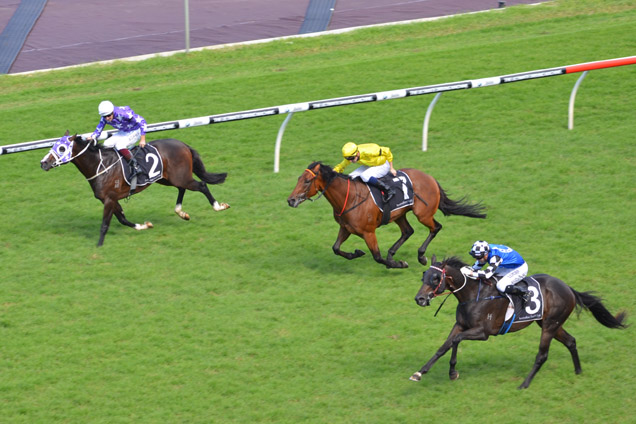 RACE 4: Redzel did the right thing by punters in getting the cash in the TAB Hall Mark Stakes. Backed from $3.50 into $2.90 at the jump, Redzel got out to as much as $3.80 during the week. Leading throughout, Redzel repelled a challenge from Counterattack ($11-$6.50) who had really good backing late. Hellbent, who held the most money of the runners, was a $4 chance after being $3.10 in the morning. It wound up third. Investments on Redzel and Hellbent accounted for 60 percent of bets on the race.
BETS: Redzel $2,250 @ $2.70, $2,000 @ $2.70, $2,000 @ $2.60; Hellbent $3,000 @ $3.80; Counterattack $3,00 x $1,000 @ $7/$1.88
RACE 5: Top Of My List ($23-$17) did attract some investment but generally punters didn't think it would figure. In fact, only $71 chances Bring Luck and Slow Pace held less money than the Anthony & Edward Cummings-trained runner. Leading throughout, jockey Tim Clark dictated terms perfectly to beat Sons Of John ($14-$12) which had the sit on it turning for home. Rudy ($18) grabbed third just in front of the heavily backed Astronomos ($3.30-$2.80-$3.40). Astronomos was nearly three times as popular as the next best supported runner (New Tipperary) and was responsible for 41 percent of the money.
BETS: Astronomos $2,000 @ $3.40
RACE 6: Punters were burnt here as Invader ($1.85) couldn't deliver like he did in the Inglis Sires last start. Heavily supported and one of the best backed runners all day, Invader was peeled out wide turning for home but couldn't reel in the leader The Mission ($8-$7). Jockey Damian Lane rode a terrific race aboard the Paul Perry-trained runner, who strode out and put a gap in the field at one point in the back straight. Whispered Secret ($4.60-$6-$5.50) wound up third after enjoying a good run. Invader was responsible for 60 percent of the total investment.
BETS: Invader $4,000 @ $1.85 TWICE
RACE 7: Tivaci ($9.50-$8.50) stormed home from near last to claim the All Aged Stakes. One of the better supported runners outside the favourites English ($3.20-$3.70) and Le Romain ($3.60-$4.40), Damien Oliver got him to the right part of the track with Tivaci storming home to beat Le Romain, who sat outside the leader for most of the trip. Jungle Edge ($15-$16-$12) led and ran a terrific race to hold third in front of Mcreery. The majority of punters were with English who held nearly four times the amount of money than the winner and nearly twice that of Le Romain. Of the others, Redkirk Warrior was $7.50 into $7 after being $11 when Final Field betting commenced.
BETS: Tivaci $2,000 @ $9; Le Romain $3,000 @ $4.40; English $10,000 @ $3.70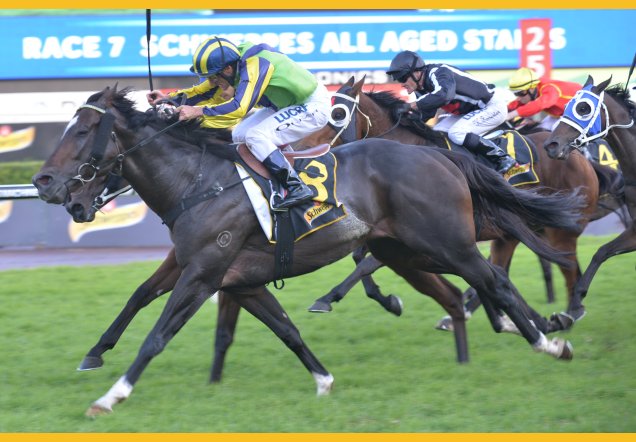 RACE 8: Raiment ($3.80-$5.50) bounced back after a costly last-start defeat. Despite getting the blows in betting, Raiment was still popular with only Prompt Response ($3.50) and Invincibella ($7) holding more money than it. Hitting the front on straightening for the run home, Raiment never looked in danger of defeat as it beat Invincibella, who had good backing early in the week, and Smart Amelia ($9-$9.50) who came down the grandstand side for third. Prompt Response was the big firmer from $4.40 into $3.50.
BETS: Raiment $1,000 @ $5.50 MULTIPLE TIMES, $1,000 @ $5
RACE 9: Kellyville Flyer ($26-$11-$9.50) landed a sustained betting move in coming down the grandstand side of the Randwick straight to score. Always handy in the run, jockey Tim Clark came to the extreme outside and it proved to be the winning move. It was the second leg of a double for Clark who earlier saluted with Top Of My List. Duca Valentinois ($7) ran well to grab second while Maurus ($12-$18) wound up third. Fabrizio ($4.20-$4.80) was easily the best supported runner in terms of money taken, going out three times as popular as Duca Valentinois, Moher ($8.50) and Marenostro ($15).
BETS: Moher $3,000 @ $9; Fabrizio $3,000 @ $4.40, $1,000 @ $4.20 MULTIPLE TIMES
CAULFIELD
RACE 1: Ma Jones was second past the post but won the race in the stewards room over Quilate. Popular with TAB customers, Ma Jones ($4.20) sat on the back of Quilate ($4.50-$4) but the latter drifted off the track to take Ma Jones' running which was enough for the protest to be overturned. Punters had backed Quilate into favouritism late. Lady Selkirk ($5.50-$6.50) wound up third.
BETS: Quilate $1,250 @ $4; Ma Jones $1,000 @ $4.20
RACE 2: Many Rewards ($3.70-$4.80) defied a betting drift to nose out Redcore ($10-$6.50-$5.50). Diving through on the inside of Redcore, Many Rewards fought back after seemingly being headed midway down the running. The heavily backed Easy Beast ($12-$3-$3.60), which opened double figures on Wednesday, was smashed in betting right throughout the week and after leading gave a good sight to wind up third. Easy Beast held nearly four times as much money as the winner.
BETS: Many Rewards $2,200 @ $4.60
RACE 3: Miss Vista ($4.60-$4.20) led throughout to land some good bets. Opening at $7 on Wednesday, money began to come immediately for her and by jump time she was easily the best supported runner. The George Osborne-trained runner was getting tired late but held off Grey Street ($14-$9.50) who was carrying some good money while Chase The Horizon ($6.50-$10) ran on strongly for third. Miss Vista held roughly 33 percent of all bets on the race.
BETS: Miss Vista $1,000 @ $4.20 MULTIPLE TIMES; Grey Street $3,000 @ $12
RACE 4: The judge couldn't split Plenty To Like or Waterloo Sunset at the finish of this one. Plenty To Like ($16-$17-$15) led and fought off almost every single challenger until Waterloo Sunset ($6-$5), who raced three back the inside, weaved through the field and came charging down the outside. So Poysed ($9.50-$14), which saw good money, was close up between them in third. Another Coldie ($4.40-$3.80) saw strong money in the closing stages of betting while Throssell ($6-$6.50) went out as one of the more popular runners in terms of money taken.
BETS: Another Coldie $3,000 @ $3.70; So Poysed $3,000 @ $14
RACE 5: Merriest ($6-$8) landed a long-range plonk in the fifth event of the day at Caulfield. TAB initially went up at $19 for the Danny O'Brien-trained runner on Wednesday, which immediately saw support. Constantly specked, Merriest jump as an $8 chance and charged home to run down the leader Snitty Kitty ($8.50-$9.50) in the shadows of the post. Selenia ($8.50) was third. Merriest went out as the most popular runner in terms of money taken along with Artemis Rose ($4-$6) who was a noted drifter.
BETS: Merriest $1,000 @ $6.50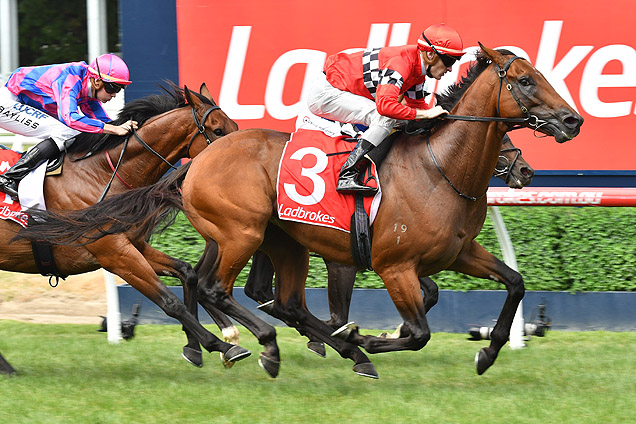 RACE 6: Boom Time ($5.50-$6) led throughout to cause a minor boilover. Easily the best supported to beat the very popular favourite Hans Holbein ($1.85), Boom Time was given a great run by jockey Beau Mertens as he kicked clear rounding the home turn and never looked likely to be run down. De Little Engine ($11) ran home fairly for second while Hans Holbein, which was one-one before coming three-wide at the bend, plodded home for third just in front of Self Sense ($7-$9.50) which came from the back. Boom Time held more than double the amount of money than the runner-up, however, that was still around 50 percent of the hold that the favourite was carrying.
BETS: Boom Time $3,600 @ $5.50, $2,000 @ $5.50; Hans Holbein $3,520 @ $1.85
RACE 7: Miss Gunpowder ($4.20-$5.50) stormed home down the centre of the track to salute for her backers. Although she drifted in the final 30 minutes of betting due to the big backing for Lake Como ($5-$3.60), Mss Gunpowder went around as the most popular runner. Boomwaa ($11-$9) led and gave a great sight to finish second while Heza Ripper ($15-$12) was third.
BETS: Miss Gunpowder $3,000 @ $5, $1,500 @ $4.60
RACE 8: Hooked ($6-$6.50-$5.50) had a good run behind the speed and proved too powerful for his opponents at the finish. Peeling around the heels of the leader Charmed Harmony ($21) turning for home, it took most of the straight for the son of Casino Prince to overpower the frontrunner to score. Hooked was easily the best backed to knock over the popular elect in Hellova Street ($3-$3.70), who was unplaced after having a wide run. Hooked accounted for 27 percent of the total investment.
BETS: Hooked $1,600 @ $6, $2,000 e/w @ $5.50/$2.25
RACE 9: Observational did it again for its supporters by taking out the Easter Cup. After being well tried to take out the Golden Mile last start, TAB customers backed the son of Galileo from $13 in the morning to $9 at the jump. Observational came with a run four and five-wide approaching the turn and powered away to beat the easing favourite Second Bullet ($5.50-$8.50) with Double Bluff ($126) rattling home to grab the minor end of the prize. Grey Lion, who was $17 earlier in the week, was $8-$7 today but wilted after racing outside the leader while War Legend ($8.50) attracted good money along with Goldstream ($8.50-$6.50) and Tarquin ($10).
BETS: Grey Lion $1,300 @ $7; Second Bullet $4,000 @ $7
RACE 10: Sadaqa ($19-$16) led throughout and ran his rivals ragged to take out the final event on the card. Rated to perfection by jockey Chris Caserta, Sadaqa was pressured up front by Great Esteem but booted clear rounding the turn to salute for trainer Mick Cerchi. It was Caserta's first city winner. There was money around to suggest Curragh ($9.50-$7.50) would run a big race and that was true to form, with the horse running second while The Chairman ($8-$6.50) completed the placings. French Emotion, the popular elect in the final race, was fourth but never likely. French Emotion held more than double the amount of money than the next best backed runner which was Curragh.
BETS: French Emotion $2,000 @ $4.40, $2,000 @ $4