Saturday Post Mortem - September 9
Chris Scholtz reviews racing around Australia on September 9.
THE STARS
JOSH PARR: Cleaned up three feature races at Rosehill with three finely judged rides on Menari, Gold Standard and Deploy. Has cemented his place in Sydney's top bracket.
GERALD RYAN: Doubt that his team has ever been stronger. Big wins by Menari and Deploy have him sitting pretty for the spring.
Menari the ferrari!

The @GRyanRacing colt proves too good for Pariah in the G2 Run To The Rose at #Rosehill. pic.twitter.com/uDzK0OqgIw

— Sky Racing (@SkyRacingAU) September 9, 2017
DEPLOY: As impressive as Menari was, this one deserves the plaudits for setting course records back to back at Randwick and Rosehill – it's a rare achievement.
DAMIAN LANE: Took the honours at Moonee Valley with a treble. Could he win this season's Melbourne premiership?
MURRAYBAKER/ANDREWFORSMAN: What a strike rate this stable has in Australia. Oaks winner Bonneval kicks off what should be another big spring for their team with a classy win in the Dato Tan Nim Chan.
THEY SAID IT!
• "What a phenomenal day. I drove here with my Dad and I said I can ride three Group 2 winners and I've only got three rides." - Josh Parr predicted his big day at Rosehill.
• "Look at the size of this horse - it's phenomenal to ride an animal like this." – Josh Parr in awe of Menari.
• "Menari the Ferrari." – colourful summation from race caller Darren Flindell.
• "Menari came along and before he even raced I thought this is a fair dinkum genuine horse."- trainer Gerald Ryan.
• "He is a special colt. In 12 months I think he could be a Cox Plate horse." – Gai Waterhouse makes a prediction about Gold Standard
• "I would have liked to have seen him run through the line and run away from them a bit better but he won and you can't do much more than that. We might have to up the ante a bit now as we go on to bigger and better things." - Darren Weir's thoughts on Brave Smash.
• "He did it tough but good horses find a way to win at the end."- Damian Lane's view of Brave Smash.
• "This horse is just low flying. He's been bouncing since Randwick." Gerald Ryan's praise for record breaker Deploy.
• "Throw him in the deep end and see what he's got." – Josh Parr's advice on what Gerald Ryan should do with Deploy.
• "It's like I'm riding four horses at once. He's a nervous horse - a bit silly, a bit dizzy - but I am slowly working him out." - Corey Brown on the multiple personalities of Suncraze.
SIN BIN
JAKE DUFFY: Definitely made wrong decisions early on Sanadaat at Moonee Valley. Handed the race to Shoals.
ALWARD: Long way to go to be a Group One winner.
KARAVALI: False favourite.
OMEI SWORD: Quickly losing favour with those who thought she was something special.
BRAHMOS: Very poor effort from a popular favourite.
MUTAMAYEL: Ordinary for a Lindsay Park favourite.
NIGHT'S WATCH: Odds on shocker at Morphettville.
RIDE OF THE DAY
JOSH PARR/KERRIN McEVOY: Any one of Parr's three wins at Rosehill deserves a medal but Kerrin McEvoy's effort on Ravi was equally as good. His current form is faultless.
Ravi enjoys a beautiful ride from @KPMcEvoy and goes BANG in the G3 Sheraco Stakes at #Rosehill. pic.twitter.com/YykkQAgV1t

— Sky Racing (@SkyRacingAU) September 9, 2017
TALKING POINTS
ROSEHILL PROTEST: Plenty of punters were left lamenting by the decision to uphold the protest in the last at Rosehill, stripping the plunge horse Interlocuter of the win. It was marginal but it's clear the Sydney stewards under Mark van Gestel go strictly by the book in such cases.
That's a huge win! Interlocuter overcomes plenty of adversity to reign supreme in the last of the day at #Rosehill. pic.twitter.com/VxBYlIIuUo

— Sky Racing (@SkyRacingAU) September 9, 2017
BRAVE SMASH: Is he a genuine Everest chance? He did it the hard way to record his first Australian win at Moonee Valley but you can hardly rate the opposition against what he will meet at Randwick. He's classy but is 1200m too short – gives the impression he is going to be a superior miler on the big tracks.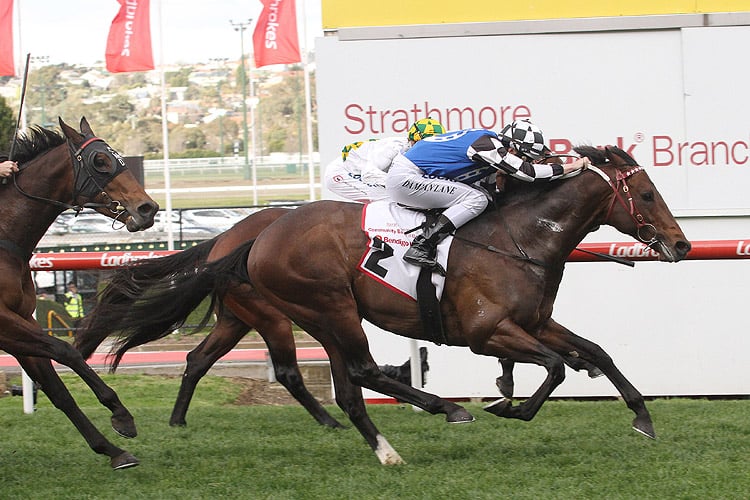 HOUTZEN: Set a task in small field and finished off fairly but did she do enough to warrant her high rating for the Everest? The pressure she will be under in the Everest will be a challenge.
STAR EXHIBIT: When is a fair start not a fair start? Declared a runner after he reared high as the gates opened and threw his rider out the back. It all comes down to a split second and the stewards interpretation.
BLACKBOOK
CAMBAGE
: Genuine improver in something longer.
DANISH TWIST
: Should have been in the finish. Obviously going well.
INTERLOCUTER
: Expect he can make quick amends for protest loss.
ABBEY MARIE
: Will be well placed against her own sex.
FOUNDATION
: Poor tactics. Suited on a big track.
RIYADH
: Not much went right. Will benefit from weight relief.
Most Read