Seoul Racecourse– Sunday December 3, 2017
Seoul Race 1: Class 6 (1000M) Allowance / KRW 60 Million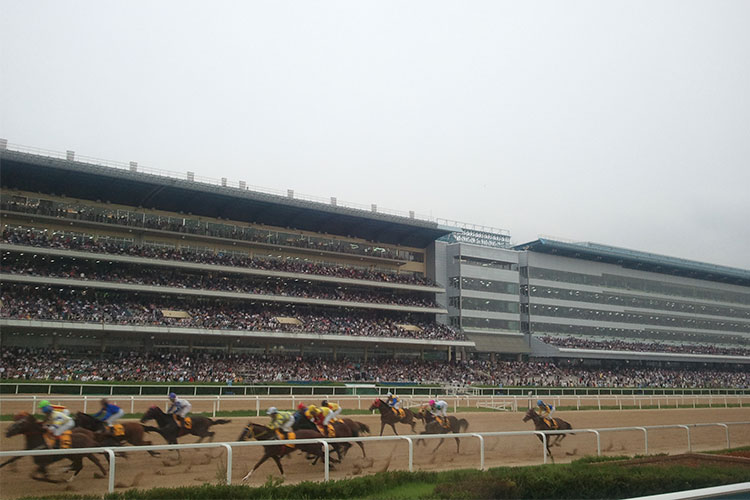 It's hard to oppose (1) NAM SON. He's been 2nd and 3rd in his two outings to date and drops back to the minimum distance at which he showed good speed on debut in October. He won't necessarily lead from the gate but he really should be leading when they hit the wire.
Filly (12) SEONGBUL CHAMP has shown a bit of promise too, improving across her two starts to date and narrowly missing out on 2nd last time. She should at least achieve that today. (4) SEOUL STORY was behind Seongbul Champ on debut and can improve here while (11) PALDO GANGTA and (5) GLOBAL NEWS, the latter being quick in his trial, are others to look out for.
| | |
| --- | --- |
| Selections | (1) Nam Son (12) Seongbul Champ (4) Seoul Story (5) Global News |
| Next Best | 11, 9 |
| Fast Start | 4, 5, 8, 12 |
Race 2: Class 5 (1200M) Handicap / KRW 40 Million
The 5th that (7) RAON ACE managed last start was less than half a length away from being a 2nd and a similar performance today should see him home on top. (12) MACHA BUCHA had a hard day at the office in one of the stiffest class 5's we've had at Seoul in a long time three weeks ago but can be given another chance today.
(2) SPECIAL LIGHT is up in class following a win over 1300M on November 5th and can be competitive. (3) RAON ROCKY returns from almost five months off and trialled well while (6) CHODONG RACE steps back in trip following a couple of unsuccessful attempts at 1700M and can be better today.
| | |
| --- | --- |
| Selections | (7) Raon Ace (12) Macha Bucha (3) Raon Rocky (2) Special Light |
| Next Best | 6, 10 |
| Fast Start | 6, 9, 12 |
Race 3: Class 5 (1300M) Handicap / KRW 40 Million
Up in class having won his latest two (albeit one in the stewards' room), (6) MAGIC TEN is the one to beat once more. He has an enforced jockey change today but can still win, likely coming from just off the early pace. (2) SUPER PUNCH was a winner at class and distance last start and while he carries an extra 3kg today should be firmly in the frame once more.
(1) BULHUUI SEUNGJA went poorly from a wide gate last time but is worthy another chance here. (9) STAR PERFECT's latest couple have been disappointing, but he too deserves another go. The wildcard is (10) ROYAL PARK. He races for the first time since March but had shown some talent before and trialled up in good order a couple of weeks ago.
| | |
| --- | --- |
| Selections | (6) Magic Ten (2) Super Punch (10) Royal Park (1) BulhuuiSeungja |
| Next Best | 9, 8 |
| Fast Start | 1, 4, 5, 8 |
Race 4: Class 5 (1000M) Handicap / KRW 40 Million
(2) HANIL MAGIC beat (1) BOLD NINER and (3) SHADOW MONEY as the trio raced 2nd, 3rd and 4that class and distance on November 4th. All three should be in the hunt again with Bold Niner slightly favoured. (4) DALLYEORA PACHYAI has developed a severe case of "second-it is", finishing runner-up on no fewer than four of his seven starts. He's been beaten by decent ones in both his latest two though and given a good start today, could make the breakthrough.
(11) SKY CAMP is also yet to win and comes up in class following two 3rd and a 2nd place and should be competitive at this level too but they one they all need to beat is (9) MENI JILJU, up in class following a seven-length win over the distance a month ago.
| | |
| --- | --- |
| Selections | (9) MeniJilju (1) Bold Niner (4) DallyeoraPachyai (11) Sky Camp |
| Next Best | 2, 5 |
| Fast Start | 4, 5, 6, 11 |
Seoul Race 5: Class 4 (1000M) Handicap / 75 Million
Just fillies here and it's a mix of experienced local-breds taking on relatively new imports. On the imported side, (4) HANYANGUI JILJU comes in following a decent enough 4th in a similar test at 1300M last month and may appreciate the step back in trip today while (5) MIGHTY PEARL races for the first time since June but impressed in a November trial and may be considered first-up. For the locals, (3) AEMA BISANG as a good 2nd on latest and can repeat.
She'll be joined in a likely fast start by (6) ARGO MELODY, a winner on her last try at this distance and who enters in good form. It took (8) PARTY POWER twenty-seven races to get her maiden win and she promptly followed up with another. She is up in class today but it is still dangerous to completely rule her out.
| | |
| --- | --- |
| Selections | (4) HanyanguiJilju (3) AemaBisang (6) Argo Melody (8) Party Power |
| Next Best | 5, 1 |
| Fast Start | 1, 2, 3, 6 |
Seoul Race 6: Class 6 (1700M) Allowance / KRW 22 Million
(1) NAEGA JAL NAGA beat a couple of these on his way to 2nd place over 1300M on November 5th and steps up to two turns here in search of his maiden win. He has every chance of getting it, likely looking to lead from the start.
That both the two behind him that day, (4) MUJEOKUI SUNGAN and (9) HANSEN BARROWS look to be among his strongest rivals suggest that this is not an especially strong race. However both (11) AJU PAEWANG and (12) WONDERFUL LUCKY have demonstrated some ability at this distance and the latter especially, looks a threat.
| | |
| --- | --- |
| Selections | (1) Naega Jal Naga (12) Wonderful Lucky (11) AjuPaewang (4) MujeokuiSungan |
| Next Best | 9, 6 |
| Fast Start | 2, 7, 8, 9 |
Seoul Race 7: Class 4 (1700M) Handicap / KRW 60 Million
(1) YES YOU CAN was a narrow winner over this distance in a similar race – though with a much larger field – on October 22nd. He carries an extra 3kg today but is very much the one to beat.
The main danger is (7) JEONGAN KINGDOM whose performance in his one try at this distance before was much better than the 7th place finish suggests and enters in good form. Those two will be strongly favoured to fill out the quinella with (2) JISANGGEOTAP and (4) SANGBIGUN looking to be best of the rest.
| | |
| --- | --- |
| Selections | (1) Yes You Can (7) Jeongan Kingdom (4) Sangbigun (2) Jisanggeotap |
| Next Best | 3, 6 |
| Fast Start | 1, 7 |
Seoul Race 8: Class 3 (1200M) Handicap / KRW 75 Million
Very tricky one this. (2) LEAD QUEEN's 4th in the MJC Trophy in September led her to be quite well fancied in a stiff contest at the end of October. She could only manage 8th place that day but was by no means disgraced and given a good start, could win this.
So could (4) RAON AMOS, who has been close in each of her latest starts and surely will be again. Raon Amos was beaten in September by (10) GOLD MUSIC, who returns for the first time since that race and can't be ruled out while the outside gate won't bother (12) DEUMJIKI who ran on well for a solid 2nd place last time. (6) SUPER START has been a little cold in his latest two but can go better dropped back in trip today.
| | |
| --- | --- |
| Selections | (2) Lead Queen (4) Raon Amos (12) Deumjiki (6) Super Start |
| Next Best | 10, 7 |
| Fast Start | 2, 3, 4, 5 |
Seoul Race 9: Class Open "The Breeders' Cup (KOR G2) (1400M) Allowance / KRW 500 Million
1. KING JJANG – Two wins from four so far and 2nd in decent test over a mile last time. Placing chances.
2. ECTON BLADE – 2nd to World Sun last time, don't rule out. Stablemate of Divide Wind.
3. OKAY QUEEN – 6th in the Gwacheon Mayor's Cup so some form to overturn. Top jockey on but an outsider.
4. SIN STEALTH – 8th in Gimhae Mayor'sCup was his first defeat. Has won at 1300M. Plenty to find.
5. WONDERFUL JACKPOT – 3rd in Gwacheon Mayor's Cup running on nicely. Extra furlong may suit and could be an interesting longshot.
6. SINUI MYEONGRYEONG – 2nd in Gwacheon Mayor's Cup. Placing chances again.
7. CHOINMA –Completed the Gyeonggi Governor's/Gwacheon Mayor's Cup double.Came from well off the pace and flew home. Distance should suit and he has a big chance.
8. DIVIDE WIND – Untested at further than 1000M or higher than class 5 but looks to have lots of potential. Will be backed.
9. GYEONGJUUI DUREBAK – Thomas Gillespie's filly was 4th to World Sun in the Gimhae Mayor's Cup Trophy and has won at 1300M.
10. WORLD SUN –Completed GC/Gimhae Mayor's Cup double. Distance should suit and very much the one they need to beat.
11. ICHEON SSAL–Won his opening two but left himself too much to do in the big races so far. May well appreciate the extra furlong to play with.
12. GLOBAL LINE – 8th behind Choinma in Gwacheon Mayor's Cup. Won both previous races comfortably including a very fast time over 1300M.
Verdict: This is billed locally as being (10) WORLD SUN vs (7) CHOINMA and it could well prove to be that. Both of them will look to close from off the pace and at this stage, you'd probably say World Sun is the better equipped.
That extra furlong could make things interesting – (11) ICHEON SSAL, for instance looks to need it and potentially even further. (2) ECTON BLADE got caught by World Sun in the Gimhae Mayor's Cup but prior to that made all over a mile so has no concerns about the distance, while his stablemate (8) DIVIDE WIND is unexposed and could go very well.
| | |
| --- | --- |
| Selections | (10) World Sun (7) Choinma (11) IcheonSsal (2) Ecton Blade |
| Next Best | 8, 6, 5 |
| Fast Start | 2, 6, 8, 12 |
Seoul Race 10: Class 1 (1800M) Handicap / KRW 110 Million
With two 2nds and a 3rd from his latest three and having beaten two of these last time, when getting within two-lengths of the highly-rated Dolkong, (12) HEUNGRYONG is likely to be favourite to go one better today.
(4) CHANMA was just half a length behind him that day and will surely be a danger again while this is the kind of race that (7) BICHUI JOENGSANG, inconsistent of late but still talented, can go well in with a late run. (1) CUPID POWER and (9) MENI MONEY should also be in the frame.
| | |
| --- | --- |
| Selections | (12) Heungryong (7) BichuiJeongsang (4) Chanma (9) Meni Money |
| Next Best | 1, 10 |
| Fast Start | 2, 8, 10 |
Race 11: Class 2 (1400M) Handicap / KRW 90 Million
(5) HWANGGEUM SORI is up in class following a narrow win over 1200M last month and a repeat isn't impossible. He's a closer and it won't be easy here. Also up in class is (8) CHEONGDAM DAERO, who drops back in trip for his first attempt at class 2 and he's another who'll look to come from off the pace that could well be set by (6) JJARIT, who tries this distance for the first time and (11) BRIGHT CAT, whose recent form has gone a little cold but could be better today.
All three have a chance. Giving weight to all of them is (10) CHASING DOLLARS, who enters following solid 2nd and 3rd places, both at class and distance and he can at least match those today.
| | |
| --- | --- |
| Selections | (10) Chasing Dollars (5) HwanggeumSori (8) CheongdamDaero (6) Jjarit |
| Next Best | 11, 7 |
| Fast Start | 2, 6, 11 |