Tabcorp extends Thoroughbred Breeders Victoria partnership
Tabcorp and Thoroughbred Breeders Victoria (TBV) have today announced an extension to their major partnership.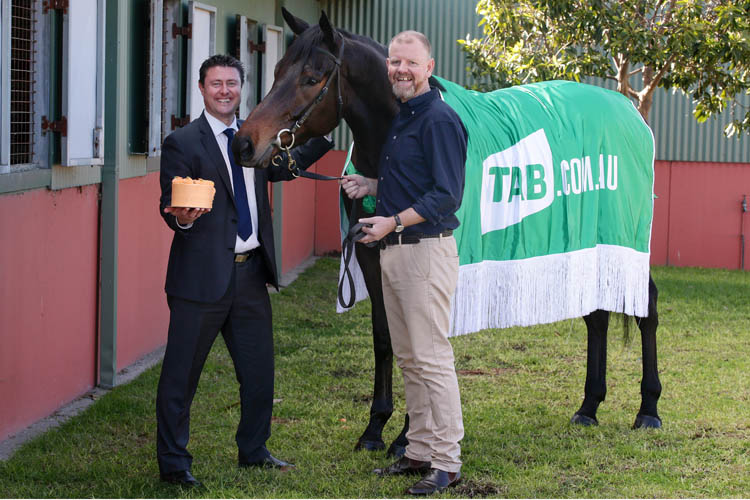 The agreement will see Tabcorp's wagering brand, TAB, secure continued rights as TBV's exclusive principal partner and official wagering partner. The two-year agreement is an extension to the partnership first established in 2015. TAB will continue to have a prominent presence on TBV communications and at TBV events.
Tabcorp's Victorian General Manager, Wagering, Trevor Parkes and TBV President James O'Brien joined Victorian-bred Group 1 winning gelding Hey Doc at Tony McEvoy's Flemington stable to celebrate the renewed partnership this morning.
Hey Doc was also treated to a birthday cake in honour of the thoroughbreds' birthday.
"Tabcorp is a supporter of racing's participants and our partnership with TBV is a natural fit," Mr Parkes said.
"Tabcorp's businesses return more than $1 billion to the three codes of Australian racing each year.
"Our partnership with TBV will continue to help it promote thoroughbred breeding in Victoria and we're delighted to back this important industry."
TBV President James O'Brien was thrilled Tabcorp had agreed to an extension of this important industry partnership.
"Tabcorp is a loyal and long-time supporter to Victorian racing delivering enormous dollars to our industry," Mr O'Brien said.
"Tabcorp's direct support of Thoroughbred Breeders Victoria most certainly enables us to enhance our marketing and support of the state's breeding sector."