Akeed Mofeed Colt Tops In Adelaide
A colt by former Hong Kong star Akeed Mofeed topped the second day of the 2019 Magic Millions Adelaide Yearling Sale at Morphettville on Wednesday.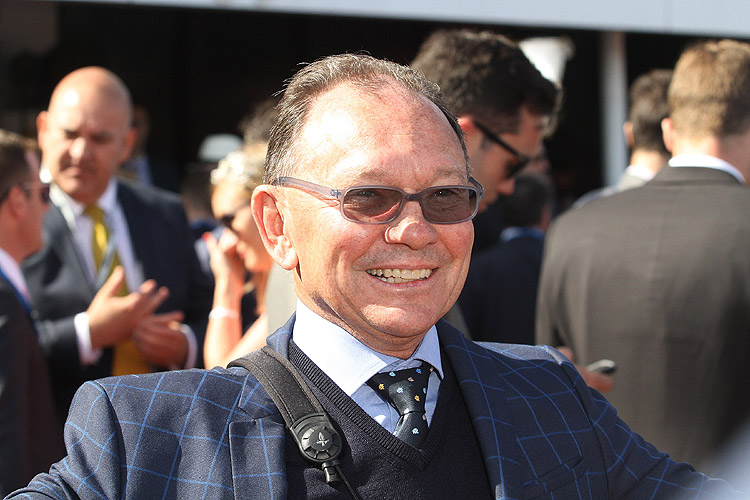 Leading Rosehill trainer Gary Moore snapped up his number one pick of the sale for $200,000.
The colt, offered by Goldin Farms, is a half brother to two multiple winners and is from a city performed More Than Ready half sister to Thousand Guineas winner Lady of the Pines.
"I've been watching him for the last two days," Moore said. "I admire his sire and was a fan when he raced in Hong Kong.
"Akeed Mofeed is doing a great job as a sire and it's no surprise, his progeny are very good looking horses with great bone."
Hall of Fame horseman Leon Macdonald purchased the next two top lots including the day's most expensive filly, going to $150,000 for a daughter of Cox Plate winner Shamus Award bred and offered by Willow Grove Stud.
She is a half sister to two stakes winners including the Macdonald/Gluyas trained star Tequila Time.
"She's quite a nice filly," Macdonald said. "She's not over big but she's put together well and I was always quite interested in buying her."
Also joining the Macdonald and Gluyas stable at Morphettville is the Shooting to Win colt from Gwynethanne who sold for $140,000.
That colt completed a massive sale for Tasmania's Armidale Stud who sold all three offerings at the sale for an average price of $133,333.
The only vendor above them on the averages was another Tasmanian nursery Grenville Stud with an average of $163,333 for their three sales.
Across the two days of selling over $11.7 million was traded with the Dundeel filly from Day 1 topping the auction when selling for $250,000.
While figures across the board for Book One were down on last year, the results of the sale were welcomed by the Magic Millions team.
"The good horses sold extremely well," Magic Millions managing director Barry Bowditch said.
"Vendors who supported the sale with the right horses have been rightly rewarded. It goes to show the South Australian breeders who keep their nice horses here and support the Adelaide Sale that they can get huge results."
The focus of the Australian bloodstock industry now switches north to Queensland with the 2019 Gold Coast March Yearling Sale to be staged next Monday and Tuesday.
2019 ADELAIDE MAGIC MILLIONS
BOOK ONE STATISTICS
Lots Catalogued: 345 (2018 331)
Lots Sold: 250 (252)
Lots Passed In: 66 (49)
Lots Withdrawn: 29 (30)
Sale Gross: $9,950,000 ($11,117,000)
Average Price: $39,800 ($44,115)
Top Price: $250,000 ($300,000)
Median Price: $30,000 ($35,000)
Sold %: 79.1 (84)
LEADING BUYERS
(ranked by total spend - Book 1)
$515,000 - Yu Long Investments (Australia) - 4 lots
$500,000 - Macdonald Gluyas Racing - 5 lots
$347,000 - McEvoy Mitchell Racing - 4 lots
$258,000 - Kennewell Racing/Group 1 B'stock - 5 lots
$250,000 - McEvoy Mitchell Racing/Suman Hedge B'stock - 1 lot
LEADING VENDORS
(ranked by average - 3 or more sold - Book 1)
$163,333 - Grenville Stud - 3 sold
$133,333 - Armidale Stud - 3 sold
$83,000 - Kulani Park - 3 sold
$77,500 - Glastonbury Farms - 4 sold
$72,300 - Goldin Farms - 10 sold
DAY 2 TOP LOTS
$200,000 - Akeed Mofeed-Calemore colt (Lot 254)
Vendor: Goldin Farms / Buyer: Gary Moore Racing (NSW)
$150,000 - Shamus Award-El Milagro filly (Lot 301)
Willow Grove Stud / Macdonald Gluyas Racing (SA)
$140,000 - Shooting to Win-Gwynethanne colt (Lot 338)
Armidale Stud / Macdonald Gluyas Racing (SA)
The see the results of the 2019 Magic Millions Adelaide Yearling Sale click here.