Easter Sale Day 2 - Fastnet Rock Leads Sire Averages
A Fastnet Rock colt out of the G1-winning mare O'Marilyn was purchased by Hong Kong's George Moore Bloodstock for $1.8 million on Day 2 of the Australian Easter Yearling Sale.
The colt was one of eight horses which sold for $1million or more on Day 2, taking the sale's total of seven-figure Lots to 15.
At the conclusion of Day 2, the sale's clearance rate has jumped to 80% with an average of almost $350,000, median of $260,000 and gross of $80,827,500.
For Kia Ora Stud's Alex Kingston the sale of the Fastnet Rock colt was the most magical moment of her career.
"These horses are finely selected for Easter. I've been at Kia Ora for eight years now and this is the best result in my time," Kingston said.
"As a boutique farm, this is our greatest moment, You hope for a good result but when it happens you don't expect it.
"This was my best horse and he was always going to come to Easter but to get this result is still amazing, a huge result for the farm.''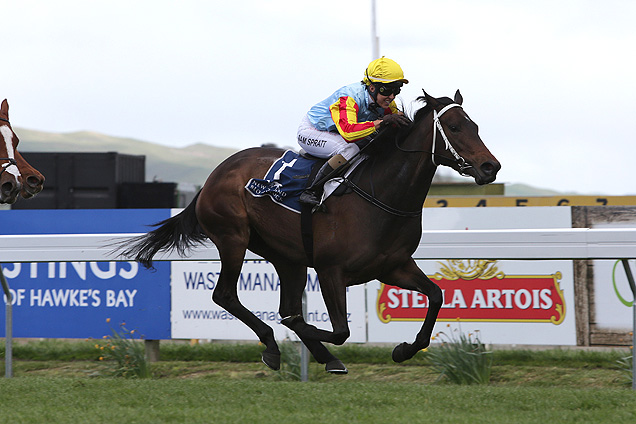 Moore was convinced he was going to buy the colt from the moment he first laid eyes on him.
"He's a good moving, medium sized Fastnet Rock colt but that's exactly what you want," said the son of Hong Kong trainer John Moore.
"I had $900,000 on the horse but my client was on the phone and said keep going so we've got him.
"He's exactly the right type of Fastnet Rock. He's not too big and he just flows.
"I think we got the best horse in the sale, he was my pick and I just loved him.
"He's a star, his x-rays are clean and when you get a Fastnet Rock that glides like that you have to go.
"He'll likely stay here for the time being and then we'll see what happens."
O'Marilyn has a filly to follow by Fastnet Rock and is back in foal again to the champion sire.
Fastnet Rock had two more seven figure yearlings on Tuesday with Coolmore consigned fillies from Rezoned and Frustrating selling for $1,250,000 and $1,150,000 respectively to Dean Hawthorne Bloodstock and James Bester Bloodstock.
The leading stallion by aggregate is Snitzel ($14,120,000) and by average is Fastnet Rock ($551,739).
The leading vendor by aggregate after two days is Arrowfield Stud ($11,390,000) and by average is Kia Ora Stud ($720,000).
Australian interests have bought 50% of the catalogue to date, Asian buyers 30%, the Middle East 10% and NZ 7%.
Gai Waterhouse and Adrian Bott are leading buyers by individual lots purchased with eight, while George Moore Bloodstock is the leading spender at $4,410,000.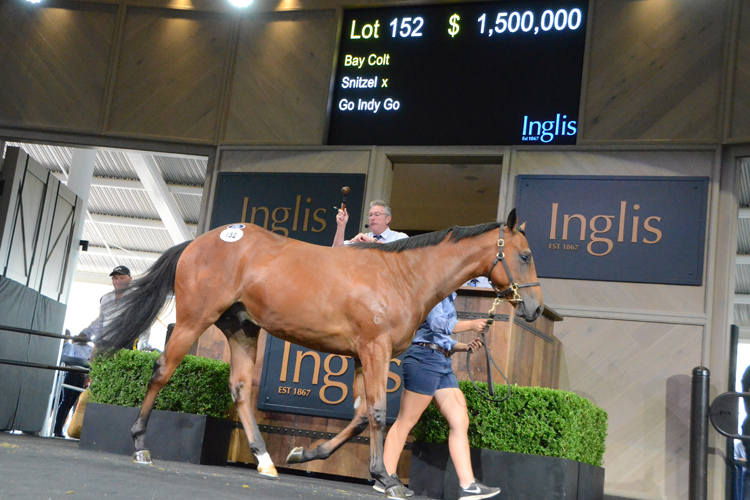 The Snitzel x Go Indy Go colt was purchased by a syndicate consisting of Steve Morley Bloodstock, Glenlogan Park, Whitby Bloodstock and RIFA Mustang for $1.5million, from Kitchwin Hills.
It was the first of two $1 million lots for Kitchwin Hills, the other being an I Am Invincible x Marianne colt sold to the Hong Kong Jockey Club for $1million.
"There's always that idea that there's a $1million horse in your draft but I've been selling yearlings a long time and I know they're hard to come by,'' Kitchwin's Mick Malone said.
Of the 15 Lots to make seven figures, 13 have gone to different buyers.
2018 AUSTRALIAN EASTER YEARLING SALE STATISTICS
(2017 figures in brackets)
Lots sold: 232 (225)
Clearance Rate: 80% (81%)
Average Price: $348,394 ($354,044)
Median Price: $260,000 ($270,000)
Top Price: $1,800,000 ($2,400,000)
Gross: $80,827,500 ($79,660,000)
Top Lots
$1,800,000 - Colt Fastnet Rock x O'Marilyn Vendor Kia Ora Stud; Buyer George Moore Bloodstock HK
$1,500,000 - Colt Snitzel x Go Indy Go Kitchwin Hills; Morley B'stock / Glenlogan Park / Whitby B'stock / RIFA Mustang QLD
$1,300,000 - Filly Snitzel x Azmiyna Arrowfield Stud; Waller Racing /G Mulcaster NSW
$1,250,000 - Filly Fastnet Rock x Rezoned Coolmore Stud; Dean Hawthorne Bloodstock NZ
$1,200,000 - Colt Snitzel x Asscher Bhima Thoroughbreds; G Waterhouse/Blue Sky Bloodstock/K Radcliffe NSW $1,250,000 - Filly Fastnet Rock x Frustrating Coolmore Stud; James Bester Bloodstock - NSW
$1,100,000 - Filly Deep Impact x Alverta Arrowfield Stud; Waller Racing/G Mulcaster NSW
$1,100,000 - Colt Frankel x Aqua Bella Arrowfield Stud; Domeland Pty Ltd NSW
$1,050,000 - Filly Snitzel x Asterix Arrowfield Stud; Jadeskye Racing /B. Widdup Racing /Andrew Williams B'stock NSW
$1,050,000 - Colt I Am Invincible x Eye for Fun Fairview Park Stud; A Bot /G Waterhouse /Blue Sky Bloodstock NSW