Magic Millions - Arrowfield And Snitzel Take Top Honors
Arrowfield Stud and champion sire Snitzel completed a leading vendor/stallion double at the record-breaking Magic Millions Gold Coast Yearling Sale.
Arrowfield finished as the leading vendor by aggregate for the third consecutive year with $13,680,000 paid for 46 of 49 lots sold.
Snitzel headed the sires' table by average for the first time with 33 lots sold for an average price of $483,788.
Arrowfield's top lot was the sale's top-priced filly, the much-admired Snitzel x Flidais sister to G1 winner Sweet Idea and G2 winner Showtime.
She was purchased for $1.8 million by Reg Inglis, Paul Frampton and American owner Jon Kelly and will be trained by Gai Waterhouse.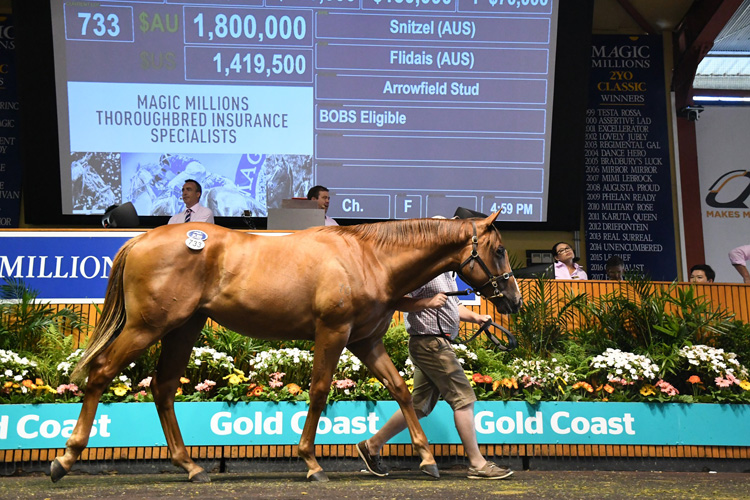 The top-priced colt by Snitzel was the $1.6 million paid for the colt out of Admirelle, a full brother to G1 winner and young sire Sizzling. He was purchased by Phoenix Thoroughbreds, Aquis Farm, Yulong Investments and trainer Ciaron Maher.
Snitzel's third seven-figure lot went to trainer Mark Newnham when he paid $1.1 million for the filly out of Intimate Moment.
Arrowfield also sold the $1 million Redoute's Choice x Cat by the Tale colt, knocked down to James Moore Racing. That colt is the 75th million-dollar yearling by the three-time champion sire.
James Harron, who has enjoyed success with previous Arrowfield Magic Millions buys Sweet Idea and Dracarys, signed for the farm's Snitzel colt from Madame Andree for $900,000.
Arrowfield and Snitzel accounted for five of the Sale's top 10 lots.
To view the results click here.
SALE STATISTICS
(2017 in brackets)
Lots Catalogued: 853 (816)
Lots Sold: 684 (649)
Lots Passed In: 87 (100)
Lots Withdrawn: 82 (67)
Sale Aggregate: $155,952,000 ($134,292,500)
Top Price: $2,000,000 ($1,300,000)
Average Price: $228,000 ($206,922)
Median Price: $170,000 ($160,000)
Sold %: 89 (87)

DAY FOUR TOP SELLERS

$1,100,000 - Snitzel-Intimate Moment filly (Lot 830) Buyer: Mark Newnham Bloodstock (NSW)
$625,000 - Written Tycoon-Hill Street Blues colt (Lot 803) Aquis Farms (Qld)
$625,000 - I Am Invincible-Harlem Heat filly (Lot 792)Gollan Racing/John Foote Bloodstock (Qld)
$575,000 - Snitzel-Just Dancing filly (Lot 852) Belmont Bloodstock Agency (Vic)
$525,000 - I Am Invincible-Impressions filly (Lot 821) Boomer Bloodstock (Qld)
$525,000 - Tapit-Inventive filly (Lot 831) Boomer Bloodstock (Qld)

BOOK ONE TOP LOTS

$2,000,000 - I Am Invincible-Tai Tai Tess colt (Lot 373) Reg Inglis/Jon Kelly/Paul Frampton (NSW)
$1,900,000 - I Am Invincible-Electric Dreams colt (Lot 686) James Harron Bloodstock (NSW)
$1,800,000 - Snitzel-Flidais filly (Lot 733) Reg Inglis/Jon Kelly/Paul Frampton (NSW)
$1,600,000 - Snitzel-Admirelle colt (Lot 480) Phoenix T'breds/Aquis/Yulong/Ciaron Maher B'stock
$1,450,000 - I Am Invincible-Commanding Jewel colt (Lot 624)Jadeskye Racing/BK Racing/Brad Widdup Racing
$1,100,000 - Snitzel-Intimate Moment filly (Lot 830) Mark Newnham Bloodstock (NSW)
$1,050,000 - Pierro-Dance Card colt (Lot 647) James Harron Bloodstock (NSW)
$1,000,000 - Redoute's Choice-Cat by the Tale colt (Lot 591) James Moore Racing (Macau)
$1,000,000 - Fastnet Rock-Risk Aversion colt (Lot 239) Tom Magnier/John O'Shea (NSW)

LEADING BUYERS
(ranked by total spend)
$7,240,000 - James Harron Bloodstock - 10 lots
$6,585,000 - Gai Waterhouse/Adrian Bott/Blue Sky - 27 lots
$5,435,000 - Reg Inglis/Jon Kelly/Paul Frampton - 6 lots
$5,005,000 - McEvoy Mitchell Racing - 17 lots
$4,270,000 - China Horse Club/Newgate/Winstar - 10 lots
$3,795,000 - Orbis Bloodstock - 9 lots
$2,995,000 - Godolphin - 8 lots
$2,390,000 - Ciaron Maher Bloodstock - 10 lots
$2,295,000 - Guy Mulcaster Bloodstock - 11 lots
$2,200,000 - Blue Sky Bloodstock - 9 lots

LEADING SIRES
(ranked by average - 3 or more sold)
$483,788 - Snitzel - 33 sold
$478,649 - I Am Invincible - 37 sold
$405,667 - Redoute's Choice - 15 sold
$349,167 - Pierro - 12 sold
$340,000 - Fastnet Rock - 28 sold
$320,000 - Lonhro - 3 sold
$316,250 - Savabeel - 8 sold
$280,357 - Exceed and Excel - 14 sold
$278,913 - Written Tycoon - 23 sold
$277,045 - Zoustar - 22 sold

LEADING VENDORS
(ranked by average - 3 or more sold)
$427,143 - Yarraman Park Stud - 21 sold
$416,250 - Eureka Stud - 4 sold
$409,211 - Segenhoe Stud Australia - 19 sold
$395,909 - Bhima Thoroughbreds - 11 sold
$336,875 - Vinery Stud - 16 sold
$333,889 - Milburn Creek - 9 sold
$328,125 - Cressfield - 8 sold
$326,875 - Attunga Stud - 8 sold
$318,750 - Glenlogan Park - 4 sold
$304,412 - Element Hill - 17 sold

LEADING VENDORS
(ranked by total gross)

$13,680,000 - Arrowfield Stud - 46 sold
$8,970,000 - Yarraman Park Stud - 21 sold
$8,140,000 - Coolmore Stud - 38 sold
$8,085,000 - Baramul Stud - 45 sold
$7,750,000 - Segenhoe Stud Australia - 19 sold
Most Read