Magic Start To 2019 Gold Coast Sale
A colt by Redoute's Choice topped a record breaking opening session of the 2019 Magic Millions Gold Coast Yearling Sale on Wednesday.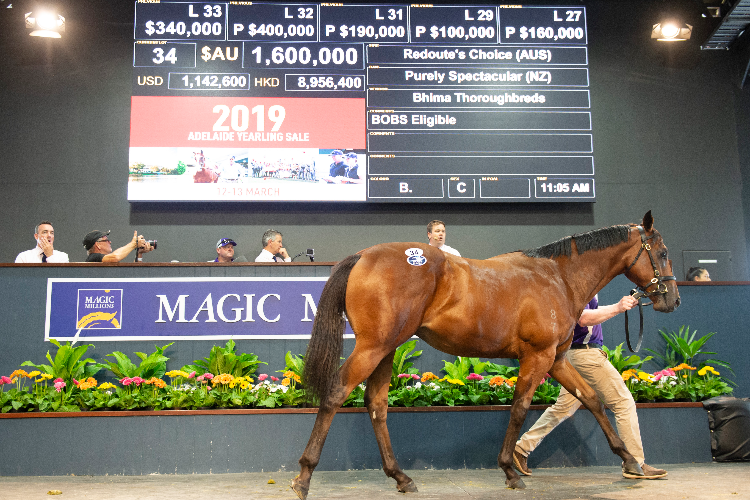 Some $50.715 million was traded on 200 lots sold at an average price of $253,575 and clearance of 84 per cent. All figures are well up on the corresponding opening session 12 months ago.
The $1.6 million colt was among four yearlings to sell for $1 million or more and helped return a record day one gross of over $50 million, up almost 30 percent on last year's record opening session.
The top lot by Redoute's Choice from Purely Spectacular was offered by Scone's Bhima Thoroughbreds and was purchased by the partnership of Aquis Farm and Phoenix Thoroughbreds.
The colt is a brother to the G1 winner and sire Stratum Star.
"We loved the horse," said Aquis Farm CEO Shane McGrath. "Redoute's Choice is a sire of sires and he's a brother to a proper Group One winner in Stratum Star."
"He's going to be an exciting horse for our partnership."
A brother to last year's Gold Coast sale topper by I Am Invincible from Tai Tai Tess was sold to the men behind world champion mare Winx, trainer Chris Waller and bloodstock agent Guy Mulcaster.
The colt made $1.3 million for Yarraman Park Stud.
"He's very similar to his brother and we hear he's got a lot of ability. We hope this bloke does as well," Mulcaster said.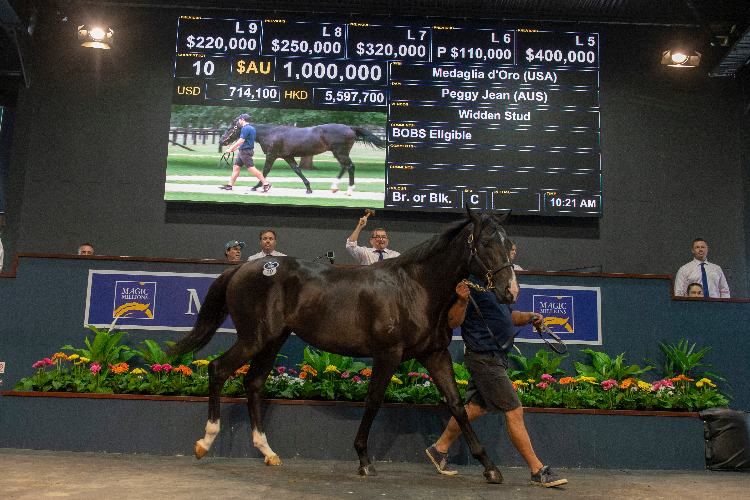 The first seven figure lots went to leading international bloodstock agent Marie Yoshida of Asian Bloodstock Services who went to $1 million to secure a colt from the G1 winner Peggy Jean by Medaglia d'Oro.
The colt will be trained by Peter and Paul Snowden.
The top priced filly of the day was the I Am Invincible x Rose of Choice youngster purchased by Yulong Investments for $1 million.
Bred by Western Australian businessman Keith Biggs, the filly is the second foal from her dam by Choisir.
The China Horse Club/Newgate Bloodstock partnership led the buyer's list after Day One after spending $3.46 million on eight lots.
Redoute's Choice is the leading sire by average for three or more lots sold at $690,000.
"We're thrilled with the results," Magic Millions Managing Director Barry Bowditch said. "It's a record breaking day for the sale."
DAY ONE STATISTICS
(2018 in brackets)

Lots Catalogued: 265 (252)
Lots Sold: 200 (182)
Lots Passed In: 39 (43)
Lots Withdrawn: 26 (26)
Sale Gross: $50,715,000 ($39,170,000)
Top Price: $1,600,000 ($1,000,000)
Average Price: $253,575 ($215,220)
Median Price: $170,000 ($170,000)
Sold %: 84 (81)

DAY ONE TOP LOTS

$1,600,000 - Redoute's Choice-Purely Spectacular colt (Lot 34)
Vendor: Bhima T'breds (As Agent) / Buyer: Phoenix T'breds/Aquis Farm (QLD)

$1,300,000 - I Am Invincible-Tai Tai Tess colt (Lot 204)
Yarraman Park Stud (As Agent) / Waller Racing/Mulcaster Bloodstock (NSW)

$1,000,000 - Medaglia d'Oro-Peggy Jean colt (Lot 10)
Widden Stud (As Agent) / Asian Bloodstock Services (HK)

$1,000,000 - I Am Invincible-Rose of Choice filly (Lot 72)
Yarraman Park Stud (As Agent) / Yulong Investments Australia (Vic)

$900,000 - Zoustar-Shakeira colt (Lot 117)
Widden Stud (As Agent) / Spendthrift Australia (Vic)

LEADING BUYERS

$3,460,000 - China Horse Club/Newgate Bloodstock - 8 lots
$2,260,000 - Waller Racing/Mulcaster Bloodstock - 6 lots
$1,600,000 - Phoenix Thoroughbreds/Aquis Farm - 1 lot
$1,580,000 - Jon Kelly/Reg Inglis/Jamie McCalmont - 3 lots
$1,250,000 - Aquis Farm - 3 lots

LEADING SIRES (by average - 3 or more sold)

$690,000 - Redoute's Choice - 3 sold
$421,053 - I Am Invincible - 19 sold
$396,667 - Snitzel - 15 sold
$372,500 - Zoustar - 10 sold
$366,875 - Sebring - 8 sold