Strong Trade Continues At Melbourne Sale
A Written Tycoon colt made $675,000 as strong trade continued on the second day of the Melbourne Premier Yearling Sale at Oaklands Junction on Tuesday.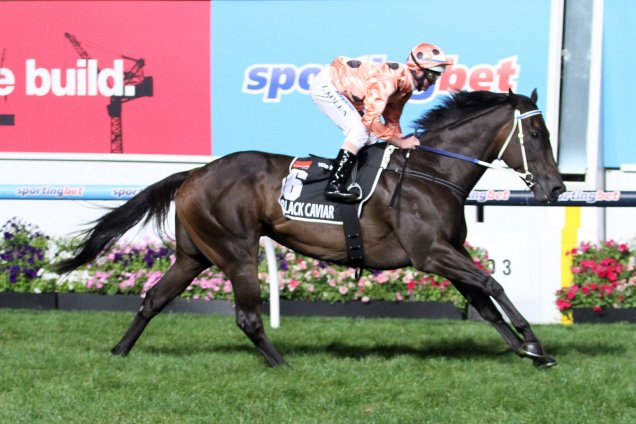 The colt from the Bel Esprit mare Naturale, a sister to unbeaten champion Black Caviar, was purchased by Mark Player's International Thoroughbred Solutions from the Gilgai Farm draft.
Player said the colt will need time but he is happy to be patient with the colt.
"There's no rush with him. He's a horse that's going to continue to develop and mature,'' Player said.
"He's come from a great nursery but it is a family that takes a little bit of time.
"He really is a quality individual and we're extremely thankful of the vendors for putting him up for sale.''
Day 2 saw 13 horses sell for $300,000 or more, taking the sale's overall average to $125,287 and median of $100,000.
Ciaron Maher Racing paid $575,000 for a Brazen Beau colt from Innovation Girl colt, continuing the demand for the first season Victorian-based sired.
Maher said his ultimate plan with the colt, offered by Blue Gum Farm, is to develop him into a valuable stallion.
"He's got the pedigree for it – he's a ripping type by a hot stallion with a strong page," Maher said.
"You've always got to have deep pockets to get those sorts of horses but they're the ones you really want to take home.
Blue Gum Farm's Phil Campbell wasn't surprised by the horse's popularity in the ring.
"He's never had a sick day in his life, he's just got the best attitude,'' Campbell said.
"You wouldn't believe how many times he's paraded down here this week and his last was his best.''
The day's third-top price of $520,000 was paid by Upper Bloodstock for a Kermadec colt from Promenades.
Blue Gum Farm ended Day 2 as the sale's leading vendor by aggregate with 18 sales for $3,815,000.
The leading vendor by average is Gilgai Farm at $260,833 from nine sales.
Yulong Investment remained at the top of the buyers' list by aggregate ($1,490,000) and equal top for lots purchased with Robbie Griffiths Racing/Peter Ford on eight.
Brazen Beau is the most popular stallion by aggregate ($4,060,000 from 14 lots sold) while I Am Invincible is the best by average (for three or more sold) at $360,000.
MELBOURNE PREMIER SALE
STATISTICS AFTER DAY 2
Lots Sold: 277
Clearance Rate: 79%
Average Price: $125,287
Median Price: $100,000
Top Price: $800,000
Gross: $34,704,500