Kerrin McEvoy ready to embrace Shergar Cup challenge at Ascot
British racegoers might be unfamiliar with some of the jockeys taking part in the Shergar Cup at Ascot on Saturday - but Rest of the World captain Kerrin McEvoy will not be one of them.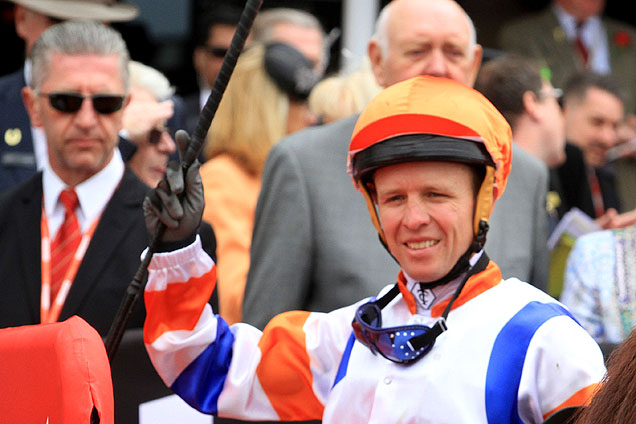 The 36-year-old Australian came to prominence in Britain when second jockey to Frankie Dettori for Godolphin for four years, before returning home in 2008 to ride as Sheikh Mohammed's main man.
His time in Europe was successful - he made many friends, some of whom he keeps in touch to this day - and his skill in the saddle earned rave reviews.
A Classic success in the St Leger aboard Rule Of Law and victory for Shamardal in the St James's Palace Stakes were the highlights here, but back home he has won two Melbourne Cups (Brew in 2000 and Almandin last year).
Adding extra spice for McEvoy this year is the participation of Michelle Payne, sister of his wife, Cathy, so family pride is at stake.
"It's always enjoyable to come back to England, I had some great years here," McEvoy told Press Association Sport.
"I've ridden in the Shergar Cup once before (2015) so I know what to expect now, but this year there's a bit more on it with my sister-in-law Michelle riding in it - there's a fair bit of rivalry.
"I still keep an eye on what is going on here, especially the big races, so it's not all new.
"I keep in touch with Jamie Spencer, Frankie and Johnny Murtagh still, so with Jamie also riding this weekend there'll be plenty of wisecracks - there always is with him around.
"I really enjoy being back and I'm looking forward to it."
McEvoy is not a regular in team events such as this, but he does enjoy a rare foray into something different, even if the end game is all about winning.
He said: "You don't really have team-talks, as such.
"I know you're in a team and your points add up together, but at the end of the day each race can only have one winner.
"It's still every man or woman for themselves and what you've got to remember is that there's good prize-money on offer for the connections of the horses and we couldn't have events like this without the owners."
McEvoy's Royal Ascot win with Shamardal came when the meeting was staged at York due to the redevelopment in 2005 and he is impressed with what has been done to the place.
"It's some spot now," said McEvoy.
"This day has a nice feel to it, a completely different atmosphere to the Royal meeting in June.
"But it's a big crowd - a different crowd and one that comes to enjoy the day - and there's all sorts going on after racing for them.
"Riding Ascot is great but there is a knack to it and I might not be telling Michelle everything!
"She was here earlier in the summer to ride Kaspersky in the Queen Anne, but that was on the straight course and the round course takes some knowing.
"In all seriousness, though, it does help to know it and there's a stiff climb at the finish. It's nothing like we have at home.
"I look to have a few chances according to the bookies and my best ride appears to be Contango in the Classic.
"Andrew Balding knows how to train a stayer, he won well last time out and is unbeaten."