Masar Lands The Derby
Charlie Appleby was wreathed in smiles as he became the first trainer to provide Godolphin with an Investec Derby victory in their blue colours after Masar stormed to victory in Epsom Downs this afternoon.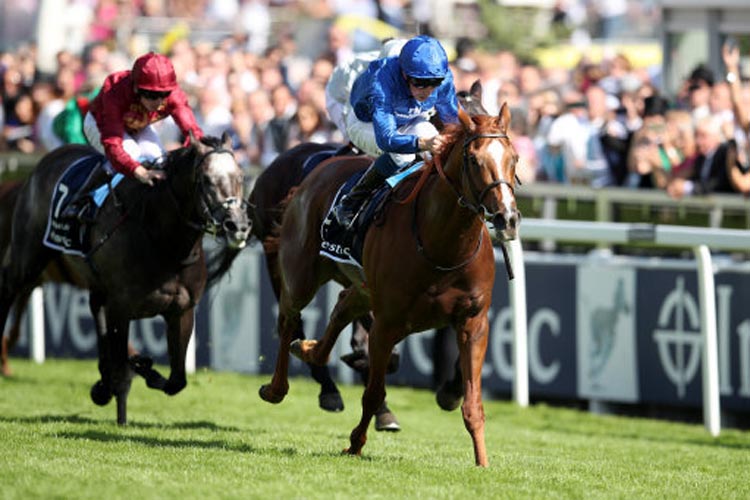 The 16/1 shot was always travelling kindly under jockey William Buick and the pair loomed ominously two furlongs from home, as they challenged leader Hazapour (ridden by Frankie Dettori - 5th) and eventual runner-up Dee Ex Bee (20/1), with the third placed Roaring Lion (6/1) still travelling well behind that trio.
Appleby couldn't quite believe the result immediately after the Britain's richest race, worth £1.5-million.
"That was absolutely amazing," said Appleby.
"All I could think of in the last furlong was that I wanted to be the first trainer to win the Derby in the Godolphin blue. It was a fantastic team effort. Brett Doyle (former jockey) rides him every day and has been so sweet on him since the 2000 Guineas (where Masar finished third behind today's 4/5 favourite Saxon Warrior, who finished 4th). We just wanted to get him to switch off and we thought he'd stay. William's given him a brilliant ride but the last 100 yards seemed a long time!
"It's such a special day with the Royal family being here. This season, we've just been knocking on the door and it was the same story yesterday (when 5/2 favourite Wild Illusion was beaten into second in the Investec Oaks). Obviously, I went home a bit disappointed, and it was a long drive home, but that's the great thing about His Highness (Sheikh Mohammed - owner of Godolphin), he told me not to worry and that we'd try next year.
"So I came here today very relaxed and just wanted the horse to do his best. It's been so good. It still hasn't sunk in and it probably won't for days or even weeks. I was always just hoping the door was going to open for us this season and, to be honest, I did think it was going to be yesterday.
"The great thing about the team around me, especially His Highness Sheikh Mohammed, is that they are so supportive. I'm a realist - I've been in this game all my life and we were beaten fair and square yesterday. You've just got to take it on the chin and take the positives out of it.
"Today was another day though. He put up a great performance in the Guineas and it was always going to be the best trial I thought.
"I'm very lucky to have been given this position and all I wanted to do when I got it was to win the Derby for the team. Each year, I've watched it go by without having a winner but you've got to keep trying."
The 16/1 chance had a good run through the race and crossed the line a length and a half ahead of Dee Ex Bee, trained by Mark Johnston and ridden by Silvestre de Sousa. Roaring Lion finished third, with the 4/5 favourite Saxon Warrior fourth under Ryan Moore.
Masar, the Craven Stakes winner and third in the 2000 Guineas, is a son of the 2008 winner New Approach out of Khawlah, who took the UAE Oaks and the UAE Derby at Meydan in 2011.
Buick, who had finished second in the Investec Derby on two occasions - with Jack Hobbs in 2015 and Libertarian in 2013 - said: "I am not going to explain myself very well but it's huge, it's massive.
"I have had a few rides in the race and come close a couple of times. I think this is my seventh or eighth Derby ride [it was his eighth] and I know some people have ridden more Derbys without winning, but there were a couple of times when I was thinking "is my time ever going to come?"
"To do it for His Highness Sheikh Mohammed and his family in the famous royal blue - they are very loyal supporters of me and I am just very, very happy to be part of it.
"He stayed the trip and travelled beautifully today. The Guineas didn't happen for him but he is a very good horse and the team believed in him. I am just very pleased.
"I have dreamed of this since I wanted to be a jockey. This is everything.
"I knew before the race that he would be a straightforward ride in the Derby. Charlie was very confident that this horse would stay and convinced me he would stay.
"It is something really special. It's the pinnacle of our sport, the Holy Grail, the be-all and end-all of everything."
Most Read