Percy Presents The Perfect Double
Presenting Percy came with a perfectly-timed run under Davy Russell to lead over the final flight in the Pertemps Network Final Handicap Hurdle and win by three and three-quarter lengths at odds of 11/1.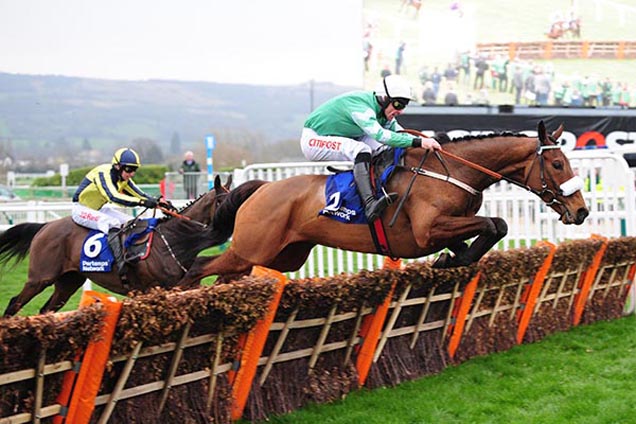 Presenting Percy
represents the same combination of owner (Philip Reynolds), trainer (Patrick Kelly) and jockey that won the 2016 race with Mall Dini.
Reynolds said: "It's an absolute dream. It's the same trainer, we bought the horse from the same people, the Costellos, and it's the same unbelievable jockey, Davy Russell. It's just mind-blowing. It's crazy stuff. It just shouldn't happen.
"I lived off last year - after last year's race I said I could give up racing now, I'd achieved what I wanted to achieve and, my God, the thought that we are about to walk through those gates [into the winner's enclosure] again...
"I bought this horse for my wife Anne. We've had very good luck buying from the Costollos - I bought Mall Dini from Tom Costello, and I went back after about a year and bought this horse from him, and after last year I said to Pat [Kelly, the trainer] I'd like to give my wife a present of this horse, and if you can have as much fun for her as you've had for me, it will be fantastic.
"He jumped fantastic, he travels unbelievably well, and we always thought with a bit of better ground he would be a better horse as he's always run on soft or even heavy ground and we were hoping we would pick up a few of those pounds [16lb] that [handicapper] Phil Smith gave us a few weeks back! There's no better jockey around for this track than Davy Russell.
"I was a bit fed up a couple of weeks back when the weights came out for this. People will be saying now that Phil Smith was right; I still don't believe that to be the case, but today is not the day for arguing.
"Pat Kelly is unbelievable, isn't he? He has a 100 per cent strike rate at Cheltenham, and he has one more to come in the Kim Muir [Mall Dini]."
It is difficult enough to train one winner of the super-competitive Pertemps Network Final, but to do it in consecutive years with different horses is fantasy.
Galway trainer Pat Kelly, owner Philip Reynolds and jockey Davy Russell made that reality when Presenting Percy (11/1) followed up last year's success by Mall Dini. Today's winner scored by three and three-quarters of a length and two lengths from Barney Dwan
(16/1) and Jury Duty (9/1) - The Tourard Man
(66/1) was fourth.
Russell apologised to British handicapper Phil Smith and his team after the race, following debate over the marks they allot to Irish horses in British handicaps.
The jockey said: "I have only limited opportunities to ride a winner here, and this horse was one. We felt Phil Smith was hard on him, and he wasn't. From my point of view I felt he needed to find an awful lot of improvement [off a mark of 146] and I didn't know where he would get it from.
"He jumped and travelled and really loved the ground and everything fell into place. I took a couple of chances, but he needed to settle with that weight, and so I tucked him in. If he hadn't jumped so well my plan would have come unstuck.
"He's never raced on this ground and he found improvement on ideal racing ground. The public don't know who Pat Kelly is, but he really knows his horses and does the right thing by them."
Kelly trains just five horses, and said: "I feel very lucky. I've got a lovely horse, a great owner and a free hand. I give all my horses time to improve and I don't kill them to win. If I get a clear round I'm happy, because they'll keep improving.
"I won a Galway Hurdle in 1992 when Albert Reynolds was Taoiseach and made the presentation - that's how I got to meet his son. He's a great owner from a lovely family.
"I have five horses, but you cannot get horses off Galway people. None of my owners are from Galway, but I don't want more horses, I like to work with what I've got."