Blue winner digs up an emotional victory
Our Little Digger's Group 2 Alabar Breeders Challenge Blue win at Menangle last Saturday night was an emotional victory for Clayton family.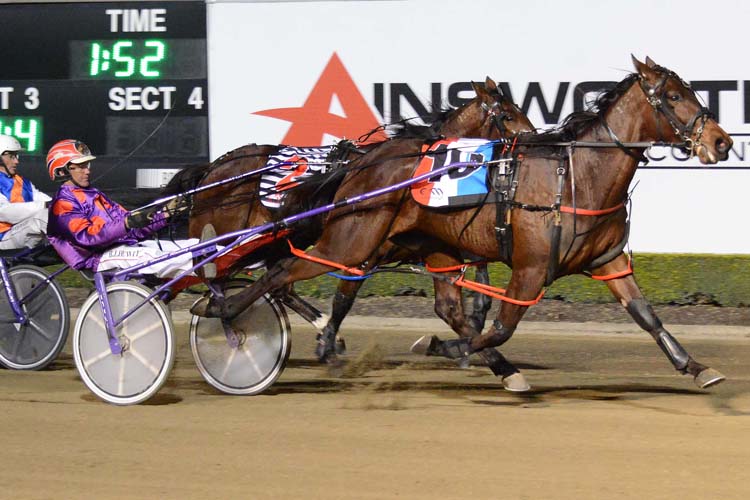 The gelding was one of the last horses bred by the late John Clayton from Bathurst.
Named after the breeder himself, Our Little Digger overcame his wide draw to take out the feature and his saddlecloth number (10) was an omen according to part-owner Mary Clayton.
"This horse was bred by my late husband, who hasn't been gone all that long, and is named after my late husband and he's wearing his number tonight so we had a bit of help from above," Mary said when accepting the winning trophy.
"It's been a real journey but it's something that has kept our family going . . . my son Darren is also a part-owner."
Trained and driven by Bernie Hewitt, Our Little Digger clocked 1:52.8 to win the feature giving the Georges Plain mentor a race-to-race double as he won the following Group 2 with Taylors Reason.
Snaring both three-year-old legs of the 2017 Breeders Challenge Blue Finals, Hewitt added to his Breeders Challenge success rate having now won five Breeders Challenge Finals overall and four of those have been Blue Finals.
Hewitt's success in this feature began in 2014 when Read About Lexy won the Breeders Challenge Blue two-year-old fillies final.
A year later he won the three-year-old fillies' edition with Pass The Magic and in 2016 with Ima Black Beauty.
However, it was just last month Hewitt obtained his first Group 1 winner when winning the Alabar Breeders Challenge three-year-old fillies' final with Royal Story.