Curtain draws on champion's career
IT has been a week of mixed emotions for trainer-driver James Rattray after making the tough decision to retire his champion pacer Beautide from racing.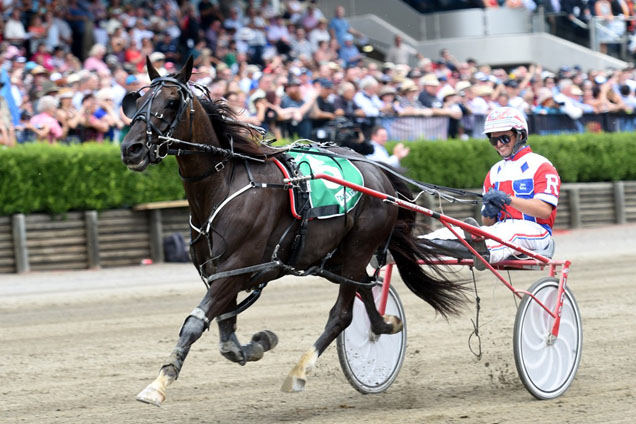 It has been 13 months since fans last witnessed Beautide at the racetrack but after a series of leg problems, Rattray thought it was in the best interest of his champion pacer to pull the pin on his racing career.
"After all that time off he just wasn't 100 per cent," Rattray said.
"He bruised his sesamoid.
"Taking everything into account, including his age, we've decided to retire him.
"It's sad to see, he did such a great job for the family.
"No one could ask him to do a better job."
Beautide, now a nine-year-old, was bred in Tasmania by the Rattray Family Trust which is made up of Rattray, his father Barrie, mother Denise and brothers Gareth, Adam and Todd.
They had bred five other foals out of their Ticket To Heaven mare Gorge Bush and the sixth foal was a colt by Bettors Delight that was later gelded and given the race name Beautide.
The Rattrays have bred from this family line since 1980 with some rewarding results.
However, Beautide certainly achieved the most, boasting a record of 49 wins and 20 placings in 81 starts pocketing $2,183,132 in prizemoney along the way.
He also clocked a personal best 1:50.2 when winning the 2013 November edition of the Miracle Mile.
Ironically, this is also Rattray's favourite win with his beloved pacer.
"My favourite win of Beau's was certainly the Miracle Mile because it was his first major win at that level," Rattray recalled.
"It's great just to have a horse in a race like that let alone win it."
Rattray and Beautide shared many great victories together including two Inter Dominion Grand Finals.
And this winning partnership amplified in June 2013 when the decision was made to send Beautide north from Tasmania to Sydney, when Rattray was based at John McCarthy's Cobbitty stables.
Beautide was an M0 at the time and Rattray and his partner Fia Svensson were nervous to race him at Menangle.
Yet little did they know that eight months later Beautide would stamp himself as a star of Australian harness racing, winning a Miracle Mile and Inter Dominion in the same season - a feat only Our Sir Vancelot (1997/98), Smooth Satin (2001/2002) and Village Kid (1986) had achieved before him.
"I think we were more nervous going into an M0 heat and final with Beau than what we have been lately," Rattray said after winning the 2015 Inter Dominion.
Beautide won six Group 1 races in total and 12 Group races overall.
He still holds the world record for the 3009m distance when he clocked 1:55.5 to win the 2014 Inter Dominion Grand Final at Menangle.
Now 'Beau' will spend the remainder of his days on Rattray's 60 acre property in Exeter on New South Wales' south coast.
"We're just happy to have him here," Rattray said.
Thanks for all the great memories 'Beau' – you have been an asset to harness racing.