Lenny You're A Superstar
A nose cost Lennytheshark victory in last year's Miracle Mile when Australia's most popular pacer was beaten by Have Faith In Me.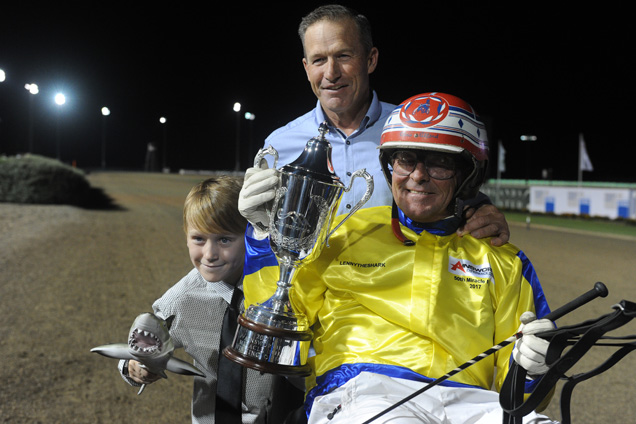 So that probably made revenge all the more sweeter at Tabcorp Park @ Club Menangle tonight when Lennytheshark prevailed by that barest possible margin, beating Mark Purdon's trio of Smolda, Lazarus and Our Waikiki Beach in the $750,000 Group One Ainsworth Miracle Mile . . . the 50th running of the elite invitation-only race.
It was an emotional reinsman Chris Alford who returned after 'Lenny' broke the magical 1:50 mark, rating 1:49.2 in a fabulous finish that capped off a great night of harness racing before a massive crowd at the south-western Sydney circuit.
Alford has run several placings in Miracle Miles with some great horses like Golden Reign and Tailamade Lombo but will be talking about Lennytheshark's greatness for the rest of his days after a victory that defied the critics.
Trainer David Aiken was just as overcome by this horse's incredible victory.
"He's had his problems this horse and my name may be in the racebook as the trainer but I can tell you this is very much a team effort," said Aiken.
"I'm originally a Sydney boy and I've been going to the Miracle Mile since I was eight or nine years old and I never really dreamed I would have a horse good enough to win it.
"This horse is just a dream. He's has leg issues and he had a foot injury in Perth but we've continued to swim him and get him right and tonight he showed what he can do. He's a freak."
Turning for home the crowd was on its feet as four great horses fought it out tooth and nail and despite Purdon's trio giving it everything, Lennytheshark refused to yield as he added the Miracle Mile to his Inter Dominion and a string of other great victories,