Pink invasion as speedy Angel sets sights on Summer of Glory
One of the most exciting mares in world racing is expected to contest Victoria's Summer of Glory carnival.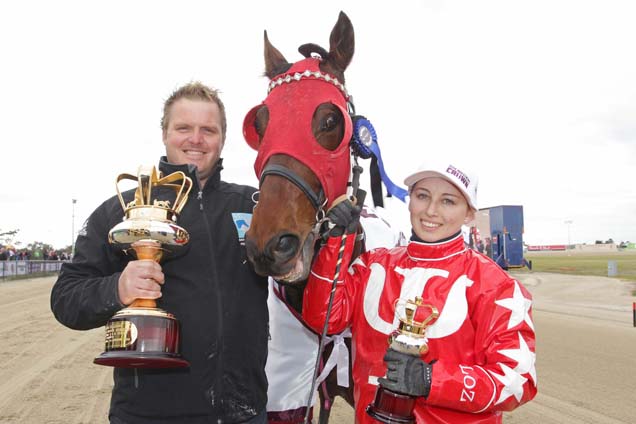 Arms Of An Angel could spearhead New South Wales husband and wife trainers Lauren and Shane Tritton's assault on the Victorian riches in January and February after her 1:49.5 blitz with Lauren in the cart in the Kevin Robinson FFA at Menangle at the weekend.
The lightning-fast five-year-old would contest the $100,000 Group 1 Alabar Ladyship Cup on Del-Re National A.G. Hunter Cup Night at Tabcorp Park Melton (February 4).
Shane Tritton confirmed last night the Ladyship Cup was "definitely in consideration" for the brilliant pacer, whose weekend romp was a personal best.
The Ladyship Cup would form a key part of Arms Of An Angel's preparation for another tilt at the $750,000 Ainsworth Miracle Mile at Menangle, a race in which last year she ran third behind Have Faith In Me and Lennytheshark in 1:47.5.
"It just depends on how her program builds towards then," Tritton told Trots Media.
The Miracle Mile is definitely the preferred option for Arms Of An Angel, rather than Sydney's Ladyship Mile run on the same day at Menangle (Saturday, February 25).
Arms Of An Angel has two Group 3 triumphs to her name in the past fortnight. Since joining the Tritton camp she has won 10 races from 13 starts.
Tritton also confirmed Empire Stallions Vicbred Super Series winning colt Tingira Beach and Apco Tatlow Stakes winning Blue Moon Rising (a winner of 11 of 12 starts) would both target the $200,000 Group 1 VHRSC Victoria Derby.
"They're completely different horses, so I couldn't split them," he said when asked to compare his two three-year-old stars.
"Both are definitely Derby contenders. Both have beaten the General (Breeders Crown champion Our Little General) on his merits, so both are in the ball park."
Lombo Kotakinabalu will also carry the trademark Tritton pink sulky in the Summer of Glory, the gun pacer to target the $400,000 Victoria Cup and $500,000 Del-Re National A.G. Hunter Cup.
"Lombo Kotakinabalu is an untapped horse," Tritton said.
"I have no doubt he could run a 1:48 mile when he becomes fully fit, so he would rank right up there with the best of them. But the main strength he has is his versatility. He doesn't need to lead to win."
Another Tritton rising star Salty Robyn will target the Chariots of Fire, but Tritton was unsure of the pacer's lead-up runs and whether or not the talented pacer would head via the $100,000 Del-Re National 4YO Bonanza on Hunter Cup night.