Update on drivers in Newcastle fall
Young reinsman Ben Woodsford could be sidelined for the rest of the season after being involved in a spectacular race fall at Newcastle last Saturday evening.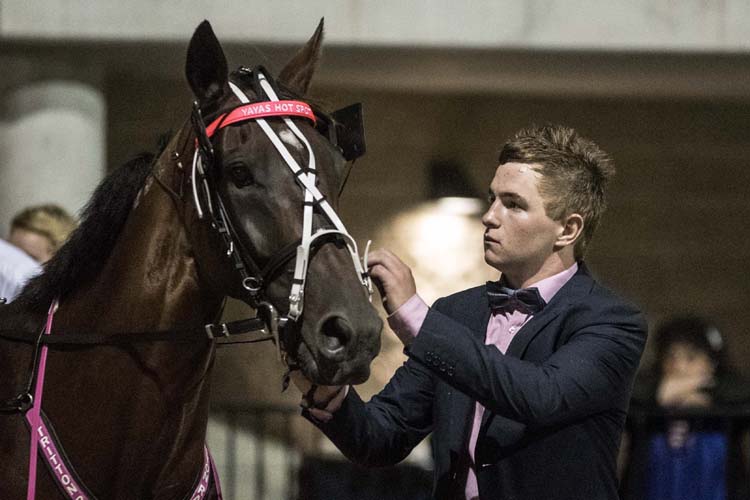 Woodsford was driving three-year-old pacer Dirty Blues when becoming dislodged along with three other drivers in an accident near the winning post with a lap to go of race eight.
The New Zealand-born driver, who works as a stablehand for Shane and Lauren Tritton, had his broken wrist operated on today at John Hunter Hospital where he has been since Saturday night.
Shane Tritton claimed Woodsford sustained a "broken wrist in three places" and will be "out for three months."
And it was around this time two years ago Tritton's wife, Lauren Tritton (nee Panella), was badly injured in a race fall at Tabcorp Park Menangle and sustained multiple injuries to her hand and wrist, sidelining her for many months.
Woodsford has been in career best form, experiencing his best season to date having pocketed 12 winners for the term.
Meanwhile, all other drivers involved in the fall, as well as all the horses involved in the accident, have escaped major injury.
Maitland reinsman Peter Hedges was discharged from John Hunter Hospital yesterday afternoon.
Hedges was driving the locally trained pacer Witherspoon and became dislodged when trailing Yourblueyescrying (Mark Callaghan) which galloped and fell causing the chain reaction.
"I'm a bit stiff and sore but nothing is broken and all my scans came back fine," Hedges said.
"I hit the track pretty hard and had some pain in my kidney area which they were concerned about but all my scans and x-rays came back okay."
Fellow drivers Katie McGill (Celebrity Look) and Mark Callaghan were also involved in the accident, with the latter bouncing back to win the following race with Royal Gamble.
Meanwhile, McGill was back driving at Menangle on Tuesday and finished third-placed with the trotter Chesapeaka Boy, the horse she was dislodged from last month in a standing start event.
"I had a fall a month ago so you don't expect to be involved in another one so soon," McGill stated.
"Luckily I came out of it pretty lightly and just the shoulder I landed on is a bit sore but it could have been much worse for all involved."