37th Asian Racing Conference opens in Seoul
The 37th Asian Racing Conference (ARC) formally opened during a ceremony in Seoul, South Korea yesterday evening (Monday, 14 May), under its theme to "Innovate, Collaborate, Transform."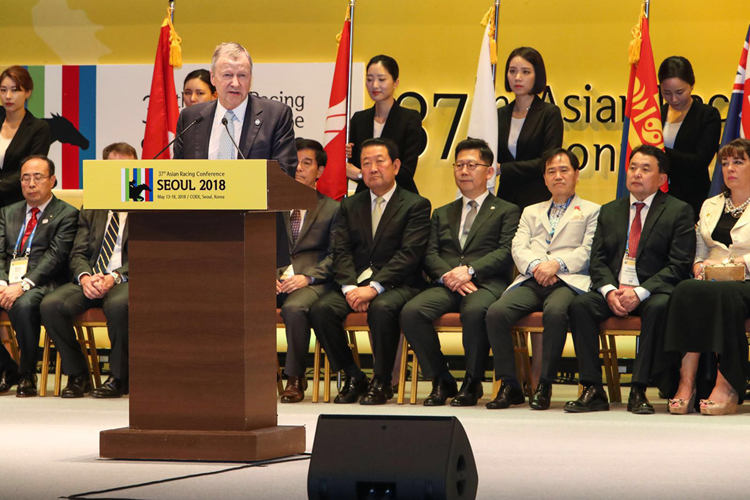 Asian Racing Federation (ARF) Chairman Mr. Winfried Engelbrecht-Bresges delivered the three-day (15 May - 17 May) event's opening address to dignitaries, guests and delegates, including Korea Racing Authority (KRA) Chairman Mr. Kim Nag Soon, Mr. Park Joo Soon, Deputy Speaker of South Korea's National Assembly, and Mr. Seol Hun, Chairman of South Korea's Agriculture, Food, Rural Affairs, Oceans and Fisheries Committee.
The Hong Kong Jockey Club's Chief Executive Officer said that the discussions and presentations by a host of international experts over the coming days will focus on a "transformational vision for the development of a global brand for racing - all in the context of this most dynamic of times, the Asian Century."
The conference's 12 sessions will feature presentations by speakers from the Hong Kong Jockey Club, including Mr. Engelbrecht-Bresges and Mr. Richard Cheung, the Club's Executive Director, Customer and International Business Development. The CEO will kick off the conference this morning (Tuesday, 15 May) as chair of a session titled Racing - A Global Brand.
In his remarks, Mr. Engelbrecht-Bresges noted that the ARF has made "substantial progress" since the last ARC in Mumbai, India in January, 2016, and said that the next three days will address a number of challenges facing the racing industry, as well as the strategies that might facilitate progress.
"As custodians of this sport and industry for so many stakeholders, it is our responsibility to tackle the many varied issues that we collectively face," he said.
The conference will address topics related to the wagering industry, maintaining the sport's integrity, safety and welfare, and will explore how best to expand the sport's fan base and form connections with popular culture.
Mr. Engelbrecht-Bresges recognised the outstanding efforts of this year's ARC organising committee, headed by Mr. Soon, and welcomed the conference's return this year to South Korea for a third time. Seoul previously hosted the ARC in 1980 and, most recently, in 2005.
He also applauded the KRA for its transformative approach in recent years. The jurisdiction upgraded from Part III to Part II status of the "Blue Book" in July 2016, earning greater recognition for its black-type races, and Korean racing has succeeded in attracting overseas runners to its international racing festival, thus continuing its trajectory as a strong emerging nation within the sport.
Several Hong Kong Jockey Club executives will present to the convocation: Ms. Amy Chan, Executive Manager, Racing Development Board/Headmistress, Apprentice Jockeys' School; Dr. Brian Stewart, Head of Veterinary Regulation, Welfare and Biosecurity Policy; Dr. Peter Curl, Executive Manager, Veterinary Regulation; Mr. Martin Purbrick, Director of Security and Integrity; Mr. Douglas Robinson, Senior Due Diligence and Research Manager; Mr. John Ridley, Director of Racing Capital Projects; and Ms. Amanda Bond, Executive Manager, Equestrian Affairs. Also among the speakers is Patrick Yung Shu-hang of the Hong Kong Centre for Sports Medicine and Sports Sciences.
Bureau meetings held in conjunction with the ARC were completed on Monday, including the Asian Racing Federation General Assembly, Asian Pattern Committee and International Stewards' Conference. All enjoyed significant participation from Club officials holding positions of leadership within these international bodies: Mr. Andrew Harding, Executive Director, Racing and Secretary General of the Asian Racing Federation; Mr. Kim Kelly, Chief Stipendiary Steward and Chairman of the International Harmonisation of Raceday Rules Committee; and Mr. Nigel Gray, Head of Handicapping, Race Planning and International Racing, and Chairman of the Asian Racing Federation Handicappers Committee.
The ARC was first held in Tokyo in 1960 and is now the largest horseracing industry conference in the world.