Jockey Club hosts 18 Districts Cup in support of a socially inclusive community
The Hong Kong Jockey Club hosted the 18 Districts Cup today (14 April) at Sha Tin Racecourse with the attendance of over 200 community leaders and government officials to celebrate the Club's collaboration with its working partners and to call on everyone to embrace social inclusion in the community.
Officiating at this year's 18 Districts Cup were Club Chairman Dr Anthony W K Chow, Chief Executive Officer Winfried Engelbrecht-Bresges, Permanent Secretary for Home Affairs Cherry Tse Ling Kit-ching, Member of the Legislative Council (Functional Constituency - District Council (First)) and Member of North District Council The Hon Lau Kwok-fan, Director of Home Affairs Janice Tse Siu-wa, Duty Chairman of 18 District Councils and Chairman of Kowloon City District Council Pun Kwok-wah and Chairman of Steering Committee of [email protected] Dr York Chow.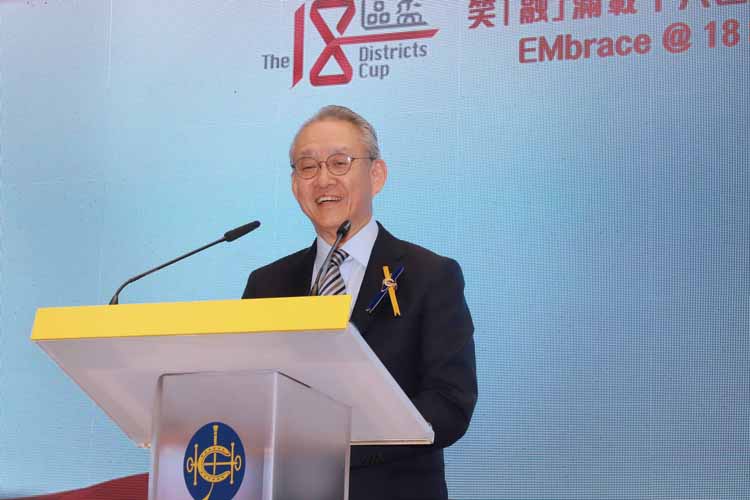 In his welcome remarks, Dr Chow said, "The Club's support for Hong Kong encompasses its provision of responsible gambling services, its tax contribution and its charity support. Last year the Club contributed HK$22.6 billion in tax and lotteries duty while the Club's Charities Trust approved donations of HK$4.2 billion to support 222 charities and community projects." He added, "The Club would not have achieved the impact without the support of its many friends in the community, especially those at the district level."

The theme for this year's 18 Districts Cup is "[email protected] Districts", focusing on the Club's support to ethnic minorities (EM). Dr Chow said there were some 250,000 ethnic minorities living in Hong Kong, according to the latest statistics. However, many encounter challenges in adaptation, with language and cultural differences being the main barriers hindering their integration into mainstream society. "To address these needs, The Club has worked with experienced non-governmental organisations and schools in serving ethnic minorities, helping combating their difficulties, building their sense of belonging and promoting their social integration, " he said.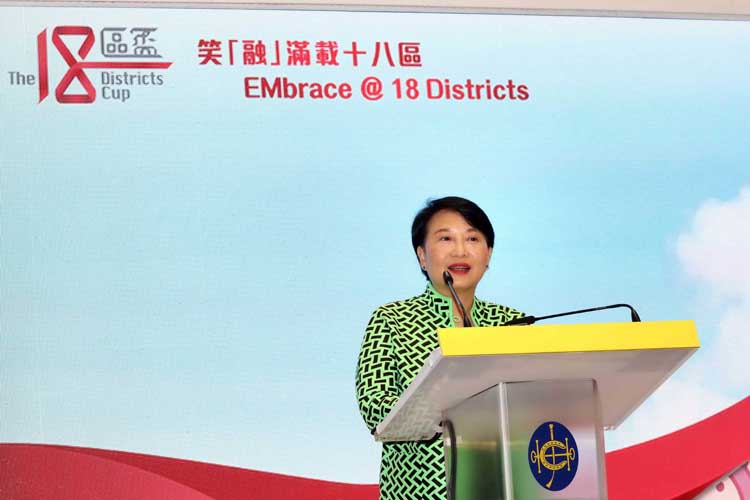 To this end, The Club's CARE volunteer team has expanded its ethnic minority services in recent years. Through home visits and outings, CARE volunteers have developed strong friendships with ethnic minority participants. They have joined ethnic minority students and their families to visit different parts of Hong Kong, such as Lei Yue Mun Public Riding School, Tai Kwun and the Hong Kong Velodrome in Tseung Kwan O.

Meanwhile, the Trust-initiated "[email protected]" Project was implemented to enhance the Chinese proficiency of non-Chinese speaking kindergarten students. The project aims to improve the students' transition to primary education and to support their early integration into the community.

The Club acts continuously for the betterment of Hong Kong. Dr Chow added that the Club would continue to strengthen its support for people in need to help foster a more inclusive and socially integrated community. As such, he looked forward to the continued collaboration between the Club and the 18 District Councils and working with District Councillors for a better Hong Kong.

The 18 Districts Cup, which was first held in 2008, was won today by John Moore-trained Beauty Energy, ridden by U Rispoli