Jockeys Whyte, Leung give tick of approval to Conghua tracks
Leading jockeys Douglas Whyte and Derek Leung offered a glowing appraisal of the tracks and facilities at the Hong Kong Jockey Club's new Conghua Training Centre (CTC) on the Chinese Mainland after riding in a number of gallops at the site this morning (Friday, 13 July).
Following yesterday's arrival of the first 21 in-training horses at the Conghua site, Whyte and Leung partnered retired horses from the Racing Development Board (RDB) stable in fast work on the large all-weather track, the turf course and the turf uphill gallop at CTC. Both grass tracks had never been galloped on before today.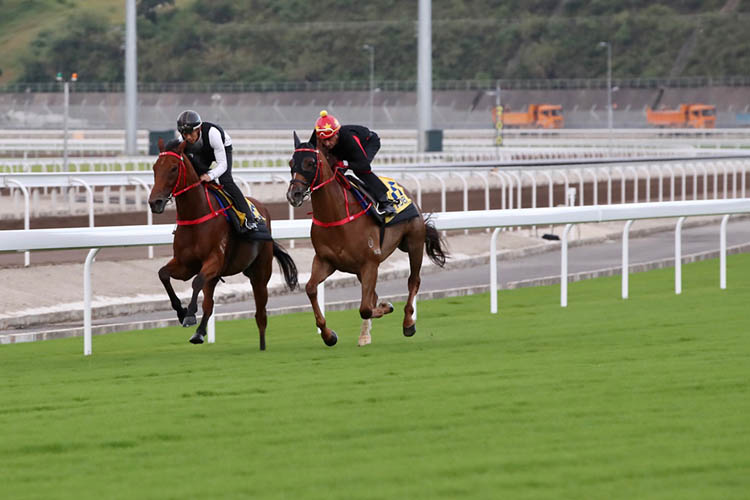 Whyte, a 13-time Champion Jockey, said: "You couldn't fault the tracks, they felt perfect. If anything, the turf track itself rides better than Sha Tin so that's a huge positive. You've got a beautiful bend that is longer than you think. I was expecting a Sha Tin-like bend where you take the corner and then suddenly you are at the next one, but this one just keeps turning and turning – it's a longer, gentler, kinder turn. It's a beautiful straight, too – the uphill towards the finish post seems to be a slight incline, unlike Sha Tin where it runs downhill and then flattens. It reminds me of a track like Hanshin in some ways.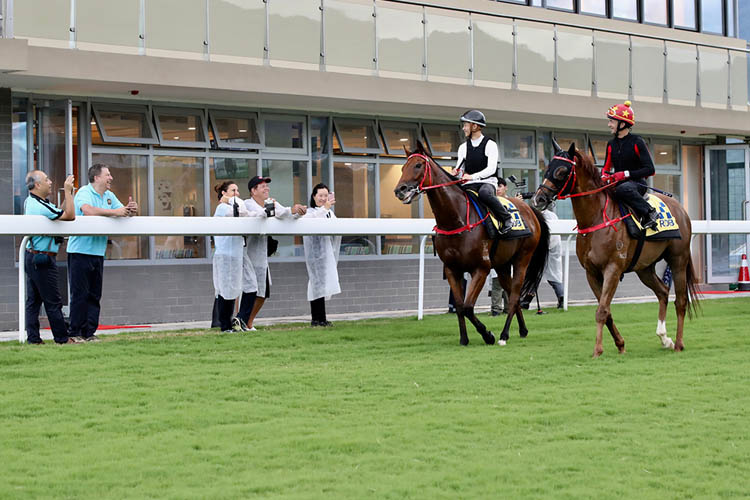 "The dirt track was beautiful too, it felt nice and there was a bit of give in it. It's just a lovely surface at the moment for training a horse, as they all are really."
Leung, who is on track to win his second consecutive Tony Cruz Award for leading home-grown rider, said: "This morning, we first galloped on the all-weather. It is very good, it's similar to Sha Tin but a little bit softer and the horse felt really comfortable on it. Then we tested the two turf surfaces, and it was an honour to be one of the first jockeys to ride on those tracks.
"The turf surface itself was terrific. Sha Tin can be quite firm, but there's a bit more give underfoot here, yet there wasn't any real kickback at all. It's a great training track and I think the horse really loved the surface. The track's pretty flat, there was a little bit of a rise but we didn't feel it too much, and the turn, it was very smooth and a very long turn, longer than Sha Tin. It seemed like we just kept turning, turning, turning, I think that's of great benefit to the horses and it is just a beautiful track, horses will love this track.
"I think the horses are going to enjoy the uphill gallop. It's something unusual for most of them and the walk up and the walk back is something so different to what they usually do. It's quite peaceful, the surroundings around the uphill gallop are stunning, and so I think it will actually be relaxing for the horses as well as a different test for them."
Both Whyte and Leung were complimentary about the CTC site as a training facility and were in awe of the picturesque surroundings, with the centre surrounded by mountains.
Whyte said: "It's as close as you'll get to the Japanese facilities when you are riding work, with the mountains, the beauty, the scenery and the quietness. I think it is a place for a horse mentally to just relax and enjoy himself. Once you have galloped, there are nice long walks back to the stables and there are sand surfaces everywhere. I can't see a horse not coming here and doing well."
Leung added: "It's big and it's beautiful. Look at the view around us! That is quite special in itself and I myself feel relaxed just being here. It's quieter and more relaxed than Sha Tin. I think the horses will be refreshed and I think they are going to enjoy being here."
Mr. William A. Nader, the Club's Director of Racing Business and Operations, said: "We knew the tracks were world class, having been constructed, developed and maintained by an expert team headed by John Ridley and Jackson Wong. For us, though, it is great to receive such high praise from two of our top jockeys and that they share our view of the tracks as well as the entire training environment.
"This is a facility which will serve our racehorses in the decades to come with a stronger and more sustainable future for Hong Kong racing."
The next batch of in-training horses will arrive at Conghua on Monday (16 July), with almost 140 horses expected to be based at CTC when the site officially opens with a special ceremony on 28 August.