Licensing Committee grants Michael Freedman trainer's licence for 2017/2018 season
The Licensing Committee of the Hong Kong Jockey Club has granted a trainer's licence to Michael Freedman for the 2017/2018 season. A member of one of the most prominent families in Australian racing, the 48 year-old Freedman comes to Hong Kong after a highly successful career in Singapore, and as one of the brightest talents in Sydney racing.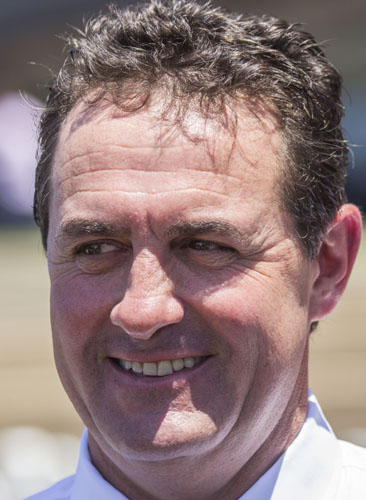 Over eight seasons in the Lion City, Freedman achieved outstanding success with 470 wins for a 15% strike rate, while landing 36 Group race wins, seven at Group 1 level. He finished tied for the most victories in Singapore in 2012 when preparing 76 winners, and was in the top five positions of the trainers' table for seven of his eight seasons. Freedman trained 2012 and 2013 Singapore Horse of the Year Super Easy to nine pattern wins, including the Group 1 Singapore Guineas, Group 1 Lion City Cup and Group 1 Patron's Bowl. His other Group 1 successes were led by a Raffles Cup treble (Cheyenne Dancer – 2009, Always Certain – 2011, Super Ninetyseven – 2013) and a Singapore Gold Cup win (Tropaios – 2013).
Departing Singapore in early 2016, Freedman returned to Australia, based initially at Rosehill Gardens before moving to Royal Randwick, and continued to prepare winners at a 15% clip despite commencing his Sydney career with mostly younger, unraced horses. Recent successes include the Group 3 Widden Stakes with Teaspoon and last week's Inglis Classic win by Frolic.
"Seizing the opportunity which arose to recruit a new expatriate trainer, the Club has undertaken an exhaustive global search to find a person with the skills and background to make a substantial contribution towards not only maintaining our existing reputation for world-class racing but also propelling Hong Kong racing to even new heights. Michael Freedman was selected from a field of high quality contenders and possesses all the attributes required to succeed in the ultra-competitive Hong Kong environment," said Mr. Andrew Harding, Executive Director, Racing Authority.
"His career of extensive and ongoing success at Group race level, his track record in sourcing quality horses from across the world, the long-time loyalty of his Owners, his ability to operate across multiple and varied training environments, his international experience, and his personal probity and integrity all identify Michael as being an exceptional talent who will make an excellent addition to Hong Kong's roster of trainers."
"I was incredibly excited to get the call up this afternoon from the Hong Kong Jockey Club," said Mr. Freedman. "It has been a long-held ambition to train in Hong Kong, which is a world leader in everything that it does. It would be an understatement to say that I am looking forward to this challenge. I would like to express my thanks and appreciation to the Licensing Committee for giving me this unique opportunity."
Freedman has trained for a wide clientele of Owners including international entities such as Arrowfield Stud, Coolmore and Katsumi Yoshida, as well as a number of Hong Kong-based Owners. In addition to his experience in Singapore and Australia, Freedman has campaigned horses internationally in both Hong Kong and Dubai. In 2011, the Freedman-trained Better Be The One was a neck third in the Group 2 Al Quoz Sprint in Dubai. Super Easy was Freedman's first Hong Kong starter in 2012, participating in both the Group 2 Jockey Club Sprint and the Group 1 LONGINES Hong Kong Sprint.
"The quality of the trainers in Hong Kong has been an indispensable ingredient in the development of our world-class racing, a fact that has been reinforced by the record 26 Hong Kong horses which featured in the 2016 LONGINES World's Best Racehorse Rankings," Mr. Harding added.
"The role that our trainers play in sourcing and then developing horses to perform at this elite level of competition is essential. Accordingly we are extremely pleased to add to our ranks a trainer with the vast experience and proven track record that Michael Freedman possesses."
Freedman will appear in Hong Kong at a press conference on Friday, 24 February. An invitation will be issued to accredited media next week.