Purton hits lead in Champion Jockey race as Hong Kong season gears up for thrilling finish
Zac Purton will enter the final nine meetings of the Hong Kong racing season as the jockeys' championship leader for the first time this term after the Australian rider scored a double at Sha Tin today (Sunday, 10 June).
Purton has been engaged in a titanic battle with Joao Moreira, the three-time Champion Jockey who served the second day of a two-meeting suspension today. At the start of proceedings on Members' Day at Sha Tin today, Moreira held a precarious one-win lead, 116 to 115, over Purton.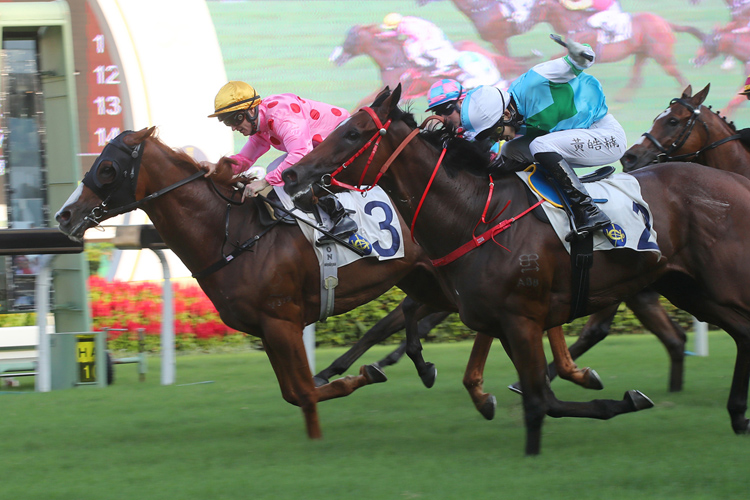 Shaking off a bout of the flu that left him congested and unwell, Purton drew level in the title race when the Ricky Yiu-trained Little Bird strode clear in the Class 4 Beas River Country Club Handicap (1200m), before finally gaining the upper hand with Starship's victory in the Class 4 The Hilltop In The Valley Handicap (1400m) for trainer Paul O'Sullivan.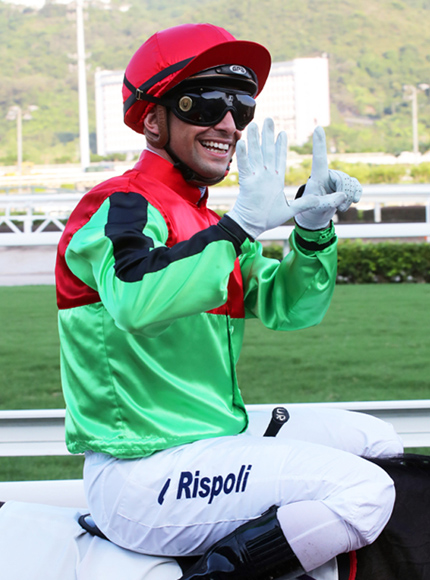 "Obviously, it's a better position when you are in front, so that's great," Purton said. "Sometimes, people can expect a little bit too much – I was doing the sums in the room and, if you ride two winners a meeting through 88 meetings, it's 176 winners a year. You are breaking records if you do that every meeting.
"Riding four or five winners at every meeting just doesn't happen. I didn't have a great book of rides, but I came here thinking I could ride two winners and I've left with two winners so I suppose that's a positive. I think it's going to be a good battle from here – I just want to clear my head and get rid of the flu, so that I can attack properly."
Yiu himself had a double, preparing Alcari to take the day's feature, the Class 3 Members Cup (1200m). Karis Teetan, who scored a race-to-race double after Imperial Concorde's win in the Class 4 Beijing Clubhouse Handicap (1650m), was in the saddle as Alcari prevailed by a nose, producing a gritty effort to hold off the Umberto Rispoli-ridden Cruising at his local debut.
"He's always been a decent horse, from day one," Teetan said. "I rode him in the mornings early and I told Ricky that he was a nice horse. I think he's got a bright future but he's still young. He won first-up down the straight and then he went around a turn pretty quick, I don't think he was ready for that. Same with Happy Valley, I don't think he was ready for racing there, although he was pretty unlucky when I rode him there.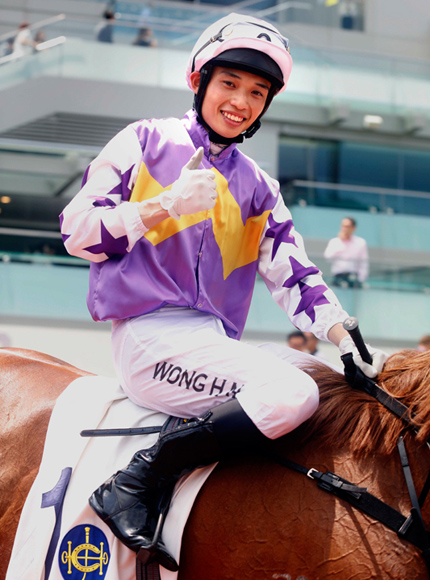 "He came back here, went to the straight again and he was improving again. I think those races brought him on, so I'm grateful to Ricky for putting me back on again today. The blinkers did the trick today, they helped him focus, but I think the horse will still be even better in six months to a year from now."
Rispoli, who has been sitting on 1499 worldwide career wins since mid-May, was ruing the one that got away aboard Cruising, but he only had to wait another three races before he brought up the milestone. That came aboard Diamond King, with the Benno Yung-trained galloper firing fresh off a six-month break to score a short-head success in the Class 3 The Racing Club Handicap (1400m).
"I went through a few months ago and figured out where I sat," Rispoli said. "I've ridden winners in a few different places – Italy and France, obviously, but also places like South Africa and Mauritius. I figured out that Regency Honey was my 1490th winner in February and I've just been counting down since then. It is an important number for me and I can't wait to ride more winners all over the world."
Wong joins senior ranks after 70th Hong Kong win
The Class 5 Racing Heritage Handicap was not a contest that looked to have many storylines pre-race. However, it is a race that will forever be remembered by young rider Jack Wong, who steered the Me Tsui-trained Exponents to victory in the 1400m contest.
That win took Wong to 70 Hong Kong victories, the number that marks the end of his apprenticeship. From Wednesday night's (13 June) Happy Valley meeting, Wong will be classified as a senior rider, although he will still benefit from a three-pound claim.
"As apprentices, from the moment we start back in Hong Kong, it is our goal to get to 70 winners, so I'm very happy to have finished that task and relieved as well," Wong said. "The next stage is tougher, no doubt, but I'm looking forward to the test."
Wong's apprenticeship involved an overseas stint in New Zealand before returning to Hong Kong's riding ranks in March, 2015. His riding career has been interrupted by leg and back injuries that have required long periods on the sidelines, but the jockey believes that those breaks have helped him to reach the 70-win milestone so quickly.
"I have been back in Hong Kong three years but I probably have only been riding for a total of two years, because of the time on the sidelines, so to finish my time as an apprentice in two years, I'm very happy with that," said Wong. "I've been lucky in that, every time I've come back, I seem to have picked up momentum pretty fast. In those times out, I put a lot of effort into my fitness and also into being psychologically ready to return.
"It also gave me the chance to get a new perspective on racing and horses, you look at things differently when you aren't so involved, and I think that's allowed me to get to 70 wins now."
Tsui, who not only trained the winner but also served as Wong's master, said that the 24-year-old may be graduating to the senior ranks at an opportune time.
"The departure of Joao Moreira opens up many opportunities for the lighter local riders," Tsui said. "Jack can ride 113lb and that will be so important now that Joao will not be here, so perhaps he is becoming a senior rider at just the right point. He has a great attitude and he is a talented jockey, so I believe he has what it takes to succeed in Hong Kong."
As one apprenticeship came to an end, though, another continued to flourish as 10-pound claimer Victor Wong scored his most significant win yet. The apprentice guided the David Ferraris-trained Pikachu to victory in the Class 2 Happy Valley Clubhouse Handicap (1800m).
"The light weight made all the difference in this race," Ferraris said. "The field was not too strong and he only had 109lb, and he's a fairly easy horse to ride so he's a good match for an apprentice. Pikachu has been a great horse to us, he's a stable favourite and he's earned over $9 million, that's incredible. Touch wood, he's never had any leg problems and he's a lovely horse to train. What more can you ask for?"
Ferraris also had a double, with Alberto Sanna guiding Soccer Brave to victory in the Class 5 Timeless Traditions Handicap (1650m).
Trainer John Moore and jockey Douglas Whyte combined to take the opening Moon Koon Plate for griffins with two-year-old Thanks Forever, while rider Matthew Chadwick produced a good ride to take the Class 4 Sha Tin Clubhouse Handicap (1800m) aboard Golden Kid.
Also in the winners' circle was handler Chris So, who tasted his first success since late April when Master Albert took the Class 3 Beas River Equestrian Centre Handicap (1200m) under Derek Leung.
Racing resumes at Happy Valley on Wednesday night.