2015/16 3YO Season – Timeform Review
With the 2015-16 Racing Season now behind us, it is time to assess the merits of the three-year-old crop and what may lie ahead.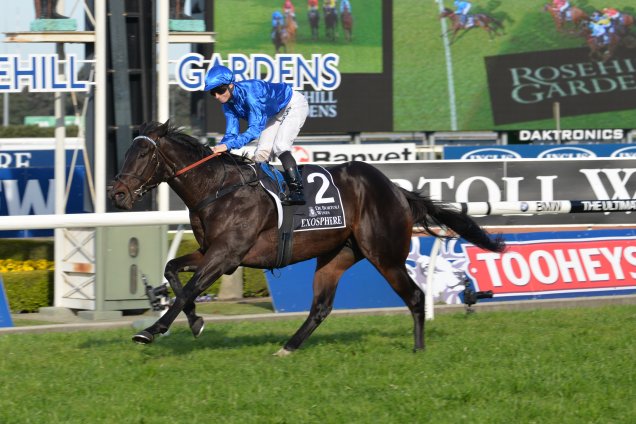 Depending on what KPI is used there is more than one measure by which each season's crop can be assessed.
For the last 21 seasons Timeform
ratings have given a unique perspective on each crop and provided a window on how that crop may fare at four.
Looking back over past seasons, Australian racing has been fortunate to have had stellar three-year-old seasons like 2011-12 and 2012-13 that produced quality gallopers such as]Pierro (128), All Too Hard (129), Sepoy (129), Atlantic Jewel (128), Dundeel (125), Epaulette (126), Helmet (125), Foxwedge (128) and Manawanui (125).
For one reason or another, sadly we did not get to experience many of those fine thoroughbreds racing in Australia at four – a major blow to the quality of racing but on the flip side a significant boost to the breeding industry.
In terms of a quantitative assessment, both those crops produced a high number of three-year-olds Timeform rated 120 or above (12 and 11 respectively) but more significantly rated 125 and above (5 and 4 respectively). See Table below.
Importantly both crops had a median Timeform rating of 120.5 for all horses rated 115 or higher,indicating significant quality at the top end.
But the three crops since have all been below that standard.
In 2013-14 we experienced one of the weaker three-year-old crops headed by Cox Plate and Australian Guineas winner Shamus Award (124).
While Shamus Award created history with his victories in the Cox Plate and Australian Guineas, the crop lost impressive VRC Derby winner Polanski, Spring Champion Stakes winner Complacent and Caulfield Guineas winner Long John before the Autumn, Criterion being the only ratings riser in the last half of the 2013-14 three-year-old season, winning both the Rosehill Guineas and ATC Derby finishing his three-year-old year on 122.
The crop had no horses rated 125 or above and just 9 were assessed at 120 or above with the median Timeform rating for the top end coming in equal lowest for 22 years at 118 or 2.5 pounds below the highest median rating achieved by the 1995-96, 2011-12 and 2012-13 crops.
The same Timeform ratings analysis of the 2014-15 crop revealed a slightly better year with 11 horses rating 120 or above and three Timeform rated 125 and above.
But the more encouraging statistic looking forward to their possible performance at four was the median Timeform rating which came in at a high 119.7 – one of the better values in the last 22 years.
Interestingly however, despite losing most of the top end of this crop that failed to race on at four like Brazen Beau (126), Shooting To Win (125), Rubick (122), Hallowed Crown (122) and Wandjina(123) – all of whom were retired to stud, the crops four-year-old year still worked out to be one of the better ones of that age group in the last 10 years.
While the crop under performed at three, they matured and developed at four into an above average group – a trend that has previously appeared in the statistics.
For example at four, the 2014-15 three-year-old crop had a median Timeform rating of 120.8 (horses >=115), 10 horses rated 120 or higher and won 20 group One races – all data points well above the ten year average for a four year old crop.
The 2014-15 Three-year-old crop analysis at four clearly shows that a below par three-year-old crop in general does not necessarily translate to a below par crop at four.
We also noted that the 2013-14 three-year-old crop, perhaps the weakest in the last 21 years according to our KPI measurements also did well at four, finishing that season with a median Timeform rating of 119.1 ( up 1.1 pounds from the three-year-old season) and winning 17 Group one races.
Now to the 2015-16 three-year-old crop. Unfortunately it was also below par and for the fifth season in a row, the highest Timeform rated three-year-old has failed to race on at four with Exosphere Timeform rated 127 being retired to stud after finishing unplaced in the T J Smith Stakes at Randwick.
Racegoers did not see the best of Exosphere who had an explosive turn of foot that was clearly on display in his Roman Consul and Golden Rose Stakes victories.
Exosphere had genuine excuses in his last three unplaced efforts – in Group One Company and all on unsuitable racing surfaces.
Perhaps the best of those was his close up fourth in the G1 Lightning Stakes at Flemington where despite running in grossly inferior ground to his main rivals, he was beaten less than two lengths behind Chautauqua. It is unfortunate he did not race in the Newmarket a fortnight later as he would have been ideally placed under the handicap conditions,
By way of interest, the last highest Timeform rated three-year-oldto race on at four was Jimmy Choux from the 2010-11 three-year-old crop. He went on to win twice at group one level at four as well as being runner up in a Cox Plate before heading off to stud.
And before him, the 2009-10 crop provided the outstanding So You Think who carried all before him at four and five both on the local and international racing stage.
But back to the 2015-16 three-year-old crop. They had just seven horses Timeform rated 120 and above, three below the ten year average, while the average Timeform rating of all horses Timeform rated 115 and above was 119.1 which was equal to the ten year average.
While Timeform ratings analysis paints the 2015-16 three-year-old crop in a more positive light than the 2013-14 crop, another KPI such as the number of wins the crop achieved against older horsesat group one level tells another story.
As well as Timeform ratings, the number of wins that three-year-olds can achieve against older horses in a season is normally a very good guide to the overall talent of that crop.
The 2014-15 crop fared badly on this measure with just two wins against older horses - the worst result for any three-year-old crop in the last 22 years, but has we have seen above they did do much better at four.
The 2015-16 three-year-old crop were only marginally better winning three races against older horses (Holler, English and perfect Reflection).
But all is not lost. If they too follow the progression shown by the last two three-year-old crops at four, then it is likely they will do much better this season.
However wins against older horses is still an important KPI. The 2012-13 three-year-old crop that comprised All Too Hard (Timeform rated 129), Pierro (128), Epaulette (126) and Dundeel (125) has easily been the most successful in this regard in recent times.
That crop won 11 group one races against older opponents during the season, the most prolific being All Too Hard who won three races (All Aged Stakes, Futurity Stakes and Orr Stakes) while Pierro and Fiveandahalfstar won two each.
In the last 22 years only one three-year-old crop has won more group one races against older horses in the season and that was the 1997-98 crop headed by General Nediym (126), that group winning a staggering 12 races.
Apart from General Nediym (Newmarket Hcp/Lightning Stakes) the crop included Encounter (George Main Stakes/Futurity Stakes/Chipping Norton Stakes), Gold Guru (Ranvet Stakes), Special Dane (Orr Stakes), La Baraka (Galaxy Stakes), Tie The Knot (Sydney Cup), Stella Cadente (Australia Stakes), The Hind (Adelaide Cup) and Notoire (Salinger Stakes).
Other notable three-year-old crops in the last 22 years include the class of 1996-97 headed in the Timeform ratings by Mouawad (127) and 1999-00 headed by TestaRossa (127) both providing winners of 11 group one races against older runners.
The table below shows amongst other statistics the number of wins each group has recorded each season in the last 21 years against older horses at the elite level.
As a matter of interest over the last 22 years, the average number of group one wins recorded against older opponents by the three-year-old crop each season is 7.4 but significantly in the last 10 years this average has fallen to just under 6 races.
Crop Season

Top Rated 3YO

# 3YO >=120

# 3YO

>=125

3YO G1 wins older

>=115 med

2015-16

Exsosphere (127)

7

1

3

119.1

2014-15

Brazen Beau (126)

11

3

2

119.7

2013-14

Shamus Award (124)

9

0

3

118.0

2012-13

All Too Hard (129)

10

4

11

120.5

2011-12

Sepoy (129)

12

5

6

120.5

2010-11

Star Witness &

Jimmy Choux (124)

7

0

4

118.0

2009-10

Wanted & So You Think &
Starspangledbanner (126)

12

3

7

119.0

2008-09

Whobegotyou (126)

15

1

3

119.0

2007-08

Weekend Hussler (130)

5

1

7

118.0

2006-07

Haradasun (126)

11

1

6

119.0

2005-06

Racing To Win &Snitzel (125)

14

3

8

119.0

2004-05

Fastnet Rock (127)

7

2

6

118.5

2003-04

Exceed and Excel (126)

10

1

9

118.5

2002-03

Choisir (126)

12

2

8

119.0

2001-02

Lonhro (124)

10

0

5

118.0

2000-01

Universal Prince &

Assertive Lad (124)

7

0

7

118.0

1999-00

TestaRossa (127)

12

2

11

120.0

1998-99

Sunline (125)

10

2

9

119.5

1997-98

General Nediym (126)

14

1

12

118.5

1996-97

Mouawad (127)

12

2

11

119.0

1995-96

Flying Spur & Octagonal &

Our Maizcay (126)

13

6

9

120.5

1994-95

Chief De Beers &Danewin (126)

10

4

6

118.5