An Australian Racing Legend Passes
The passing of iconic racing figure, "Cups King" Bart Cummings on Sunday 30th August 2015 aged 87, ends an era in Australian racing, the like of which we will never experience again.
Bart Cummings was synonymous with Australia's most famous race – the Melbourne Cup – winning it an amazing twelve times, a feat that will never be equalled.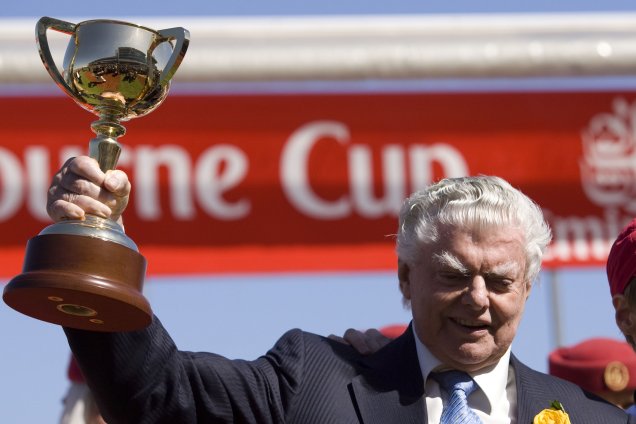 However Cummings, who had such a huge impact on many people's lives, was much more than just a trainer of Melbourne Cup winners.
In a career that spanned over 60 years he won 266 group one races in his own right, 760 Stakes races and in total over 7000 races across Australia. Norzita was his last Group 1 winner in the 2013 Vinery Stakes.
Amongst those wins are 32 Derbies, 24 Oaks, 16 St Legers, 16 Sires Produce Stakes, seven Caulfield Cups, eight Newmarket Handicaps, five Cox Plates, four Golden Slippers and 13 Australian Cups.
Cumming's record in the Melbourne Cup itself is quite staggering – 87 individual runners for 12 wins and 10 placings – old stable warrior Precedence his last runner in 2012.
Cummings Cup winners were Light Fingers (1965), Galilee (1966), Red Handed (1967) Think Big (1974/5), Gold And Black (1977), Hyperno (1979), Kingston Rule (1990), Let's Elope (1991), Saintly (1996), Rogan Josh (1999) and Viewed (2008). In 1965, 1966, 1974, 1975 and 1991 Cummings also trained the second placegetter.
It is hard to encapsulate Cummings career achievements in a succinct way – he has a broad CV.
Cummings was born in Adelaide on 14th November 1927, his family always having an interest in racing. Father Jim Cummings was a leading trainer in Adelaide so it was not unexpected that Bart would ultimately follow that path.
But the early days were not easy for the Cummings family, Bart's father Jim struggling to establish himself in Adelaide.
Bart left school at 14, he had no interest in school and soon found himself learning as much as he could from him father.
At that time the Second World War had disrupted thoroughbred racing to such an extent that the Cummings family like most Australian families struggled to survive – young Bart forced to go grape picking and shearing sheep to help the family through.
However his training career was almost over before it got started. At the age of 16 Bart was diagnosed with asthma with doctors advising him to keep clear of horses and chaff.
Clearly Bart ignored that advice and set about working with his father's stable that was starting to take off.
Bart's first experience with the Melbourne Cup was in 1950. Bart was strapper for his father's runner Comic Court.
On Cup morning Bart rode Comic Court to Flemington, rode him in light work, washed and fed him keeping him calm for the big race.
Under Pat Glennon, Comic Court easily won the 1950 Melbourne Cup, Bart almost leaping out the stand with excitement and that was probably the moment that focussed Bart on his own Cups trail.
Bart Cummings was granted his training licence in 1953, had his first Melbourne Cup runner in 1958 (Asian Court) and first weight for age winner in 1959 Underwood Stakes – Trellios.
Cummings landed his first of twelve Melbourne Cup winners in 1965 with bonny mare Light Fingers ridden by champion rider Roy Higgins – Higgins and Cummings would form a formidable combination for several seasons to come.
Buoyed by success, in 1968 Cummings established a stable in Flemington called Saintly Lodge and in 1975 one in Sydney called Leilani Lodge.
The 1974-5 season was a memorable one for Cummings. He became the first trainer in the British Commonwealth to prepare horses earning more than one million dollars in prizemoney.
Cummings also trained 45 Stakes winners of which 20 were group one winners in the season – a record that still stands in 2015.
Another achievement of Cummings that will stand for some time is to win the trainers Premiership in three separate States in the same season.
In 1982 Cummings was awarded the Order Of Australia Medal.
Cummings was also inducted into the Australian Racing Horse of Fame in 2001 and elevated to Legend status in 2008.
Australia Post displayed Cummings on their Legend Series of Stamps in 2007.
About the only thing Cummings didn't achieve in his career was to prepare a winner of a major overseas race – coming closest in 1991 when Shaftesbury Avenue was third in the Japan Cup. He also was unplaced with Sky Chase (1988) and Let's Elope (1992).
Due to ill health, in 2013 Bart Cummings ceased training in his own right and set up training a partnership with his grandson James. The pair have been very successful winning two group one races.
During his career, Bart Cummings prepared some of Australia's champion gallopers – but which one was his best?
Although he would not be drawn to decide between them, it was clear Galilee and So You Think were at the top of list ability wise, although Saintly, the horse he bred was no doubt his favourite.
Some time ago I wrote a piece dealing with Galilee from a Timeform
Ratings perspective and when the result showed a pound edge in Galilee's favour, Bart made the one liner – "he might just be right".
That article titled "Galilee Is Number One" is reproduced below and to balance the argument there is an excerpt from a piece I wrote after So You Think won the Eclipse Stakes in the UK in 2011, the horse Bart turned into a world champion.
I have no doubt that had Galilee ventured abroad he too would have been a huge success.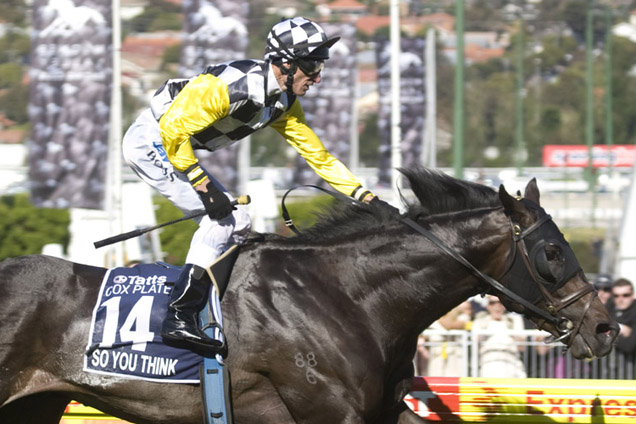 But before we get to that, I have listed the best gallopers Bart has trained according to Timeform Ratings.
1. Galilee 134
2. So You Think 133
3. Century 129
4. Taj Rossi 128
5. Beau Zam 128
6. Saintly 128
7. Maybe Mahal 128
8. Tontonan 127
9. Shaftesbury Avenue 127
10. Campaign King 126
11. Hyperno 126
12. Let's Elope 126
13. Viewed 126
14. Ming Dynasty 126
15. Dane Ripper 124
16. Light Fingers 124
Galilee Is Number One.
The emergence of star galloper So You Think onto the Australian racing scene has sparked considerable debate as to who is the best galloper his trainer - the legendary Bart Cummings, has prepared in over 50 years.
To date Cummings has prepared 262 Group One winners, among those some of Australia's greatest modern day gallopers.
Household names such as Light Fingers (Cummings' first of 12 Melbourne Cup winners), Ziema, Storm Queen, Maybe Mahal, Galilee, Fulmen, Red Handed, Lowland, Century, Tontonan, Dayana, Taj Rossi, Leilani, Lord Dudley, Belmura Lad, Think Big, Gold And Black, Ming Dynasty, Luskin Star, Hyperno, Best Western, Sheraco, Hula Chief, Campaign King, Sky Chase, Beau Zam, Shaftesbury Avenue, Let's Elope, Saintly, Dane Ripper and Viewed, to name but a few, belong to that impressive list.
All of Bart's gallopers to have raced in the last 25 years have already been assessed with Timeform ratings, however such is the interest that So You Think has created, Racing and Sports, Timeform's Australian partner, has set about the task identifying just where So You Think would sit in relation to Bart's best galloper of all time.
The task to analyse thoroughbreds from different eras poses many problems. Sourcing accurate data is one such hurdle. Such data is an essential ingredient in setting up the parameters to produce a reliable handicap against which to assess the merit of each performance.
Then there are the techniques employed to make sure the handicaps from bygone eras accurately reflect current levels. We found race standardisation analysis, that has become a major factor in Timeform Handicapping, along with proven methodologies such as standard horse against horse analysis both gave acceptable results.
The advantage of having 25 years of Australian feature race standardisation data sets a strong framework from which to back handicap races from previous eras.
Using all these aids it is possible to measure, with a degree of accuracy, past race performances against modern day criteria that allows direct comparisons across different points in time.
After a preliminary investigation of Bart's Group One winners' pre-1985, it was soon obvious that Galilee was the highest rated galloper in that period.
Looking at his record it is hard not to be impressed. That is even before any analysis is undertaken to quantify the merit of some of his peak rating performances.
A son of Alcimedes, Galilee raced 36 times for 18 wins and ten placings and did not commence his racing career until the last day of his two-year-old year, in a maiden at Gawler. Galilee finished second.
Galilee did all of his three-year-old racing in Adelaide, Bart content to keep the youngster against easier company while working his way through the grades. In all, he started 11 times for seven wins but Bart knew he had something special when Galilee became the first horse in 50 years to take the City Of Adelaide Handicap (1 mile) and Birthday Cup (10f) double.
Galilee began his four-year-old and best racing year with two unplaced runs over five furlongs in Adelaide before heading to Melbourne where he won the Patrobas Welter Handicap (1 mile) under 61.5kgs with Roy Higgins in the saddle.
1966 was an exciting time in Australian racing. Much like now, there was plenty of depth in the weight for age ranks with crack gallopers Tobin Bronze and Prince Grant along with Future all providing stiff opposition whenever they met.
After this win, Cummings sent Galilee to Sydney. He failed in the Hill Stakes behind Prince Grant who had also won amongst other races the Chipping Norton Stakes before taking the Colin Stephen Stakes and Craven Plate.
But it was Galilee's next run that had tongues wagging, an eye-catching second to champion New Zealand mare Chantal in the Group 1 Epsom Handicap (1 mile). Galilee made up many lengths from thirteenth on the home turn in the 21 horse field.
Taken back to Melbourne, Galilee began to show outstanding form winning the Group 1 Toorak Handicap (1 mile) coming from second last early to defeat Legal Boy and Captain Blue rating to 124.
Next up was the Group 1 Caulfield Cup (12f) and Galilee was as equally impressive. A very fast speed was set by the leaders and Galilee was a long way off the pace in 15th spot at the 4 furlongs not only giving them a big start but also crack galloper and odds on favourite Tobin Bronze.
Galilee swept all those aside in an amazing display of acceleration running down Gala Crest and Pharoan to win comfortably in the fast time of 2:27.8, the second fastest Caulfield Cup ever run at that stage. Only the champion Tulloch had gone quicker in 1957, but still today it is one of the fastest Caulfield Cups ever run.
Galilee was given a Timeform rating of 127 for that performance.
After a soft third in the Mackinnon Stakes, Galilee lined up in the 1966 Melbourne Cup alongside Bart's 1965 winner Light Fingers.
Again despite a stellar line up on a slow track it was no contest. Galilee had the Cup in his keeping a long way from home, cruising to an easy victory by two lengths from Light Fingers and AJC Metropolitan winner Duo. He had become only the sixth horse in history to take the Cups double.
Galilee was assessed to have returned a Timeform rating of 129.
Then four days later Galilee lined up against his nemesis Tobin Bronze in the weight for age C B Fisher Plate (12f) and put to bed the notion that he was not a weight for age galloper by easily beating him by over two lengths returning a Timeform rating of 132.
This victory put the seal on a great Spring for Galilee but he and Tobin Bronze were destined for further clashes in the Autumn of 1967.
They both resumed in the C F Orr Stakes (7f) with Tobin Bronze scoring easily by three lengths. A similar result followed in the Blamey Stakes (10f), this time the margin was two lengths.
Then came a series of breathtaking performances by Galilee, all at weight for age. A half length defeat of Tobin Bronze in the VRC Queen's Plate (10f), a ten length thrashing of Prince Grant in the VRC Queen Elizabeth Stakes (12f), followed by a two length win over Prince Grant in the AJC Autumn Stakes (12f) at 1/5 favourite. Those performances taking his Timeform rating to 133.
Galilee's next and final run as a four-year-old was in the Sydney Cup (2 miles). Handicapped to carry 60.5kgs and conceding 3.5 kgs to Prince Grant, Galilee was never going to lose, shrugging off any weight concerns scoring in effortless fashion by 6 lengths from Prince Grant with Striking Force a further two lengths away third.
The merit of that performance was set at 134+.
Unfortunately Galilee broke down and missed the entire five year old season, during which Tobin Bronze went on to establish himself as one of Australia's finest ever gallopers with wins in the Toorak Handicap (carrying 62.5kgs), Caulfield Cup (carrying 61.5kgs) plus a second Cox Plate.
Galilee made a return to the track as a six year old winning the Memsie Stakes (9f) and Turnbull Stakes (12f) before finishing eighth in the 1968 Melbourne Cup under a crushing 64 kilos.
After two more unplaced runs as a seven year old, Galilee was retired leaving behind some outstanding performances, the like of which is seldom seen in Australian racing.
There is no doubt that Galilee with a Timeform rating of 134+ is the best horse that Bart Cummings has put a saddle on so far. It is little wonder that Bart is reluctant to call So You Think as his best ever at the moment – he has a little way to go before he can wrest that honour away from the mighty Galilee, who to this day remains the only horse to have won the Caulfield, Melbourne and Sydney Cups in the one season.
Ends....
So You Think's Defining Achievement (Extract From Full Article – published in 2011)
The win by New Zealand bred galloper So You Think in last week's Group 1 Eclipse Stakes (2000m) at Sandown Park in England set a new benchmark in Europe for Australian and New Zealand thoroughbreds.
In the last 50 years or so Australian and New Zealand bred gallopers have acquitted themselves with distinction when racing abroad but none have managed to achieve what So You Think has accomplished.
Prior to 2011, several New Zealand and Australian bred gallopers had ventured abroad to showcase their talents. As we have seen, and I must point out I have not mentioned all of them here due to space limitations, but in the main they have been very successful winning up to a mile in the UK, 2400m in Japan and at various distances and track surfaces in the US.
Against this background, it is easy to appreciate why many in the UK believed So You Think faced a herculean task to be competitive at Group 1 level in England over a middle distance and beyond, let alone be victorious.
And they had good reason for this. The number of horses that had been able to come from anywhere overseas and win in Britain was indeed small.
Through the deeds of our sprinters and milers, Australia had shown they could do this at shorter distances but that did not threaten their bastion of supremacy as far as the elite racing in Britain and Europe was concerned – middle distance and staying events.
Again they could be comforted by the fact that great Japanese stayers like Deep Impact Timeform rated 134 could finish only third in the Arc of 2006, while another champion Japanese stayer Heart's Cry (127) ran third in the 2005 King George and crack US stayer Hard Buck (127) third in the same race a year earlier.
Another champion Japanese stayer Zenno Rob Roy (126) was second in the 2005 International Stakes at York and going even further back in 1936 US Triple Crown winner Oamha finished second in the Ascot Gold Cup. So if these top line non-European overseas thoroughbreds could not win over a middle distance or staying journey on British and European soil then what chance did So You Think have?
And just to make the British feel completely comfortable about the task that lay ahead for our champ, records reveal the last non-European overseas horse to win over a middle distance in Britain was American galloper Reigh Court. A winner of the 1928 Kentucky Derby Reigh Court won the 1929 Coronation Cup at Epsom some 82 years ago.
The good thing is So You Think was totally unaware of the past and the assignment that lay ahead.
A winner of two W. S. Cox Plates down under and five Group 1 in total when under the care of master trainer Bart Cummings, So You Think departed our shores with a Timeform rating of 133 to take up residence at Coolmore trainer Aidan O'Brien's Ballydoyle yard in Ireland.
A couple of quick "kills" in Ireland got So You Think's European campaign off to a good start taking the Group 3 Mooresbridge Stakes and Group 1 Tattersall's Gold Cup both at the Curragh at his first two runs for O'Brien.
The next goal was the Group 1 Prince Of Wales's Stakes over 2000m on British soil at Royal Ascot which was the test everyone wanted to see. Beating "second tier gallopers" in Ireland still does not rank that highly in the eyes of some British commentators.
Punters rallied to So You Think in the Prince Of Wales's Stakes but unfortunately race strategy and tactics, fitness concerns combined with an impatient ride worked against him playing more to favour his biggest rival, Group 1 Sheema Classic winner Rewilding.
In a close battle So You Think was caught by Rewilding in the closing stages, beaten yes, but far from disgraced.
The doubters still persisted. Every chance the hard nose critics said after the defeat. But as we have seen this performance alone in a historical sense was quite significant – joining an group of elite non-European overseas gallopers to place in a middle distance race on British soil.
All critics were silenced at Sandown Park in the Group 1 Eclipse Stales over 10 furlongs where he faced Europe's top rated middle distance/staying colt Workforce (Timeform rated 133), winner of the 2010 Epsom Derby and Prix de l'Arc de Triomphe.
In one of the most memorable races held in Britain for some time, So You Think clearly demonstrated his superiority over Workforce, giving the colt a start and a beating up the long Sandown Park straight. Timeform assessed the merit of the win at 134.
Workforce is quality middle distance/staying galloper in Britain. Not many horses win a Derby and an Arc in the same year. Only the special ones do. In nearly fifty years Workforce became just the fifth horse to complete the double in 2010 joining past greats such as Sea The Stars (Timeform rated 140), Sinndar (134), Lammtarra (134) and Mill Reef (141).
In my view the historical significance of what So You Think achieved in the Eclipse Stakes has largely gone unnoticed.
Between them Australian and New Zealand bred gallopers have now proven their ability on British soil from 1000m to 2000m, but it is So You Think that has claimed the pinnacle, eclipsing past deeds of some great non-European overseas gallopers unable to achieve this single most significant feat – beat the Europeans on British soil over a middle distance.
Ends....