Gary Crispe's Fundamental Form Analysis – Fitness Part 1
As I eluded to in my opening article in this series there are certain core factors that are always part of my process when doing the form and finding winners.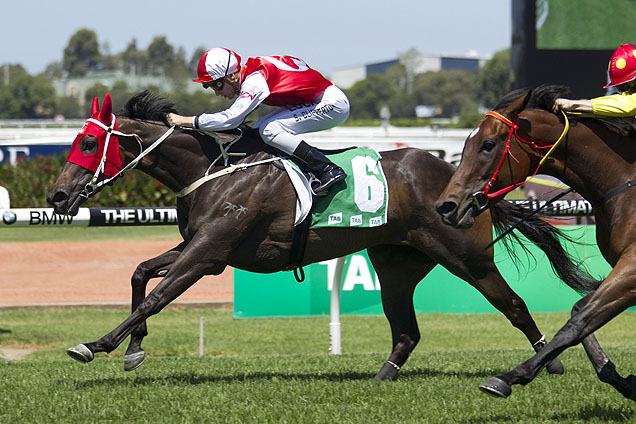 In my experience, I have found like most things in life, the more effort you devote to analysing the form, the better you will become and importantly be a consistent winner.
But perhaps more importantly is the great satisfaction that you get knowing why a certain horse has been successful and you have backed it – there can be no greater pleasure than that!
So why do some people consistently win and others lose?
Every day in Australia there are winners and losers – the vast majority of horse bettors are losers and sadly these same people blame anyone or anything else for their losses. Some even have the belief that only those closely involved in racing know "who is going to win".
That belief is completely false. Most owners have a negative cash flow while most trainers are so involved with their own horses and so ignorant of the ability of their rivals that they too lose over time.
I have found that long term betting success comes using quality information like that freely available on the Racing and Sports website combined with a skilled approach to form analysis and a good money management strategy.
Doing the form to find winners is a second job. To do it properly requires dedication and time – just look at the successful punters on the track. They are not the "insiders" or "coat tuggers" giving you a tip in very race, they are the skilled analysts and considered in their judgement.
I will come back to the overall way I do the form later but for now Fitness is one factor for discussion.
In the late 1800's legendary American punter Pittsburgh Phil developed several maxims dealing with betting on thoroughbred racing and doing the form. One of those was focussed on fitness and read as follows;
• Horses are the same as human beings where condition is a test of superiority
• There are few trainers who can turn a horse out to post first time in perfect condition
• One race for a horse is equal to two or three barrier trials
• A horse in poor condition cannot beat one of its own class
• A high class horse could not win a race with a feather on his back if not fit
Perhaps it is the last of these maxims that we should pay the most attention to in pre-race handicapping to find winners.
It reflects on the one area of form analysis that will prove more difficult than any other to make decisions on.
Why is that you might ask? Well every horse is different in this regard thereby making the pre-race fitness assessment that much more complex.
More money is lost, both public and stable, on horses that are unfit than for any other reason with the possible exception of supporting horses with a sheer lack of ability.
While most horses can take three, four or five runs to reach racing winning fitness levels there are some that are genuine first up performers with say 2 wins from 3 first up attempts.
Identifying those horses is important but sometimes that statistic alone will not be sufficient as there are other factors that do come into play such as quality of opposition, trial form, race distance, previous patterns and state of going to name a few.
I will deal with those later. Below I have reproduced a screen shot from the free Racing and Sports horseform look up facility that shows the short form for Ammirata.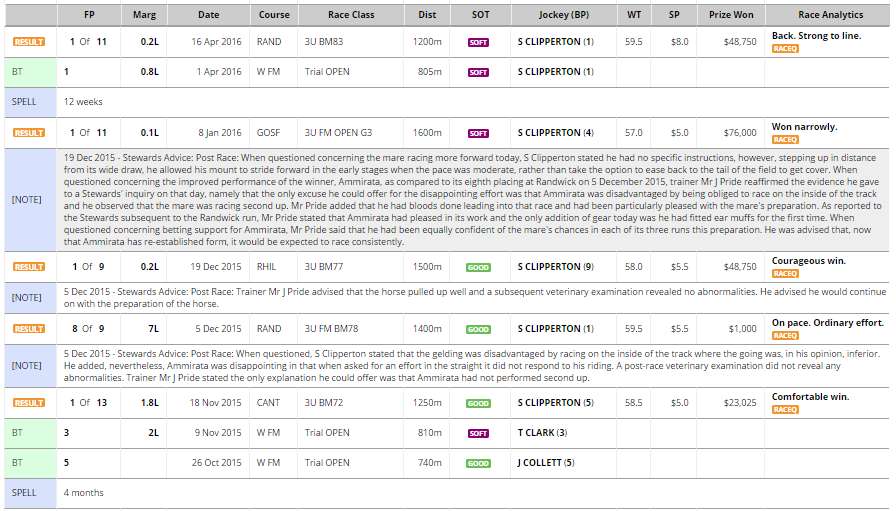 After her win at Randwick on April 16, Ammirata has now raced first up four times for three wins Inc her debut run).
In fact her only failure was the debut run and there are a host of reasons why that can safely be ignored as a meaningful stat. Which effectively means she is 3 wins from 3 attempts fresh up and trainer Joe Pride's pattern before each of those wins was at least one trial.
Some horses will go backwards after winning first up but this is certainly not the case with Ammirata, The screen shot from her profile form link in Horseform clearly shows she is best early in her campaign – all 6 career wins coming within her first 4 runs back from a spell.
To view more profile stats for Ammirata go to http://www.racingandsports.com.au/horse/ammirata-872588
While Ammirata is an exception to the general rule, most horses when returning from a spell will run somewhere between 3kgs to 12kgs below their Peak Rating.
Converted to lengths using the "rule of thumb" of 1.5kgs = a length, that equates to between 2 and 8 lengths.
In all these articles I will be referring to the Racing and Sports KGR ratings which are in kilos and are free on the website every day in the meeting race cards.
Click here to visit daily race cards.
These ratings are a derivative of Don Scott's original methods but with some slight modifications such as the removal of the jockey ratings from the rating itself which I have found makes the calculations more accurate.
More next issue.