Gary Crispe's Fundamental Form Analysis – Fitness Part 3
This week I will deal in more detail with the training routine as it applies to assessing the pre-race condition of any horse.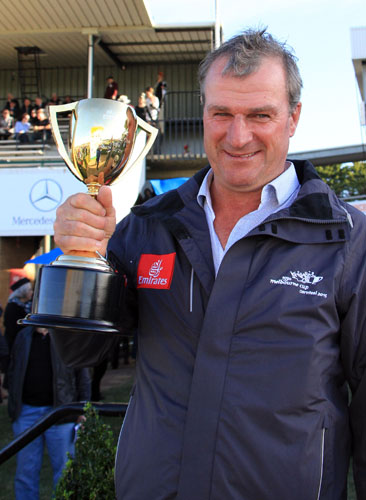 To recap, last week I touched briefly on the trainer's dilemma in getting a horse to optimum fitness level.
As we work through the main elements of trying to decide the level of fitness of a horse resuming from a spell or making it's race debut, this week I will deal in more detail with the training routine as it applies to assessing the pre-race condition of any horse
Basically the main areas to focus on involve;
• The modern trainers dilemma
• The horse's form cycle
• Horses returning from a spell
• Racing patterns and race fitness indicators
As an aid to understanding the form cycle I will run through a typical schedule for a horse resuming from a spell.
Each horse is an individual when it comes to a form cycle and this impacts on how they are prepared for a return to the race track.
As I discussed last week some of Australia's leading trainers have pre training establishments to reduce the amount of unproductive time each horse occupies a stable box ie their prizemoney earning capacity.
I mentioned David Hayes and Tom Dabernig and showed you an example of their strike rates with debutantes and first uppers. Team Williams is also very good at this and of course Australia's current red hot trainer Darren Weir has a similar operation but interestingly his success is not so much with horses early on in their preparations but with horses later on in their preparations. And I will come to the significance of this a bit later.
But whichever way you look at it, there is a minimum amount of basic training that has to go into any horse before it is fit enough to resume racing.
For some horses, training is an endless regime of getting them back from injury or major setbacks.
However, generally speaking the longer break or spell from racing, the more ground work and longer it takes to get a horse back to a suitable fitness level to race.
That does not mean the level of fitness is good enough for a first up win – just sufficient that the horse will not go over the top and be gutted by the fresh up run before it gains in fitness after two or three more runs before it is then ready to win in a suitable race.
A typical training/racing cycle for a thoroughbred would be something along the lines of;
• Returning from a spell – unfit to gallop fast
• Completed a certain amount of preparatory track work and is probably half fit but ready for a soft barrier trial and be not knocked about
• A second/third barrier trial and made to exert itself for a couple hundred metres
• Have two of three race starts improving performance each run – also depends on whether sprinter or stayer – track work also being stepped up
• Trainer looks for a suitable winning race and horse races consistently in its class performing to its ability for several runs – maybe 3 or 4 runs in suitable races
• Race form starts to fall away – horse puts in a couple of unexplained poor runs in succession
• Symptoms of a horse that has gone sour and lost zest for racing – needs to spell.
Although track work is scantly published in the press, the Sportsman still carries some details in its Tuesday/Friday edition and this can be helpful in studying what a trainer is doing.
While Australian race clubs and bodies provide little information on track work, the emerging Asian racing jurisdictions are doing the exact opposite – providing their punters with everything they need.
For example If you are doing the form for Hong Kong then you will have all the track work for every horse racing plus free videos of all barrier trials. Singapore is similar.
In these circumstances it is easy to detect trainer's race preparation patterns not only for an individual horse but as a general rule for most horses in his stable.
The trainer will use a combination of track work and trials to get the horse fit to race and it will depend on just what level of fitness is required before a horse begins racing that will dictate the mix of trials and track work used between races. And this is where a horse's form cycle will come into play.
For example a middle distance galloper or stayer will do more long striding work and perhaps a single trial before resuming whereas a sprinter is likely to have more trials and fast work.
It is clear that the more time you take with the basic preparation before heading off to the races is an important factor in how many good runs a trainer can get from a horse in a single campaign.
And this is where the statistics for Darren Weir get interesting. Clearly he is not in a rush to get horses back to racing early, preferring instead to take plenty of time at the front end of a looming campaign ensuring the ground work is done before racing.
Next week I will uncover some interesting facts about Darren Weir and how to use those statistics like the pro's do to improve your punting and more importantly, your bottom line..