Sectional Analysis - Missile Stakes Day August 6
Sectional analysis of the Missile Stakes programme at Randwick on August 6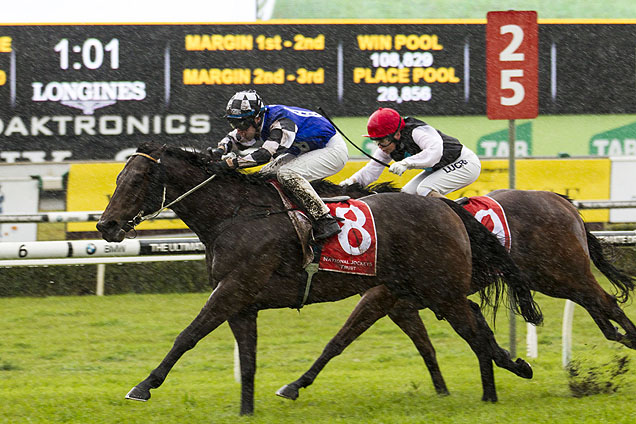 Five of the nine winners led the final 600m with with placegetters Rebel Dane
and Mount Nebo
running the fastest final 600m and 200m respectively in the feature Missile Stakes (37.44/13.01).
The most impressive winner of the day against the race 600m and 200m was Invitations
in the Benchmark 81 Handicap who came from fourth placing at the 600m.
Knit 'N' Purl was another winner on the day to not lead, coming from third at the 600m but did lead the final 200m.
Fastest 600m and 200m splits per race.
| | | | |
| --- | --- | --- | --- |
| Race | Horse (600m/200m) | Last 600m | Last 200m |
| Benchmark 78 F&M Handicap (1800m) | Birds Of Tokyo | 37.42 | 12.99 |
| Benchmark 74 Handicap (2400m) | Lie Direct | 41.03 | 13.96 |
| Benchmark 81 Handicap (1000m) | Invitations | 36.17 | 12.91 |
| Highway Handicap Class 3 (1400m) | Snappy One/Explosive Scene | 38.45 | 13.42 |
| Missile Stakes WFA (1200m) | Rebel Dane/Mount Nebo | 37.44 | 13.01 |
| 3YO Listed Rosebud (1200m) | Miss Beneteau/ Mediterranean | 37.32 | 12.78 |
| Benchmark 78 Handicap (1600m) | Dubaiinstyle | 38.17 | 13.29 |
| Benchmark 83 F&M Handicap (1200m) | Knit 'N' Purl | 37.43 | 13.09 |
| Benchmark 78 Handicap (1200m) | Encostanati/Burning Passion | 37.51 | 13.26 |
Race 600m against Winner last 600m
| | | | |
| --- | --- | --- | --- |
| Race | Race last 600m | Winner last 600m | Difference |
| Benchmark 78 F&M Handicap (1800m) | 37.42 | Birds Of Tokyo (37.42) | -0.00 |
| Benchmark 74 Handicap (2400m) | 41.03 | Lie Direct (41.03) | -0.00 |
| Benchmark 81 Handicap (1000m) | 36.63 | Invitations (36.17) | -0.46 |
| Highway Handicap Class 3 (1400m) | 38.45 | Snappy One 38.45 | -0.00 |
| Missile Stakes WFA (1200m) | 37.50 | Tycoon Tara (37.50) | -0.00 |
| 3YO Listed Rosebud (1200m) | 37.66 | Thronum (37.66) | -0.00 |
| Benchmark 78 Handicap (1600m) | 38.28 | Durbaiinstyle (38.17) | -0.11 |
| Benchmark 83 F&M Handicap (1200m) | 37.77 | Knit 'N' Purl (37.43) | -0.34 |
| Benchmark 78 Handicap (1200m) | 37.58 | Encostanati(37.51) | -0.07 |
Race final 200m against winner last 200m
| | | | |
| --- | --- | --- | --- |
| Race | Race last 200m | Winner last 200m | Difference |
| Benchmark 78 F&M Handicap (1800m) | 12.99 | Birds Of Tokyo (12.99) | -0.00 |
| Benchmark 74 Handicap (2400m) | 13.96 | Lie Direct (13.96) | -0.00 |
| Benchmark 81 Handicap (1000m) | 13.10 | Invitations (12.91) | -0.19 |
| Highway Handicap Class 3 (1400m) | 13.92 | Snappy One 13.92 | -0.00 |
| Missile Stakes WFA (1200m) | 13.02 | Tycoon Tara (13.02) | -0.00 |
| 3YO Listed Rosebud (1200m) | 13.06 | Thronum (13.06) | -0.00 |
| Benchmark 78 Handicap (1600m) | 13.29 | Durbaiinstyle (13.29) | -0.00 |
| Benchmark 83 F&M Handicap (1200m) | 13.22 | Knit 'N' Purl (13.09) | -0.13 |
| Benchmark 78 Handicap (1200m) | 13.77 | Encostanati(13.77) | -0.00 |
R3 RANDWICK

6 August 2016

Jockey Celebration Day (Bm81) 3U , 1000m
FP

Horse
Age & Sex
Trainer
Jockey
WT
SP
8. INVITATIONS (AUS)
7yo Gelding
KRIS LEES
TOMMY BERRY
56.5
$4.50
STREET CRY (IRE) - COME HITHER (AUS)

L Harringon, L Jervis, Mrs K Pratt, D G Wyatt, M J Lowe, T H Harris, Mrs N J Harris, Mrs K Weinert, B M Weinert, Mrs M Keough, D F Keough, Miss J E Kluske, R Epstein, R B Pratt, M R Neumann, Mrs M J Grantham, R J Kozikowski, Mrs C L Kozikowski, D Pethybridge & Top 4m (Mgr: B P Howell)

9. DON'T TEASE ME (AUS)
7yo Gelding
STEPHEN GLEESON
KATHY O'HARA
54.0
$8.00
BEAUTIFUL CROWN (USA) - LA PETITE COQUETTE (AUS)

J R Gleeson, Ms M R Cranfield, J P Gleeson, Mrs E I Wells & B Wells

May 13, 2013 Scone Select Yearling Sale, $8000, J Gleeson, NSW

4. LAST WITNESS (AUS)
6yo Gelding
PAUL PERRY
TIM CLARK
59.5
$2.75
STAR WITNESS (AUS) - CRUISY LADY (AUS)

Simon Croucher Racing, A D Brown, L P Michelson, J D Mangan, D Hurley, M O Howson, Kookas, D M McKenzie, B J Threlfall, C A Baggaley, D G Simms, O D D Ciccozzi & Knock Knock Synd

Jan 14, 2014 Gold Coast Yearling Sale, $30000, P M Perry, NSW

4th
2. WAR JET (AUS)
8yo Gelding
JOE CLEARY
BLAKE SHINN
60.5
$10.00
5th
5. THREE SHEETS (AUS)
7yo Gelding
JEREMY SYLVESTER
ROBERT THOMPSON
59.5
$3.50
6th
10. TEXAN LAD (AUS)
9yo Gelding
JAMES BERRY
CHRISTIAN REITH
54.0
$41.00