Sectional Analysis- Rosehill April 23
On speed looked the place to be at Rosehill on Saturday with only the three last winners not having led at the 200m as shown by the sectional analysis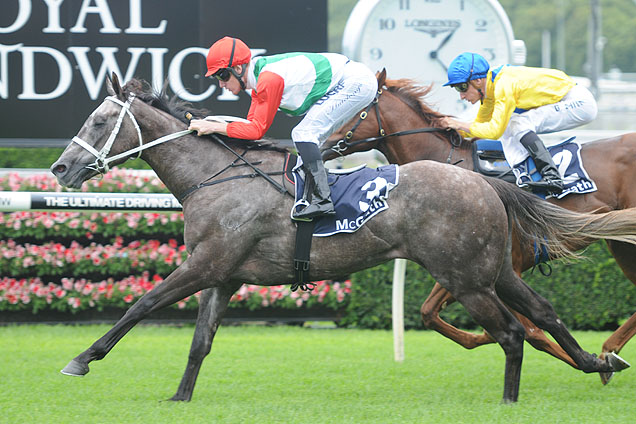 Sir Bacchus
produced an outstanding turn of foot to claim victory in the opening race, running the fastest last 600m of the day along with the second fastest last 200m (32.97/10.98).
Sir Bacchus who took the rails run after being last certainly looks one to follow heading towards the Brisbane carnival.
The track was downgraded from a Good 4 to a Slow 5 towards the end of the meeting with the fastest last 200m going to Top Of My List
(33.21) who ran on well from back in the field but was unable to reel in Imposing Lass
who led all the way.
Top Of My List
was one of very few runners to make good ground throughout the day along with Mogador
who got home in 33.29/11.33.
Fastest 600m and 200m splits per race.
| | | | |
| --- | --- | --- | --- |
| Race | Horse (600m/200m) | Last 600m | Last 200m |
| 3YO Benchmark 78 Handicap (1200m) | Sir Bacchus | 32.97 | 10.98 |
| 2YO Open Handicap (1100m) | Impending | 33.19 | 11.13 |
| Benchmark 78 Handicap (2400m) | Murphy's Delight | 34.66 | 11.81 |
| Country Class 2 Handicap (1500m) | Caribbean Concert/ Oh So Unfair | 34.91 | 11.29 |
| 3YO Benchmark 78 Handicap (1500m) | Top Of My List | 33.21 | 10.81 |
| F&M Benchmark 78 Handicap (1400m) | Amazon/Unequivical | 34.44 | 11.56 |
| – Benchmark 83 Handicap (1500m) | Farolitos | 34.20 | 11.36 |
| Benchmark 78 Handicap (1350m) | Zedfast | 33.68 | 11.08 |
| Benchmark 85 Handicap (1100m) | Mogador | 33.29 | 11.33 |
Race final 600m against winner last 600m
| | | | |
| --- | --- | --- | --- |
| Race | Race last 600m | Winner last 600m | Difference |
| 3YO Benchmark 78 Handicap (1200m) | 33.64 | Sir Bacchus (32.97) | -0.67 |
| 2YO Open Handicap (1100m) | 34.03 | Impending (33.49) | -0.54 |
| Benchmark 78 Handicap (2400m) | 35.25 | Murphy's Delight (34.66) | -0.59 |
| Country Class 2 Handicap (1500m) | 35.68 | Sassaby (35.28) | -0.40 |
| 3YO Benchmark 78 Handicap (1500m) | 33.70 | Imposing Lass (33.70) | 0.00 |
| F&M Benchmark 78 Handicap (1400m) | 35.02 | Muy Bien (35.02) | 0.00 |
| Benchmark 83 Handicap (1500m) | 34.76 | High Midnight (34.51) | -0.25 |
| Benchmark 78 Handicap (1350m) | 34.55 | Hetty Heights (33.90) | -0.65 |
| Benchmark 85 Handicap (1100m) | 34.19 | Palazzo Pubblico (33.56) | -0.63 |
Race final 200m against winner last 200m
| | | | |
| --- | --- | --- | --- |
| Race | Race last 200m | Winner last 200m | Difference |
| 3YO Benchmark 78 Handicap (1200m) | 10.98 | Sir Bacchus (10.98) | 0.00 |
| 2YO Open Handicap (1100m) | 11.13 | Impending (11.13) | 0.00 |
| Benchmark 78 Handicap (2400m) | 11.81 | Murphy's Delight (11.81) | 0.00 |
| Country Class 2 Handicap (1500m) | 11.57 | Sassaby (11.57) | 0.00 |
| 3YO Benchmark 78 Handicap (1500m) | 10.93 | Imposing Lass (10.93) | 0.00 |
| F&M Benchmark 78 Handicap (1400m) | 11.99 | Muy Bien (11.99) | 0.00 |
| Benchmark 83 Handicap (1500m) | 11.57 | High Midnight (11.52) | -0.05 |
| Benchmark 78 Handicap (1350m) | 11.53 | Hetty Heights (11.12) | -0.42 |
| Benchmark 85 Handicap (1100m) | 11.55 | Palazzo Pubblico (11.42) | -0.13 |
R5 ROSEHILL

23 April 2016

Schweppes (Bm78) 3 , 1500m