February Stakes Race Preview : Tokyo - Sunday, 17th February 2019
The 36th running of the February Stakes will be held on Sunday, February 17th and it is a 1,600 meter dirt event at Tokyo Racecourse.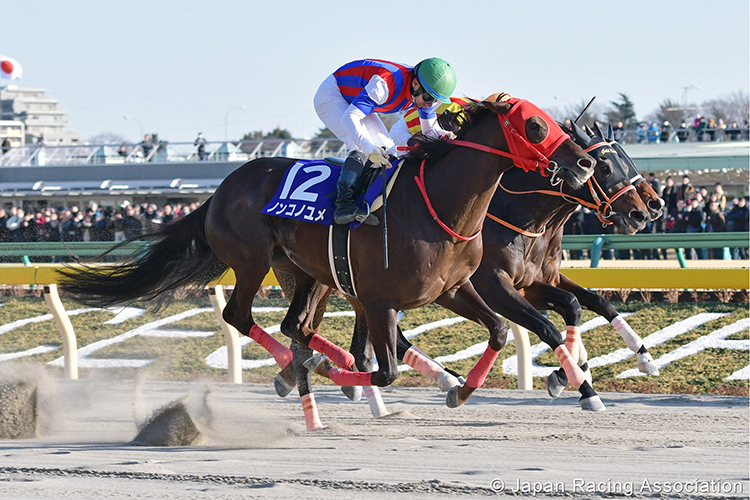 Grade 1 horseracing action in Japan returns for the first time in 2019, when the February Stakes will be run at Tokyo Racecourse next Sunday (February 17). The 36th running of the race kicks off the top level races which increase in frequency from March. The February Stakes is run over a mile on the dirt course, although the start is on turf, just off the main oval dirt track. The race was originally known as the February Handicap back in 1984, when it was a Grade 3. It was upped to Grade 2 status in 1994, when it became known as the February Stakes. Final changes came when it was made a Grade 1 race in 1997, and an international Grade 1 in 2007.
This year there have been 18 nominations for a maximum field of 16, and another competitive field of top class dirt horses looks sure to line up at Tokyo on Sunday. The race is for 4-year-olds and up, with a set weight of 57 kg, with fillies and mares claiming a 2 kg allowance. Since the year 2000, nine 5-year-olds have won, while next best have been 4-year-olds, claiming the race seven times over that period. First favorites lack a bit of a grip on the race, with just three winning in the last ten years, the last being Copano Rickey in 2015. Record time for the February Stakes is 1 minute 34.0 seconds, set by Moanin in 2016.
Some of the step races leading up to this year's February Stakes have included the Grade 1 Tokyo Daishoten, held at Oi last December over 2,000 meters, the Grade 3 Negishi Stakes over 1,400 meters at Tokyo in January, and the Grade 2 Tokai TV Hai Tokai Stakes run over 1,800 meters at Chukyo, also last month. A number of the runners are coming off runs in these races and will be battling it out again for this Sunday's ¥100 million winner's check. The February Stakes will be Race 11 on the Sunday card at Tokyo, with a post time in Japan of 15.40.
Here's a look at some of the runners expected to head the betting market :

Inti
: Something of a revelation on the dirt racing scene in Japan, Inti keeps being given stronger tests and keeps passing them with flying colors, as the 5-year-old has now won six straight races, five of them as favorite. His latest win came in the Grade 2 Tokai TV Hai Tokai Stakes over 1,800 meters at Chukyo in January. Trainer Kenji Nonaka is hoping the horse can give him his first Grade 1 victory. "It was a real test for him last time, but he got to the front and put in a strong run to win the race. There's a slight concern with him racing left-handed and how he corners out of the backstretch, but I was satisfied enough last time," the trainer said. Inti will be ridden by four time February Stakes winner, Yutaka Take.
Gold Dream
: The 6-year-old needs no introduction to racing fans in Japan, taking out the Grade 1 dirt double of the February Stakes and the Champions Cup in 2017, as well as finishing second in last year's February Stakes. He's finished first or second in his last six races, and his recent partner, Christophe Lemaire, will be in the saddle again. Trainer Osamu Hirata commented on the horse: "It's been the usual pattern with him, giving him a break at Northern Farm Shigaraki. He came back to the stable on the 23rd of last month, and everything's fine with him, including a piece of uphill work in around 52 seconds on the 30th, when he moved very well."
Omega Perfume
: The 4-year-old colt by Swept Overboard has only been unplaced once in nine starts (which have included five wins) and that was when he was fifth in last year's Grade 1 Champions Cup. The Shadai Farm bred colt was a great buy at the 2017 Chiba Thoroughbred Sale. His trainer Shogo Yasuda said, "He had a break at the farm after the Tokyo Daishoten, and has come back refreshed, weighing about 460 kg, which is good for his workload. I'm not worried about the race over 1,600 meters at Tokyo."
Copano Kicking
: Nanako Fujita will make history when she rides Copano Kicking on Sunday, becoming the first ever female JRA jockey to ride in a Grade 1 race. Copano Kicking is an American bred by Spring At Last, and has won his last four races, which have included two Grade 3s, the latest the Negishi Stakes over 1,400 meters at Tokyo in January. All three Grade 1 wins for trainer Akira Murayama have come in the February Stakes, and he's hoping he can grab the headlines here. He recently commented: "The horse took up a good position in his last race before going on to win well. It was a strong performance, and while not perfect, it shows me he's capable of running a good race from any position."
Sunrise Soar
: The Symboli Kris S 5-year-old chased home Best Dirt Horse for 2018 Le Vent Se Leve
to finish third in last year's Grade 1 Champions Cup, and is a horse that likes to be prominent in a race and give it his all, no matter what the distance. He'll be ridden for the first time on Sunday by jockey Hironobu Tanabe, who teams up with trainer Hiroshi Kawachi. The trainer said, "In the horse's races last autumn, he didn't win, but put in some good runs against Grade 1 performers. He's getting better as he matures, and he hasn't been losing weight between his last workouts and getting to the track on race days."
A couple of other horses should also be mentioned. Worthy of note is the other Sunrise runner, Sunrise Nova
, and last year's February Stakes winner, Nonkono Yume
. While the former could only finish eighth last time in the Grade 3 Negishi Stakes, it shouldn't detract from his overall good record of finishing in the first three 13 times from 20 starts, and a generally good track record at Tokyo. Nonkono Yume would just need a slightly better break from the gate and to not be too far behind turning for home, when the now 7-year-old gelding really finds his best turn of foot to finish strongly down the long Tokyo homestraight.