Inti Secures Seventh Consecutive Victory in February Stakes
Inti extended his winning streak to seven by capturing his first G1 title in this year's February Stakes.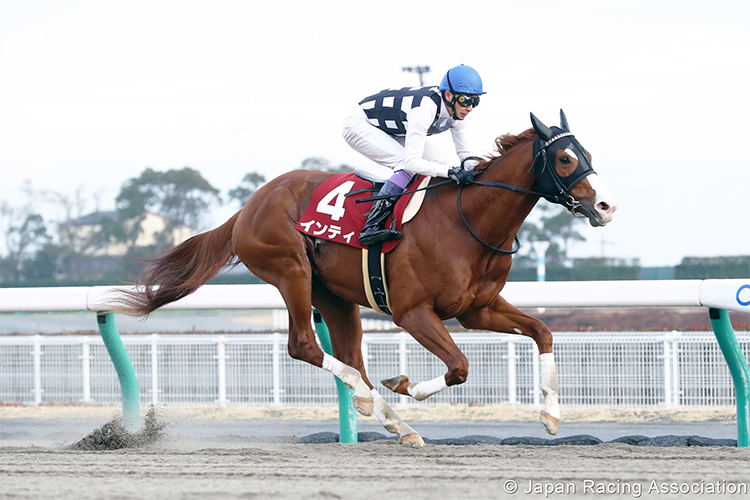 Race favorite Inti
extended his winning streak to seven by capturing his first G1 title in this year's February Stakes. The son of Came Home marked a ninth in his debut start and had been undefeated in all six starts that followed up to his latest Tokai Stakes (G2, dirt, 1,800m) triumph four weeks earlier. Overcoming issues concerning recovery from fatigue which forced him to limit his starts to three in both the 2017 and 2018 season, the lightly raced five-year-old now boasts a record of seven out of eight, all on dirt over 1,600, 1,700 or 1,800m distances. Trainer Kenji Nonaka celebrates his eighth graded win and first JRA-G1 title since opening his yard in 2008. Since his latest 2017 Arima Kinen victory with Kitasan Black, this is jockey Yutaka Take's 76th overall JRA-G1 win and fifth February Stakes title—Gold Allure(2003), Kane Hekili (2006), Vermilion (2008) and Copano Rickey (2015).
While defending champion Nonkono Yume missed his break, the rest of the field broke smoothly with Inti sent to the lead to set the pace chased by Sunrise Soar and Success Energy in second and third. Yutaka Take produced a perfect ride driving the five-year-old chestnut to victory while repelling a determined challenge from runner-up Gold Dream
to land a neck win.
"The horse broke well and we were able to take the lead and set at an ideal pace. He was a bit too eager in the post parade and I was worried that he had used up his energy, but we secured a safe lead at the last turn and he showed amazing strength to the wire. He has so much potential, we have a lot to look forward to in his future starts," commented Yutaka Take.
After settling in mid-field, 2017 champion and last year's runner-up Gold Dream shot out of the chasing group with a good burst of speed 300 meters out and threatened the leader with the fastest late charge but was a neck short in second.
Eighth favorite Yuranoto
ran on the rails in mid-division right beside Gold Dream up to the final turn and found a narrow path to advance to third at the furlong marker but proved no match for the winner finishing four lengths from the runner-up in third.
Under Nanako Fujita, who became the first Japanese female jockey to ride in a G1 event, fourth pick Copano Kicking trailed in the rear and lost ground going wide on both turns. The Spring At Last gelding showed the second fastest late drive but had too much ground to make up and finished a six-length fifth. "I am truly grateful to all who made it possible for myself to ride in this race. I have experienced this course numerous times before but today, everything looked totally different," commented Nanako Fujita after the race.

Other Horses :
4th: (8) Moanin—traveled in 5th, showed tenacious effort while no match for top 2 finishers
6th: (10) Sunrise Soar—stalked leader in 2nd, ran gamely up to furlong pole, outrun
7th: (7) Sunrise Nova—settled 3-wide 3rd from rear, passed tired rivals at stretch
8th: (5) Success Energy—chased leaders in 3rd along rails, weakened in last 200m
9th: (9) Wonder Lider—raced 3-wide in 4th, ran willingly until 200m pole, gradually dropped back
10th: (14) Omega Perfume—sat around 8th outside Gold Dream, never fired at stretch
11th: (1) Queen's Saturn—saved ground 2nd from rear, angled out, even paced
12th: (12) Nobo Baccara—traveled 3-wide in 11th, showed little at straight
13th: (13) Nonkono Yume—was off slow, made headway on outer route, failed to respond at stretch
14th: (4) Meisho Utage—hugged rails in 10th, showed brief effort, fell back after furlong pole