Iquitos Well Prepared For Japan
Lightly raced German galloper Iquitos after settling in well to his new surroundings looks set to race well in Sunday's G1 Japan Cup at Fuchu race course in Tokyo.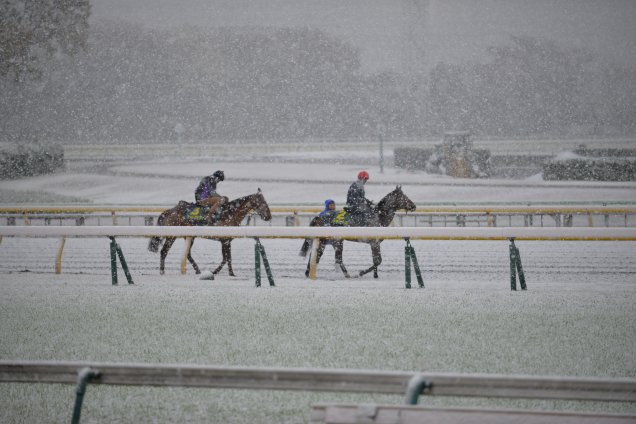 Iquitos
was handed an invitation to run in the 36th Japan Cup following his easy win over fellow German raider Nightflower
in the G1 Grosser Preis von Baden over 2400m at Baden-Baden in September.
That victory was just his fifth career win from 12 starts however his form this season has been the best of his career reaching a new Timeform
rating of 121 in that win.
But there was plenty to like about the performance, taking the lead over a furlong from home travelling strongly to safely hold out Nightflower by almost three lengths on the line.
And Nightflower provides a useful link to his chances on Sunday, that mare had finished an unlucky 11th in last year's Japan Cup behind Shonan Pandora, beaten just in three lengths.
Iquitos has raced twice since winning at Baden-Baden, both efforts below par but far from disappointing.
Two starts back Nighflower gained revenge on Iquitos for her Baden-Baden defeat, relegating him to fifth place in the Preis von Europa (2400m) at Cologne, however he was not on his best behaviour that day and had too much to do form the rear.
Then last time out at Munich he again raced below form when fourth behind Guignol in the Grosser Preis von Bayern over 2400m on soft ground.
Despite not having raced in big fields previously, trainer Hans-Jurgen Groschel does not have any fears about Iguitos handling Fuchu.
"The track would suit him—not because it's left-handed—he ran a great race in Hamburg, a right-handed track, where he finished second in a Group 2 behind Protectionist. But the track will definitely suit him—big long galloping track and of course again, especially the pace they go, that will be to his advantage," said Groschel.
"His advantage would be, if it keeps raining like this, but I heard that the drainage system here in Tokyo is very good and the ground never gets too soft, so that would of course be his advantage. It's going to be a quick race—this is good for him—it's just getting the clear run when he comes into the straight. That is the most difficult thing".
Race rider Ian Ferguson who has been atop the colt in his last five starts is looking forward to competing in the Japan Cup.
Speaking at the press conference, Ferguson said it was an honour for him to compete in such a prestigious race and international viewers could get a good guide on the prospects of Iquitos from his excellent second behind 2014 Melbourne Cup winner Protectionist in Hamburg.
"The race in Hamburg was actually perfect for him. He had his ground, it wasn't too big of a field and our advantage was, they all stayed out towards the middle of the track the whole race to look for better ground, and before entering the straight I could make little bit of ground up in the inside like he did in Baden-Baden where he won".
"And of course, turning into the straight, I had the right horse in front of me, Protectionist, and he was cantering, so I just followed him in the straight—perfect race—and it wasn't a hard race for him. I could see I couldn't beat the winner but we had all the other ones easily beat so it wasn't such a tough race for him, it was more just with the hands and heels. The advantage is going to be the pace with a big field like this. The disadvantage is going to be getting the right gap when we need it, you know, with 18 runners," Ferguson said.
R11 TOKYO

27 November 2016

THE JAPAN CUP in association with LONGINES 3U , 2400m