Kitasan Black Too Strong In Japan Cup
Race favorite Kitasan Black topped the 17-horse field of first-class international runners in this year's Japan Cup by a comfortable 2-1/2-length margin, marking his sixth grade-race and third G1 victory after his 2015 Kikuka Sho (Japanese St. Leger) and 2016 Tenno Sho (Spring) triumphs.
This is the fourth year in a row that a four-year-old captured the title. Among his eight career-wins, the Black Tide colt has now given trainer Hisashi Shimizu all of his three G1 victories. Meanwhile, jockey Yutaka Take claimed his 71st JRA-G1 victory, the first since the Tenno Sho (Spring) triumph also with Kitasan Black.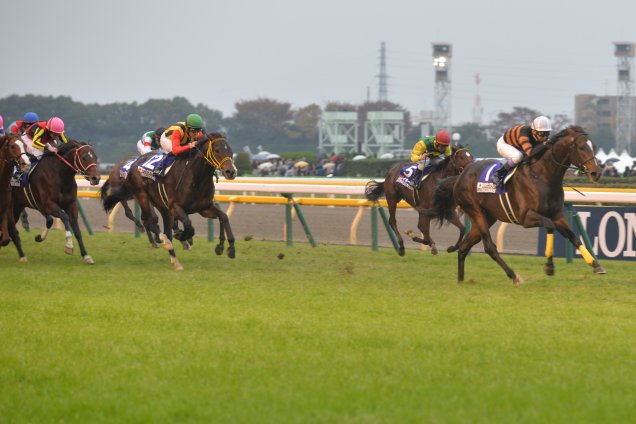 Take made another record as the jockey with most Japan Cup titles, having previously won three times with Special Week in 1999, Deep Impact in 2006 and Rose Kingdom in 2010.
Owned by well-known singer Saburo Kitajima, registered under Ono Shoji, Kitasan Black took advantage of his inner-most stall start, and as expected, smoothly secured the front-running position by the first turn, stretching his lead by three to four lengths from One and Only in second and Gold Actor in third along the backstretch.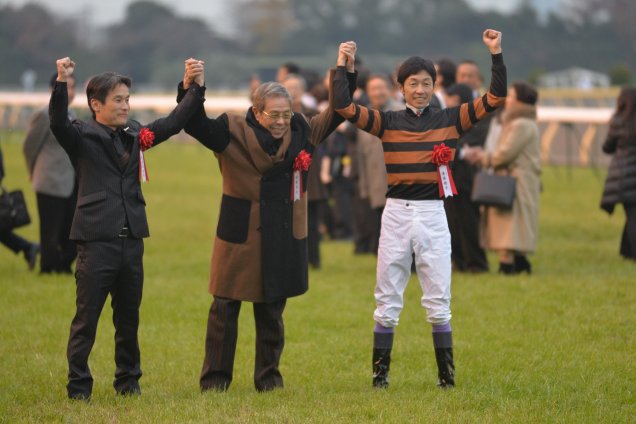 While the field made their bids heading into the straight and closed in on the front runner, Yutaka Take calmly and with confidence, allowed his colt to hit his best stride, never surrendering the lead and pulling away strongly from the 300-meter marker to a convincing 2-1/2 length victory.
Last year's fifth-place finisher Sounds of Earth sat in mid-field early, took a wide route into the stretch and galloped on strongly to pin the front runners one by one, overtaking the runner-up 150 meters out, but was no match for the winner and settled for second.
Starting from the farthest outside post position, Copa Republica Argentina victor Cheval Grand took a wide trip in mid-division before chasing Sounds of Earth into the straight then charged home down the middle of the lane, closing well, but was a neck short from the runner-up at the wire for third. Iquitos, representing Germany, was reserved off the rails around fourth from the rear.
Making headway rounding the last corner under jockey Ian Ferguson, the longshot charged impressively through gaps in the straight, inheriting the runner-up position at one point just before the 100 meter marker, but was caught by his fast closing rivals to finish 0.6 seconds from the winner in seventh.
Trainer Hans-Jurgen Groschel commented after the race, "We're happy with how he ran today. We were a bit unfortunate that he had to break from an inner stall—he was trapped inside horses and wasn't able to accelerate as hoped. It would be nice if we could come back to Japan again."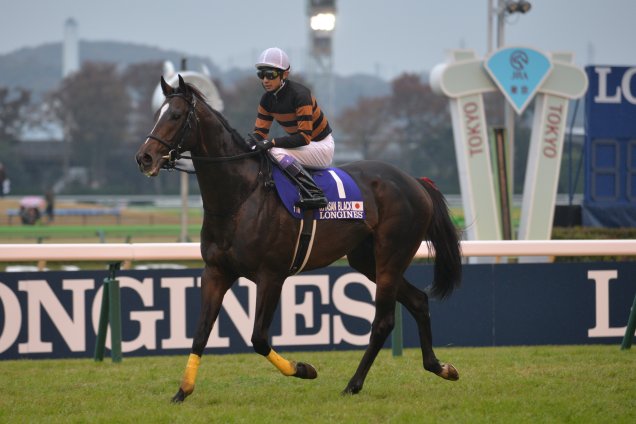 "We normally ride him from last position to keep him nice and settled, but today, for the first time, we put him in the middle between horses, and I was really happy about how well he settled with horses chasing him left and right—that was the reason he showed the speed at the end because he was so relaxed at the beginning.
We're quite surprised. It was just a bit of a shame in the end that he got into a bad ground on the left—but he's a tough little horse and we're delighted with the results," commented Ian Ferguson. Sent off ninth favorite, German filly Nightflower sat in the rear of the field up to the last turn after breaking from stall 15, and although showing effort by improving position in the last furlong, had too much ground to make up and finished 12th.
"She was not herself today—she wasn't able to get into a good position, running in the rear, and was totally unfocused. She will retire when she gets back home as planned," said trainer Peter Schiergen. "The filly wasn't in hand from the start and we had to sit in the rear of the field. It was difficult to find the right timing—nothing went as planned," jockey Andrasch Starke said after the race.
French runner Erupt traveled off the pace in fourth, found a clear path for his final run in early stretch and reached contention briefly but dropped away 300 meters out for 14th.
"It's a little bit disappointing. I was told from the trainer that the horse just couldn't quicken up. But we hope to come back again someday and do better," said owner Alan Cooper.
"He was positioned well, but wasn't able to quicken up in the straight. The reason to that, I don't know", commented trainer Francie-Henri Graffard after the race.
"We were able to sit in fourth to fifth and be in good striking position, but he just couldn't respond in the stretch", commented jockey Pierre-Charles Boudot. [Other Horses] 4th: (3) Gold Actor—chased leaders in 3rd, showed effort
R11 TOKYO

27 November 2016

THE JAPAN CUP in association with LONGINES 3U , 2400m