Jockey and trainer double up at Te Rapa
Jumping gem The Big Opal completed a top day at Te Rapa for Shaun Fannin and Kevin Myers when he turned in a sparkling display to win the Waikato Steeplechase.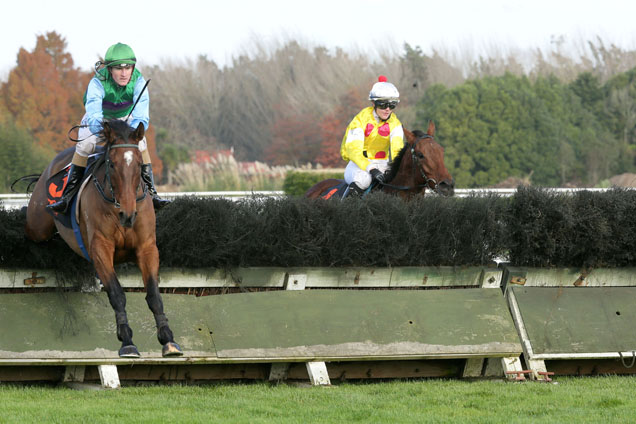 The eight-year-old showed he is going to be a force to be reckoned with in upcoming winter features when he led all of the way to reign supreme on Saturday in the PJR Warren Storm Lifebrokers-sponsored event.
It was the second success on the card for defending jumps jockeys' premiership champion Fannin after he had guided the Myers-prepared Highly Likely to his maiden jumping win in the Neil Treweek Steeplechase.
The Big Opal
has now triumphed in five of his seven starts over the big fences and showed his quality last term with a runaway victory in the Koral Steeplechase at Riccarton before he was the beaten favourite in the Grand National Steeplechase.
"Things went wrong there when the saddle slipped," Fannin said. "He can go on with it now though, he's top class."
The Big Opal had his rivals stretched out after a circuit on Saturday before Joking, who subsequently fell at the last fence, closed the gap 800 metres from home.
"He's the sort of horse that you don't realise how far in front you are," Fannin said.
"I had a look over my shoulder down the back and they were a long way away. When he heard that other horse coming he got his second wind and he was strong to the line, he's done a tremendous job."
The Big Opal had three and a half lengths on Mr Mor at the line with Fair Script third and the winner's stablemate and 2014 winner Palemo a distant fourth.