Wigley Watching And Hoping For Derby Win
Saturday's South Australian Derby will be watched more eagerly than most by New Zealander Gus Wigley, the general manager of Inglewood Stud.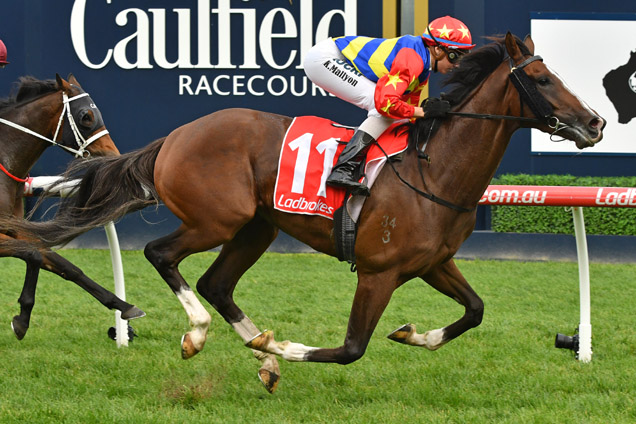 Wigley stands Zacinto, the sire of race favourite Odeon, at his family's North Canterbury property.
Zacinto is already the sire of G1 New Zealand 2000 Guineas winner Ugo Foscolo and a Derby win would mean a lot for the farm.
"It's a big one. He left the 2000 Guineas winner already this year and to leave a Derby winner from his first crop would place him in esteemed company as a sire," Wigley said.
It would cap a special week for Wigley after he became a father for the third time with the birth of his daughter Stella.
"My wife just had a baby on Tuesday, so it has been a big week. Hopefully Odeon can cap it off on Saturday," he said.
Wigley doesn't think the rise in distance will bother the Mathew Ellerton and Simon Zahara trained Odeon.
"I'm excited to see him go over ground and it will be a test. His mother won over a mile and a half and his dad certainly leaves a lot of stayers.
"I don't think the distance will be a problem for him at all.
"I've been talking with the ownership team and the trainers and they think he has a huge amount of ability but it's all new to him still, he's still learning and only going to get better."
Bred by Kevin Hickman of Valachi Downs, who is a major shareholder in Zacinto, Odeon was sold at the 2015 New Zealand Bloodstock Select Yearling Sale for $77,500.
Simon Zahra spotted Odeon when he was offered at the New Zealand Ready To Run Sale later that year. He couldn't secure him at that sale but did so six weeks later.
"My budget didn't go to what they wanted, which was $120,000,'' Zahra said.
"I couldn't get him out of my mind. I got a mate to make an inquiry and found he hadn't been sold.
"In the finish, the owner stayed in for 25 per cent and we got him for $100,000 and on sold him to long-time stable clients."
• INGLEWOOD STUD is offering a unique incentive for North Island breeders to send their mares to Inglewood's resident stallion Zacinto next season.
The North Canterbury farm have negotiated with New Zealand Bloodstock Airfreight to fly mares from Auckland for the stud season.
"The deal we are offering is the breeder pays the first $1,000 of the airfare and we pay the rest, regardless of whether the mare gets in-foal or not," Inglewood Stud General Manager Gus Wigley said.
The Dansili entire served a full book of 110 mares last season.
"Of the 110 mares, there were 98 positive tests. So it was exceptional fertility and he really stepped up to the plate," Wigley said.