Big Night At Taipa For Peter Leyshan
Racing at Taipa n May 12 belonged to the Peter Leyshan stable with Australian trainer leading in a treble in the last three races on the all weather track.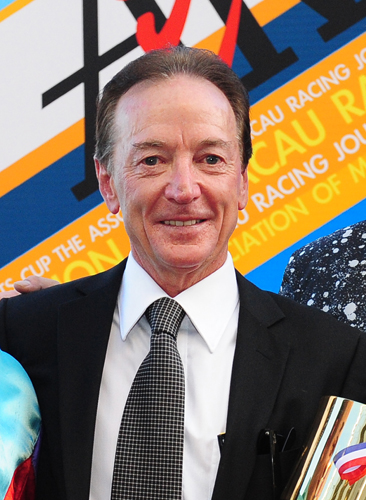 The promising Destney was the first of Leyshan's winners when he led for most of the 1510 metres of the 30 to 55 rated event, before powering away for an easy win over Happy Fish (Martin Wepner), with Vigorous Momentum (Horace Lam) in third.
Ridden by Irish rider Wayne Smith, Destney has now won three races straight on the all weather track from only three runs on the surface, and looks like a young horse going places.
The four year was first up since January after succumbing to a bout of colic following his second win.
"He came down with Colic back in January so after he recovered we decided to spell him and he has come back a much stronger horse." Peter Leyshan said.
A son of New Trumps (Ire), Destney clipped over one second off his personal best time for the distance.
The UK import Equistar gave Leyshan a quick double in the next event the Class 3 over 1050 metres when he found the line strongly under Peter Ho for a nice win at his Macau debut.
Equistar was originally trained by Jonathan Portman at Lambourn where he won two races, one at Leicester and one at Bath, and placed a further four times from his ten starts in the UK.
"I bought him from the tried horse sale at Newmarket late last year along with Sixth Sense and Benson."
"He didn't do so well when he first arrived and has taken awhile to acclimatize hence the late start."
"His two wins in the UK were on the turf. He didn't really show us too much here on the sand until the trial."
"In saying that we thought he would need a run as he is not really there as yet."
Leyshan is hoping to gain a start with Equistar in next Saturday's Group 1 Chairman's Challenge Cup over 1200 metres on the turf.
"It's not ideal one week later tackling our best sprint race, but it's just the way things have worked out with him. Plus the race only comes along once a year." Leyshan added.
Chinese Dream competed Leyshan's treble when he bolted away with the Class 4 over 1350 metres to give Wayne Smith a double on the night.
Smith, who has been riding in superb form of late, parked Chinese Dream off a three way speed battle to enjoy the run of the race, before pouncing on race favorite Grateful Favors in the straight to run out an easy winner.
James Moore enjoyed his best weekend in awhile preparing four winners over the two days racing.
The rising 11 year old gelding Laughing World was the first of Moore's winners on Friday night when he ran home strongly under South African rider Martin Wepner to win the Class 6 over 1510 metres.
Laughing World has now won 12 races in Macau, seven on the turf and five on the sand and accumulated close to $2.5 million HKD in prize money for his connections. Not bad for a horse whose only win in New Zealand was a lowly maiden at Oamaru in New Zealand earning just $3750 NZD.
Moore didn't waste any time posting his second win for the night with his only other runner for the evening The Pirate King running his rivals off their feet to win the 0 to 55 Handicap over 1050 metres.
The Pirate King having his first run on the sand gave four times champion Luis Corrales his first winner back after a seven week layoff, following a nasty fall from Cali Champion on the 24th of March.
Second placed Win Win Friendship was sent out a hot $1.8 favorite on debut and lost no admirers the way he chased The Pirate King throughout and will be winning at short notice.
The Pirate King is well named having only one eye after losing the off side eye in a stable accident in Australia.
Macau is one of the few places in the world where one eyed horses are allowed to compete, and The Pirate King going by his time of 1.02.6 will more than pay his way in the enclave.
Sunday afternoon saw Moore strike early with Dengcheng One running out a comfortable winner in the 30 to 55 contest over 1050 metres to give Wayne Smith three for the weekend.
Red Dragon rounded out James Moore's weekend with a solid win in the Class 2 & 3 over 1050 metres under Cliffy Lai.
Roger Yu booted home a quick double on Sunday winning the first of the afternoon the Class 6 over 1050 metres on River Dream for last season's leading trainer Sio Cheong, and then backing up quickly in the next event to win on Gem Eagle for trainer Danny Wong in the 25 to 45 contest over 1510 metres.
Starkiller from the Rambo Tse yard gave Luis Corrales two winners over the weekend when he took out the last on Sunday the Class 3 over 1350 metres. Corrales is in hot pursuit after Peter Ho in his quest for the five straight Jockeys' Championship titles.