Krystrump Set For Macau-Hong Kong Trophy
A pre race plan by trainer Peter Leyshan and jockey Wayne Smith was the catalyst for Krystrump's victory in Sunday's Class 1 at Taipa.
The New Zealand import was coming off three luckless second placings with the most recent behind boom horse Obrigado Mais in the G2 Spring Trophy.
Sunday's win was well-deserved for the five year old chestnut who now rates as one of Macau's best racehorses.
Krystrump
has no early speed and needs to be given a patient ride from the back before unleashing his powerful finishing burst.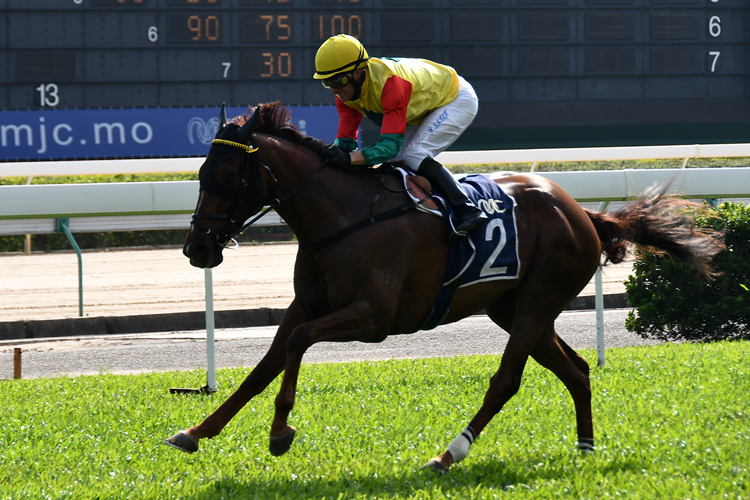 Like all back markers you need to have a bit of luck in running come your way, and that's been missing in his latest runs, however Leyshan and Smith were taking no chances in Sunday's race.
"It was a case of knowing we've got the best horse in the race and just giving him a trouble free run even if it meant covering a bit of extra ground wide.
"The track was definitely riding better wider out with the recent racing we've had, so we decided to drop him out the back and work towards the outside and have him in a position with clear running." Leyshan said.
Smith executed the plan perfectly and it was obvious on straightening that it was game over, with the son of New Trumps powering down the outside to beat Wichita Linesman (Ruan Maia), with Perfect Alloy (Horace Lam) in third.
The five year old's time of 1.27.5 was outside his best of 1.26.8 for 1500m but it was still a creditable effort give the easy tempo of the race early.
Leyshan now has his sights on the G1 Macau-Hong Kong Trophy over 1500 metres on March 4 and is confident of a bold showing against the Hong Kong visitors.
"It was a bit frustrating with all those second placings. We were trying to get his rating up over the 95 mark in time to get a run in the race but he is well and truly in now," he said.
"It's been my long range plan and I've always felt he would measure up in a race like that."
Leyshan is now faced with the task of finding a new rider for Krystrump with Smith opting to ride Obrigado Mais in the race.
Smith had the unenviable task of choosing between the two runners in the Spring Trophy with Obrigado Mais coming out on top in the race under Manoel Nunes.
Nunes has taken an early booking on the Joe Lau trained The Alfonso leaving the Obrigado Mais ride up for grabs.
Leyshan will have plenty chasing the ride with Andrew Calder and Peter Ho who have both had a great association with Leyshan looming among the top contenders.
Moore Aims High With Speedy Fasuba
James Moore is another trainer aiming for bigger things with his Irish flyer Fasuba after the four year old ran his rivals off their legs in Friday night's Class 2 over 1050 metres on the sand.
Fasuba
sped away from the gates under jockey Martin Wepner and led comfortably in the run before maintaining a strong gallop right to the line to win by almost three lengths over Galaxy Giant (Jonie Pescuiso), with Gunstigmaster (Akash Aucharuz) back in third.
Moore has a long range goal for Fasuba to gain a run in the Group 3 National Day Cup over the straight 1000 metres at Sha Tin in October.
Whist still in need of some rating points to gain a berth in the race, Moore is quietly confident that the son of Irish 2000 Guinea's winner Power (GB) is up to the task.
"He is still immature we are just seeing his raw talent at the moment. I think he will be really something special when we see the finished product." Moore said.
"It's a shame we don't have any 1000 metres races on the turf nowadays, so I'll just focus on the sand with him. There is an 85 to 60 race next month we will aim for."
"He needs a rating of 105 to gain a run but I've no doubt we will be at the mark well before October."
Fasuba was hit with a nine point handicap after Fridays night win taking him to a mark of 84.
Moore purchased Fasuba for 32,500 Euros after seeing him run third on two occasions at Dundalk and Tipperary.
"He was actually only 25,000 Euros and still a maiden that had ran in strong races."
"It's hard at times to get an owner to buy a maiden so after he came out and bolted in at Dundalk we paid the extra and got him."
"He is a real mass of muscle, a short blocky sprinting type that is a four year and has only raced eight times so he's got it all in front of him."
Moore capped of a great weekend with Dencheng One giving the young trainer another win in the Class 4 & 5 over 1050 metres on the sand Sunday.
The victory was even sweeter as the horse is owned by his mother Barbara and is the first winner James has trained for her.
"Mum only recently bought the horse so it's been a great result and a really good weekend."
"On that win and his time he has another win or two in him for sure."
Dengcheng One
has now won five races in Macau and according to Moore the tally should be more but for the grey geldings feet problems.
"He's only got small feet and he has had problems with them pretty much all the way through."
"At the moment though they are as good as they have ever been, so his still got a bit to offer."
Visiting jockey Oscar Chavez kicked home a winning double on Sunday's card to give him three winners from the four meetings he has ridden at to date.
Chavez who is here until March 4, struck early in the day with the Alan Tam trained Charity Group
causing an upset win in the Class 4 & 5 over 1800 metres.
Charity Group a son of Encosta De Lago is better known as a sand performer having won four times on that surface, however in recent times he has been not firing at all on the all weather.
Sent out friendless in the betting Charity Group started at odds of $719.00 for the win and belied his poor turf form as he looped the field coming to the turn and burst away for a big win.
Chavez then piloted Flying Team
into second spot behind Hopefully Tomorrow in the Class 4 over 1500 metres, before bringing the Pat Lee trained Valiant Soldier down the outside with a well timed run to win the next the Class 2 & 4 over 1200 metres.
Ruan Maia also booted home a double on Sunday with Hopefully Tomorrow
for trainer Tony Fung and Dencheng One for James Moore to take him to 29 winners for the season.
Maia is well clear of Peter Ho on 15, with Luis Corrales and Wayne Smith together in third on 14 wins.
Wayne Smith also chalked up a double on Sunday with Wonderful Power
winning the first the 3 & 4 YO Handicap for trainer Victor Chan, before winning the Class 1 on Krystrump.
Manoel Nunes was the star of Friday night's program winning three of the six races to take him eight winners since January 12.