Macau Iron Horse Wins Again
Macau iron horse Gauteng notched his 15th race win at his 168th race start with a hard fought battle to win the Class 5 Handicap over 1350 metres at Taipa on Sunday.
After being back in the run early the old warrior really had to fight hard to reel in firstly Fortune Star (Sourien Meneanen) who was looking like the winner at the two hundred, and then stave off a late burst from the heavily bet Oriental Profit (Peter Ho), to score by a short head on the line with Fortune Star close up in third.
Gauteng is a rising eleven year old but no one has told him that.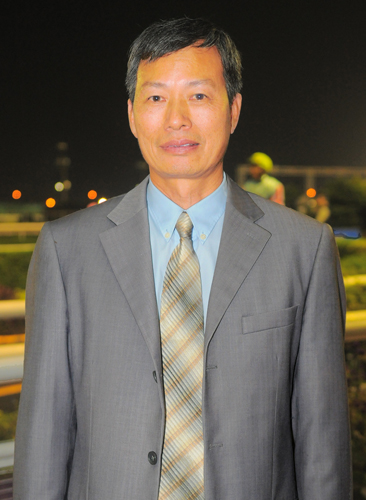 The gelding rarely goes around without collecting a prize money cheque and Sunday's win was his eleventh at the 1350 metres distance. The son of More Than Ready (USA) has now earned over $4.3 million HKD on prize money for his owner Mr. Chan Ming Wing.
Prepared in Macau by former two times leading trainer K H Leong, Gauteng commenced his racing career under the Darley racing banner of Sheikh Mohammed. As a two year old Gauteng won a Mornington maiden under Dwayne Dunn for trainer Lee Freedman earning $12,000 Aud. for his efforts.
The gelding couldn't cut the mustard in town and after a few attempts was sold off to Macau at a modest sum. The ten year old is one of those good strong boned horses that have seldom had any problems, and his racing days are far from over yet judging by his sterling performance on Sunday.
Gauteng joins the honor roll alongside of some amazing old war horses that have endeared themselves to Macau racing fans.
Kiu Kiang Glory won his last race as a rising twelve year old back on 2009 and had a total of 198 starts in Macau for 17 wins and 48 placings and picked up close to $4.7 Million HKD for his owners.
Golden Bullet won his last also at close to twelve years of age and from his 114 runs in Macau the son of King Ivor won 11 races and placed fourteen times from his 114 starts and earned his owners $2.2 million HKD. Add to that his six wins and two placings in Australia from twenty one starts prior to coming and over $100,000 Aud in stakes won.
Teamhappy Sum won his fourteenth race at the age of eleven years old back on 2011 and earned his connections $5.5 million HKD from his 171 starts. His overall stats read fourteen wins and thirty nine placed efforts.
There is lengthy list of these old campaigners whose longevity has given them long and illustrious careers in the enclave, however the granddaddy of them all was Million Treasure who won his last race in 2007 at the wonderful old age of fourteen years old for trainer Stephen Brown.
A son of Keen (GB) from the mare Martin –Lavell Mail, Million Treasure was an English import that arrived in Macau in 1997 as a four year with very moderate form on the turf. The gelding proved to be something of a freak on the sand winning twenty two races and placing another fifty nine times from his 182 races starts in the enclave, and earned $7,287,300 HKD in prize money.
Kelson Looks Promising
Trainer Victor Chan looks to have a nice three year old on his hands in Kelson who simply destroyed his rivals in the 25 to 45 contest over 1500 metres on Sunday.
Ridden by the inform Irish rider Wayne Smith, Kelson who was sporting the blinkers for the first time soon led and was always traveling well in the run, before leaving his rivals standing at the top of the straight to win by nine lengths.
Prior to Sunday's race the son of Casino Prince (Aud) had shown ability in both his two previous runs at 1100 and 1200 metres, on both occasions displaying plenty of greenness.
On a track rated yielding to soft Kelson clocked 1.32.2 which was .04 faster than the Class 3 taken out by Capitol Protector later in the day.
Kelson was the first leg of a winning double for Wayne Smith who was greatly impressed by the ease of the geldings win.
"It was my first time to ride him and I've got to say I didn't really expect that."
"He was very impressive in the conditions and he looks like a horse with a bright future." Smith said.
Capital Protector was the second leg of Smith's double when he dug deep under 128 pounds to get home by a neck in the Class 3 over 1500 metres.
Prepared by Kim Cheong, Capitol Protector has now won two races in Macau and placed a further six times from his fifteen starts to date.
The gelding is not an overly big horse going to scale at just 1000 pounds, however he carried his weight well on Sunday and showed plenty of courage after being caught three deep in the run.
"He's a lovely improving horse, very genuine and handles any conditions." Wayne Smith said after the win.
Capitol Protector is an Australian import that was formerly trained by ex Macau trainer Michael Kent in Victoria where he won a maiden at Colac from his eight runs there.
Another good win on the day was that of China Paradise who proved too slick for his opposition in the Class 2 & 3 over 1050 metres on the sand.
Ridden by Roger Yu, China Paradise is another Australia import that arrived in Macau with only fair form, with a second at Bendigo from his three starts there when prepared by Darren Weir.
An inglorious last at Morphettville seen the son of Red Arrow (Aus) banished to Macau at what would have been a very acceptable sum.
China Paradise looked speedy and weak when he first arrived in the enclave, however time is a wonderful thing and the gelding has now furnished into a nice horse as late three year old.
The bay has now won three races and placed twice from seven starts including a Listed win over 1200 metres in the Lisboa Prelude. As well he is now nudging the $700,000 HKD mark in prize money.