Rawiller draws best among Australians in Mauritius
Of the three Australian jockeys riding at the Air Mauritius & Attitude International Jockeys' Weekend on December 3 and 4, Brad Rawiller seems to have been dealt the best cards.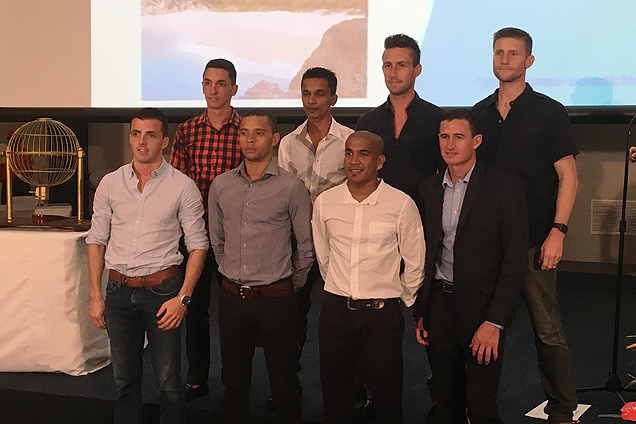 The Victorian jockey landed in Mauritius on Wednesday afternoon at 5pm before heading straight to his resort, the Ravenala Hotel where the draw for the allocation of rides was taking place. Fellow Aussie James Winks, who has been riding in Mauritius on a retainer since July, was already there while the third, Mark Zahra only gets in on Thursday.
A little jetlagged from the 13-hour flight from Melbourne to the Indian Ocean island, Rawiller was understandably in the dark about the chances of his eight rides split two ways between Saturday and Sunday.
"I just got here and didn't really have a chance to settle in, but I was told the first day was my best day, with two good rides – Five Star Rock and Candy Rock," said Rawiller.
"At the same time, I don't know the forms and I will have to work it out in the next couple of days."
Rawiller can at least pick the brains of Winks on one ride, Kentucky Bluegrass, whom his fellow Victorian used to ride for his boss Patrick Merven, winning once on the South African-bred gelding.
Winks himself had mixed feelings about his own draw, preferring to not dwell too much on their recent form, and looking forward to getting the best out of them.
"I didn't get the best of horses. I was hoping to get at least one of my yard's horses, but it's the Indian jockey (Pradeep Chouhan) who got the two I wanted the most, Beluga and Sir Earl Grey while Donavan Mansour (Mauritius champion jockey) drew Seeking The Dream," said Winks.
"But I got at least one horse from Patrick's, Jullidar, even if I've never won on him. I know him well, though, and that should give me a bit of an edge.
"I think I got a couple of good chances, and Suzie's Arrow, a last-start winner is my best chance for the whole weekend. Look, it's a jockeys' challenge and a lot rides on luck - anything can happen."
Rawiller would be inspired by his elder brother Nash's own experience in 2013 when he was told he had not had much luck at the draw, but ended up riding three winners.
"Nash came to Mauritius a few years ago for the same series, and tried to get me over but I couldn't make it," said Rawiller.
"There is a bit of pressure as he rode three winners. I can only try my best."
Zahra will ride nine horses at the two-day event and is according to local pundits, in the same boat as Winks, with Scorecard and Avail on Saturday viewed as the two decent chances.
The three Australians will compete against 10 other jockeys hailing from seven other countries, namely Maxime Guyon (France), Jamie Spencer and Martin Harley (Ireland), Sean Levey (Swaziland), Ioritz Mendizabal (Spain), Mansour and Bernard Fayd'Herbe (South Africa), Chouhan (India), Rai Joorawon and Swapneel Rama (Mauritius).
Of the lot, Guyon has already been installed hot favourite to capture a second title after winning the one in 2014. The Frenchman has drawn two solid chances on Saturday (Emaar and Al Firenze) and another four on Sunday (Duke The Duke, Paladin, Scotsnog and Sunset Breeze).
Points will be allocated as follows: Winner – 9 points, 2nd – 4 points, 3rd – 2 points, 4th – 1 point. The winner will be the one tallying up the highest score from the eight best performances.
14 races are set down for decision over the weekend with one race meant for the lady riders of the Mauritius-Longines World Fegentri Championship on Sunday (Race 3).
Draws for Australian jockeys are as follows:
Brad Rawiller

James Winks

Mark Zahra

Saturday

03/12/16

Race 1

-

Roy's Express

Blue Jeans

Race 2

Kentucky Bluegrass

Shield Of Thunder

Powder Keg

Race 3

Viento Magico

-

-

Race 4

-

Suzie's Arrow

Spirit Of Dover

Race 5

Five Star Rock

Evergreen

Scorecard

Race 6

Candy Rock

-

-

Race 7

-

Data Controller

Avail

Sunday

04/12/16

Race 1

Montante

Jullidar

Commodus

Race 2

Dark Abbot

-

-

Race 3

Mauritius-Longines World Fegentri Championship race for Lady Riders

Race 4

-

The Real Hero

Flash Drive

Race 5

Seven Fountains

Ashanti Gold

Max Rapax

Race 6

Everest

-

-

Race 7

-

Captain's Cronicle

Var's Dream