2017 Korea Autumn Racing Carnival
The 2nd Korea Autumn Racing Carnival will take place at Seoul Racecourse (LetsRun Park Seoul) on 9th and 10th September 2017.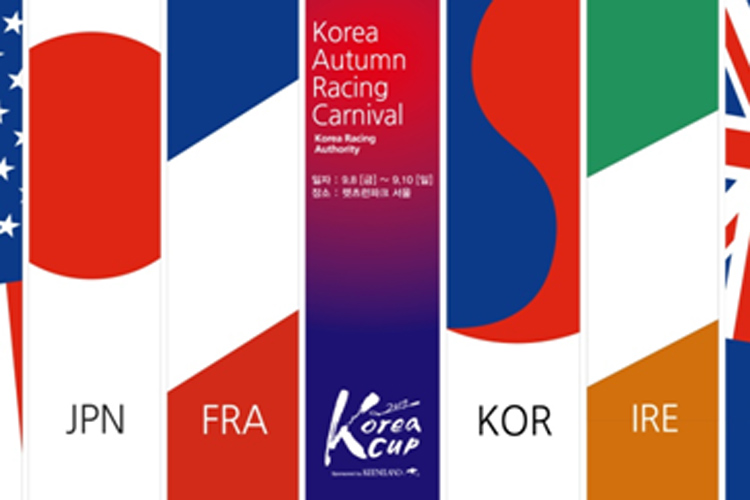 This meeting is the centrepiece of horse racing in Korea and features the two most prestigious international races in the country, the Keeneland Korea Cup (1800m) and Keeneland Korea Sprint (1200m).
2016's inaugural edition was a great success, drawing runners and attention from across the globe and contributing meaningfully to the continuing development and internationalisation of horse racing in Korea.
PROGRAM OF EVENTS
The 2017 Korea Autumn Racing Carnival will be held over 2 days, with Korea Cup and Korea Sprint participants from 7 overseas countries: France, Hong Kong, Ireland, Japan, Singapore, the UK, and the USA. The racing program will be complemented by a range of cultural and social events throughout the course of proceedings.
Saturday 9th September will revolve around five trophy races organised in association with the racing authorities of Hong Kong, Macau, Singapore, Japan, and Ireland.
On Sunday 10th September, the Carnival will reach its climax in the Keeneland Korea Cup and Keeneland Korea Sprint, Korean G1 races open to international participants. With prize money of 1bn Korean Won (approximately $885,000) for the Keeneland Korea Cup and 700k Korean Won (approximately $620,000) for the Keeneland Korea Sprint, these valuable contests attracted strong international fields in 2016 and should once again prove a compelling spectacle in 2017.
KEENELAND
Both feature races are sponsored by Keeneland, which has a longstanding connection with horse racing in Korea. Keeneland is the world's largest Thoroughbred auction house, conducting three sales annually in September, November, and January. The September Yearling Sale and November Breeding Stock Sale are the most important sales of their kind in the world. Many Korean horsemen attend the Keeneland sales to purchase American bloodstock as a means of enhancing their racing stables and breeding operations.
"Keeneland is pleased to team up with KRA in this exciting endeavour," Keeneland President and CEO Bill Thomason said. "For many years, Keeneland has enjoyed a successful partnership with Korea and its horsemen through our premier horse sales. We now look forward to supporting the KRA as they once again prepare to welcome the world to Seoul."
INTERNATIONAL OUTLOOK
The KRA hosted its first international race in 2013, when three Japanese-trained horses competed in Seoul. The race (Asia Challenge Cup) was then expanded to include horses from Singapore in 2014. Singapore's El Padrino won that year, while Korean-trained Keeneland sales graduate Choegang Schiller was victorious in 2015.
Last year's inaugural running of the Korea Cup attracted runners from 6 countries, with the Japanese-trained Chrysolite landing the spoils in impressive fashion. The 2016 Korea Sprint also featured runners from 6 nations and fell to the Hong Kong-trained Super Jockey.
"Having now been promoted to Part II of the IFHA's global pattern, the KRA's ambition is to see its feature races ranked at the top level," said Dr. SeunghoRyu, KRA International Racing Manager. "With highly rated nominations for both the Korea Cup and Sprint in 2017, it is hoped that this designation will soon be achieved."
In addition to domestic expansion, Korean horses have also been making their presence felt abroad. In January 2016, Korean runners competed for the first time at the Dubai World Cup Carnival and in 2017 history was made as Main Stay became the first Korean-trained horse to win in Dubai. This victory was the pinnacle of what was a highly successful Carnival for Korean horses and a key forward step in the KRA's on-going internationalisation project.
The next step in this project will be the 2017 Korea Autumn Racing Carnival, which we believe will be the greatest racing event ever staged in Korea.
We hope to see you there!
_________________________________________________
About the Korea Racing Authority: The Korea Racing Authority (KRA) is the sole racing authority in Korea and is under the supervision of the Ministry of Food, Agriculture, Forestry and Fisheries. The KRA operates two thoroughbred racecourses, in Seoul and Busan, as well as a racecourse on Jeju Island that hosts domestic pony races. The KRA aims to contribute to the national finances and to promote and support projects for fishing and agricultural communities across Korea. The Korea Autumn Racing Carnival is part of a broader plan to increase the significance and attractiveness of Korea on an international level. For more information visit race.kra.co.kr/globalEn/main.do
About Keeneland: For 80 years, the Keeneland Association has devoted itself to the health and vibrancy of the Thoroughbred industry. As the world's largest Thoroughbred auction company, Keeneland conducts sales every January, September and November. In April and October, Keeneland offers world-class Thoroughbred racing. In 2015, Keeneland hosted the $26 million Breeders' Cup World Championships. Keeneland reinvests its earnings in the horse industry and community, funding higher purse money for horsemen and initiatives in education, equine health and safety, research and human services. For more information visit Keeneland.com.