2017 Al Basti Equiworld 2000 Gneas Group 1 November 11 - Riccarton Park
Embellish wins 2017 Al Basti Equiworld 2000 Gneas Group 1 NZ$500,000 at Riccarton Park (NZ), 1600m.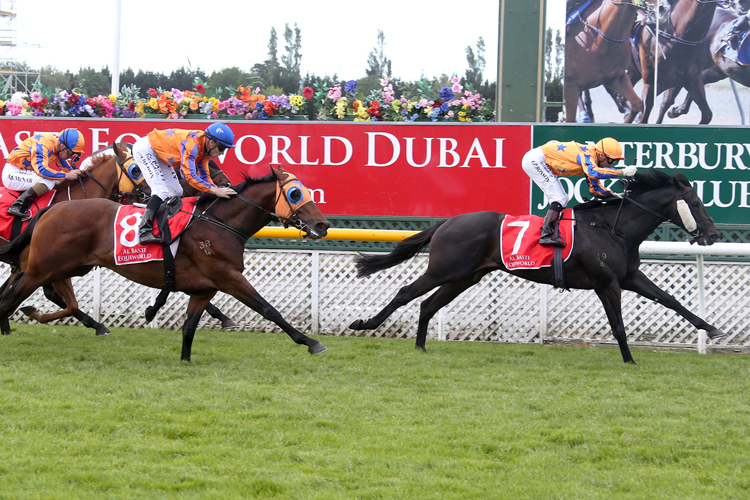 Although given the best ride in the race, Embellish
showed class in winning well here, his third successive win in four starts. He jumped with them and while there was some crowding early, jockey Opie Bosson found a lovely spot in third next to the rail before they started the bend.
Bosson never moved until the top of the straight then cruised up to challenge the pacemaker (Ever Loyal). A shake of the reins at the 300m was enough to co-lead then Bosson got busy and they drew clear, having the race sewn up inside the 100m to win by an easy length and a quarter.
After being well back turning for home Age Of Fire
ran on very well the length of the straight for a nice second without looking like catching the winner.
Ever Loyal
led most of the way, gave the winner a brief tussle then barely held on for third from Te Akau Shark
, who was handy enough at the 300m then found more and ran on well to almost claim third. The first four home were well clear of the rest.

| | |
| --- | --- |
| R7 RICCARTON PARK | 11 November 2017 |
| Al Basti Equiworld 2000 Gneas 3 , 1600m | PLAY REPLAY |
Race Synopsis: This G1 2000 Guineas over 1600m saw the main talking point being the incredibly messy opening furlong that saw many runners get clattered and checked severely due to the actions of two runners coming over and causing crowding galore. The eventual winner Embellish caused some on his inner early to get badly squeezed and then he himself got bumped heavily inwards by the eventual third finisher Ever Loyal haphazardly coming over and causing an even more serious melee. Embellish the favourite once pushed over to the rail ended up with a perfect trail behind the bigger culprit Ever Loyal that led up inside a quarter of the race being run. The damage had been done with almost half the field affected badly and it was a very bad and dangerous look for a G1 race with the winning rider Opie Bosson on Embellish getting suspended for ten days and the rider of the third finisher Ever Loyal in Jason Waddell getting 14 days suspension. The expensive colt Embellish once in the box sex got all the favours and then to make matters even better for the trouble-making twosome an erratic runner outside the leader ran off near the home turn and carted a few off with him extinguishing any hope they had. Embellish was out and second before the home turn and then moved up alongside Ever Loyal at the 200m before talking command at the 150m. He went on to win by a length and a quarter in 1:34.80, which on the day was the best mile time by a almost fifteen lengths auguring well for at least the first four home that were separated by less than two lengths. More importantly they were a massive five and a half lengths to seven and a half lengths ahead of the fifth finisher. It was the third win in four starts for Embellish with his only defeat coming on debut as juvenile. His stablemate the Australian bred Age Of Fire ran home gamely for second after setting down in the rear duo and then getting a run through as several of his rivals got carted off the track near the home turn. He kept coming from sixth turning in to get second the final 20m and overtake Ever Loyal that once headed by Embellish at the 150m looked set to finish runner up. He only just held third and cost the Team Te Akau tangerine the trifecta with Te Akau Shark missing third by a nostril flare. Te Akau Shark was eased back to the rear duo along with the eventual runner up and he too got a run through near the home turn as several of his rivals got carted off the track by an errant runner. Sensei finished fifth beaten seventh and a half lengths but the effort was good as he was very wide and back the whole way never on the track and kept coming gamely. He was four lengths ahead of the sixth finisher Bostonian that copped some severe checking on the inside early and ended up seventh the fence before getting a run through third turning in only to stop badly. Irish Flame was back then sent up fifth then fourth wide before being carted off near the home turn so his seventh albeit beaten over thirteen lengths was very forgivable. Scott Bass copped heavy strife early then when sixth wide midrace got carted off badly near the home turn so is another total forgive. Star Treasure was bumped early then after sitting handy stopped while Lincoln Hills was checked badly early and then dropped right out the run home. The maiden Finbarr beat two home, while the erratic Upperhand that ran off several at the 550m finished last beaten almost fifty lengths. The first four home will win their share in New Zealand with Embellish a possible G1 Australian Guineas contender next Autumn in Melbourne though being Karaka Millions registered like Ever Loyal they look likely to clash again there. It was the seventh G1 2000 Guineas success for rider Opie Bosson and the sixth for Team Te Akau. Sensei was far from disgraced and you can totally forgive Scott Base and Irish Flame plus some slack must be cut Bostonian, Star Treasure and Lincoln Hills. The latter three have a slight mile doubt over them anyway so may be just sprinters at this stage. The WFA depth is an at an all time low in New Zealand at the moment so why some of the better 3yo's do not take on the older horses this Summer and Autumn in New Zealand is mind boggling. Some would embellish (pun intended) their worth more with a WFA kill over the older horses regards the breeding barn or in strengthening the bloodlines for sales of family members. A shame with the stockcars early taking the gloss of the result as the two main culprits got rewarded by finishing first and third and that is not what G1 racing should be about.


FP

Horse
Age & Sex
Trainer
Jockey
WT
SP
7. EMBELLISH (NZ)
4yo H
STEPHEN AUTRIDGE
OPIE BOSSON
56.5
$3.70
SAVABEEL (AUS) - BLING (NZ)

Te Akau 2016 Breeding Syndicate (Mgr: K W Fenton-Ellis Mnzm), B J Lindsay Mnzm & Mrs J E A Lindsay

8. AGE OF FIRE (AUS)
4yo H
STEPHEN AUTRIDGE
MATTHEW CAMERON
56.5
$18.30
FASTNET ROCK (AUS) - DRAGON'S TAIL (AUS)

B J Lindsay, Mrs J E A Lindsay & Te Akau 2016 Sydney Breeding No.2 (Mgr: D C Ellis)

4. EVER LOYAL (AUS)
4yo Gelding
TONY PIKE
JASON WADDELL
56.5
$6.20
SEBRING (AUS) - MISS LUCILLE (AUS)

R A Ferguson

4th
5. TE AKAU SHARK (NZ)
4yo Gelding
STEPHEN AUTRIDGE
M MCNAB
56.5
$5.10
5th
1. SENSEI (AUS)
4yo H
MICHAEL & MATTHEW PITMAN
CHRIS JOHNSON
56.5
$6.10
6th
2. BOSTONIAN (NZ)
4yo Gelding
TONY PIKE
LEITH INNES
56.5
$5.50
7th
10. IRISH FLAME (NZ)
4yo Gelding
J R WHEELER
ALYSHA COLLETT
56.5
$46.50
8th
6. SCOTT BASE (NZ)
4yo Gelding
JOHNO BENNER & HOLLIE WYNYARD
MARK DU PLESSIS
56.5
$13.10
9th
3. STAR TREASURE (NZ)
4yo Gelding
STEPHEN MCKEE
R J MYERS
56.5
$31.50
10th
12. FINBARR (NZ)
4yo Gelding
GAY ROBINSON
J R LOWRY
56.5
$141.70
11th
9. LINCOLN HILLS (AUS)
4yo Gelding
MS L LATTA
JONATHAN RIDDELL
56.5
$38.60
12th
11. UPPERHAND (NZ)
4yo Gelding
BRIAN COURT
DARRYL BRADLEY
56.5
$113.90