2017 Eagle Tech. Gt Nthn Challenge Group 3 December 2 - Ellerslie
Hiflyer wins 2017 Eagle Tech. Gt Nthn Challenge Group 3 NZ$70,000 at Ellerslie (NZ), 1600m.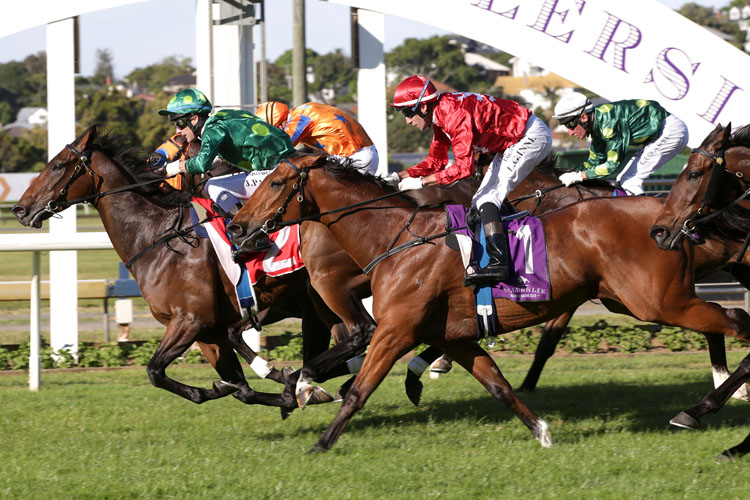 Locked up with 250m to run, Hiflyer
threaded between a wall of runners to grab a last gasp, thrilling victory here. He began fairly but was wide (barrier 11) to settle back of midfield. Rider Johnathan Parkes got a width closer to the fence starting the bend and made a forward move at the 600m.
Fanning with the field, he had no room once they straightened, switching in then out for a run. Still with a wall of runners in front, a split opened at the 200m and Parkes drove him through, seemed to peak then found another gear just short of the line to grab the lead and win his eighth race in a thriller by a head.
Splurge
had the run of the race in third, ranged up and took over into the straight and looked the winner at the 100m only to be grabbed late.
From midfield (rails) Volkstok'n'barrell
didn't see daylight until the 200m and ran on very well late for third from Ronchi, who led to the turn and held on well for fourth.

| | |
| --- | --- |
| R7 ELLERSLIE | 2 December 2017 |
| Eagle Tech. Gt Nthn Challenge , 1600m | PLAY REPLAY |
Race Synopsis: This G3 mile at set weights and penalties saw just six and a half lengths cover from first to last at the line in what was a marginal line up. Hiflyer the clear favourite got up to win narrowly carrying the luxury of 56kg as in his prior start he won at G3 carrying 56.5kg, so was deadest thrown in. In fact he won three starts ago in an Open Handicap at 56.5kg over a multiple G1 winner and has since carried the same or less, which does not make any sense whatsoever. Three wins in a row and the weights are Open Handicap 56.5kg, G3 Open Handicap 56.5kg and G3 set weights and penalties 56kg. He is in form and getting less weight while some in this have not won for ages but the relief they get is marginal at best, so the perplexing is palpable. Hiflyer was surrounded sitting ninth and then moved into a close seventh at the 200m but with a wall ahead of him only for a miraculous parting of the equine rump seas at the 100m. The 5yo gelding did not need to be asked more than once and pierced through to get up and score by a head in 1:34.89. It was his eighth win in eighteen starts so surely he will be weighted to the maximum on his hattrick now of Open Class and G3 wins next time out. In his last ten starts he has not finished worse than second so the handicappers should be noticing him with such a good win ratio too. He has had three runs at Group level now for a second at G2 and two G3 wins plus the worst he has finished lifetime is fifth. Hiflyer was deadest thrown in at 56kg today and it is unusual for a G3 winner prior to carry less at G3 next time out with such a good strike rate and consistent record. Splurge tried hard to maintain his undefeated record on the track after trailing the leaders then taking the lead 100m out only to be bombed. Sometimes a textbook perfect ride is not rewarded with victory. Volkstok'n'barrell ran a good third beaten less than half a length but if anywhere near his peak should have beaten these easily. In fact it was his running outwards the final 150m that let the gap happen for the winner to surge through, so he could have and should denied the winner if able to ensure no clear air for anything behind him the closing stages. Ronchi was tardy and third last away but recovered quickly through on the inside to dispute the pace after 200m. He soon led up and was only headed with 100m to then be swamped out of a place near the line to finish fourth to be beat less than a length, so that start was costly. Gravano was a stupendous fifth when second up and rising three classes at least after sitting wide seventh or eighth the whole way and he was strong the final stages. Stolen Dance was running home nicely sixth after settling well back while Natuzzi fought on okay from midfield the inner. Skyweka came home well from second last on settling to be beaten two and a half lengths. Rising Shot was fifth or sixth wide and the effort told while He's Cavalier was outclassed and Tessastock was disappointing. Endean Rose was ordinary after a G1 placing at WFA prior but she is best left-handed these days it seems. Neala was just a two-win mare racing well out of her grade and sadly had to be humanely euthanased after the race with a complete rupture of the suspensory apparatus in her left foreleg. She was tardily away and last on settling but finished beaten just six and a half lengths, so was a very brave mare indeed. Earlier in the day a Ratings65 (five classes or more inferior) mare in Kachhi won in just over five lengths slower so either she is has it all ahead or the Hi Flyer win was not all it's cracked up to be. It could be something in between, which is the more likely but the finish of this Hiflyer race was very bunched and some of those close up are very shy winners of late to put it bluntly. Also the almost win of Splurge was clearly in the main due to being on a favoured track but do remember he was found out twice in Queensland at G2 and G3 big time carrying 56.5kg and 56kg. Today he had 56kg so it does highlight the dramatic drop in depth in New Zealand. Volkstok'n'barrell has won just once in his last dozen starts and as a 4yo he raced four times in Australia for one third placing at G2 on the Gold Coast for a dose of reality. Gravano in four Blacktype runs prior to today had finished third last, fifth, second last and second last. His effort in this second up and rising many grades plus sitting wide the whole way but able to hit the line hard says more about the calibre of his rivals. Stolen Dance ran home solidly for sixth beaten just over a length and a quarter in her fourth run for a new stable that has produced so far eighth, seventh, sixth and sixth again. Natuzzi was honest as usual and the 9yo is very versatile while Skyweka ran home soundly late for eighth. Skyweka has not won for almost a year and her last success came in a Benchmark85 (three classes inferior). Rising Shot was wide throughout so forgive. Lots of winners from this race for the rest of this season but many are if back into their proper grade. Many of the runners in this have forgotten how to win and some are notoriously bad form guides so this G3 result needs to be tempered with a reality check for sure. Hiflyer should be very high in the weights now regarding handicap racing when next time seen out, so will get his biggest test then but with the WFA ranks so sparse and weak at the moment you would think that is where he can prove himself one way or the other.


FP

Horse
Age & Sex
Trainer
Jockey
WT
SP
2. HIFLYER (NZ)
6yo Gelding
P W LOCK
JOHNATHON PARKES
56.0
$2.80
TAVISTOCK (NZ) - LADY FIREBIRD (NZ)

Lady Justine & Sir Patrick Hogan & Go Henry Racing Syndicate

4. SPLURGE (NZ)
6yo Gelding
STEPHEN AUTRIDGE
M MCNAB
56.0
$9.50
SAVABEEL (AUS) - SPLASHING OUT (NZ)

Te Akau 2014 Breeding Syndicate (Mgr: D C Ellis)

1. VOLKSTOK'N'BARRELL (NZ)
7yo Gelding
D LOGAN
LEITH INNES
58.0
$7.70
TAVISTOCK (NZ) - VOLKSTER (NZ)

ROSEMONT STUD RACING STABLE

4th
5. RONCHI (NZ)
6yo Gelding
BRUCE WALLACE & ALLAN PEARD
GRANT COOKSLEY
55.0
$11.40
5th
6. OUR GRAVANO (NZ)
6yo Gelding
PETER & DAWN WILLIAMS
MARK DU PLESSIS
55.0
$30.70
6th
8. STOLEN DANCE (NZ)
7yo Mare
MURRAY BAKER
MATTHEW CAMERON
53.0
$6.30
7th
3. NATUZZI (NZ)
10yo Gelding
PAUL RICHARDS
DONI PRASTIYOU
56.0
$11.70
8th
11. SKYWEKA (NZ)
7yo Mare
TONY PIKE
CAMERON LAMMAS
53.0
$15.20
9th
10. RISING SHOT (NZ)
6yo Mare
DAVID GREENE
MICHAEL COLEMAN
53.0
$17.90
10th
7. HE'S CAVALIER (NZ)
7yo H
JAMES HATTON
TRUDY THORNTON
55.0
$56.30
11th
12. TESSASTOCK (NZ)
6yo Mare
GRAHAM RICHARDSON
SAMANTHA COLLETT
53.0
$28.70
12th
9. ENDEAN ROSE (NZ)
8yo Mare
IAIN KENNEDY
DANIELLE JOHNSON
53.0
$22.30
13th
13. NEALA (NZ)
6yo Mare
LINDA LAING
JORDAN NASON
53.0
$94.00