2017 Trevor Eagle Memorial 3yo Listed December 2 - Ellerslie
On The Rocks wins 2017 Trevor Eagle Memorial 3yo Listed NZ$50,000 at Ellerslie (NZ), 1500m.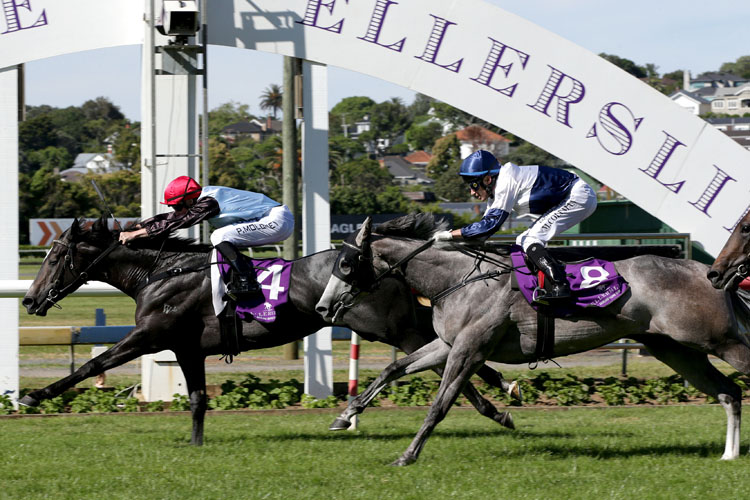 On The Rocks
had an easy time in front and had plenty of fuel in the tank to hold the field at bay. From the inside draw, he was not first away but the inside running saw him soon take up the lead. He got away by more than a length at the 1200m and cruised along with no challengers until the home straight.
Rider Patrick Moloney hugged the fence past the 350m then, when challenged, gave the colt a shake and a couple of reminders at the 100m but the race was safe for an easy win, his second in four starts.
Kapoor
sat outside the winner rounding the last corner, ranged up but never got past, running on solidly to the post from favourite Demonetization, who was midfield (rails) at the 600m, took time to balance into the straight but was doing his best work at the finish to gain ground on the first two.
Motivation
tracked the winner into the straight and kept going fairly well to the line.

| | |
| --- | --- |
| R5 ELLERSLIE | 2 December 2017 |
| Trevor Eagle Memorial 3yo 3 , 1500m | PLAY REPLAY |
Race Synopsis: This Listed 3yo over 1500m drew a modest field at best and saw a slow time clocked with On The Rocks stealing the race from in front. No other leader on the day won today but this was more to do with being able to get away with murder in front and make it a 400m sprint home only. On The Rocks had won his maiden prior so was stepping up in grade but made a mockery of it and got the lead easily plus was amazingly left alone in a Listed race. A last start maiden winner has not earned the credentials or respect yet to be left alone surely at Listed level? Patrick Moloney has found since answering an SOS that the riding ranks in New Zealand are not very strong at all and he did in effect today pull the pants down of all his rival riders. The colt at his prior win had been ridden by another Australian rider in Jake Bayliss, with both these lesser grade riders in Australia finding it very easy in New Zealand regarding race reading and speed mapping. The winning margin of half a length came in 1:29.89 and to show how sedate that is the track record set in 1992 is 1:27.44 (more than fifteen lengths superior). There is a very legitimate argument the Ellerslie track was way better in the 1990's than it is now as certainly looked after far more and properly prepared with less reliance on rail movements to mask problems and ability to recover. Kapoor sat second the outer and provided no pressure with the filly trying hard to the line but surely her rider should have at least not handed this race on a platter to the leader. The filly has been uber-consistent this season having not finished further back than second so far. Demonetization ran a clear favourite but never looked a win chance in such a tepid race after sitting fifth the inner. The strapping gelding was being urged along before the home turn as the speed started to increase and that could be his Achilles heel for the future as no doubting he can lift but how long it takes to wind up is an issue. The colt will not always get a solidly run race to show his superior size and strength and the Australian bred may well be better drawn out so he does not get cluttered up and dictated too. Motivation, just out of maidens like the winner, ran an honest fourth after sitting in that spot the outer throughout. Mongolian Beauty just out of maidens raced third in the trail and battled on for fifth beat just under two and a half lengths but had every conceivable chance. Hello It's Me sat sixth the outer and ended up in that spot at the finish with most runners barely making any ground from where they ended up settling down. Charlie Rose and Iago ran on a shade the latter stages from well back on settling so did well all things factored in and it needs to be noted the latter ran the fastest last 600m of the race. Owen Patrick the maiden was back and wide so to finish ninth beaten just over four and a half lengths saw him not disgraced but they went so slow that made it more possible not to drop out exhausted. He would be a moral back to his proper class of all maidens as likely to bring it on and give you the tip for sure. Of the last trio home the forgive is the filly Alternative Fact that once eased to a clear last had no hope whatsoever. She ran a faster last 600m than the winner but still got beaten six and a half lengths so the race was one to forget in regards to it counting for very much in the big picture. This was largely an irrelevant result for most as not one rider had enough confidence in their mount to apply some pressure and stop the winning leader from being handed the race on a plate. Strangely it seems Ellerslie has so many pressure-free races and positions barely change, which clearly shows the lack of trust by riders in the ability of their mounts. No runner in this had a hard race whatsoever and this Listed event was trackwork only for many where an acceptance fee had to be paid. Nothing was advanced in regards the 3yo depth in New Zealand today and it still is tracking as weak this season so far for both the males and females. Once up over middle distance we may see a bunched cluster of average types with no domination apparent then see the gaps start to open up between middle distance and sprinter-miler or real deal and imposter.


FP

Horse
Age & Sex
Trainer
Jockey
WT
SP
4. ON THE ROCKS (NZ)
4yo H
MICHAEL MORONEY & PAM GERARD
PATRICK MOLONEY
57.5
$10.10
ALAMOSA (NZ) - COLD SHOULDER (NZ)

Ballymore Stables Nz Ltd, A Clark, N Gurney, A Mathieson, On The Rocks Syndicate, D P Sinn, Richard Sims, Jim Bebedellis, George Alas & John McNicholas

8. KAPOOR (NZ)
4yo Mare
JOHN BELL
MICHAEL COLEMAN
55.5
$4.80
RELIABLE MAN (GB) - SUPASTAR (NZ)

J Barlow, G Clarke & A Martin

1. DEMONETIZATION (AUS)
4yo H
N W TILEY
MATTHEW CAMERON
58.5
$2.30
ALL TOO HARD (AUS) - MIDNIGHT SPECIAL (AUS)

N & P Balia Family Trust

4th
3. MOTIVATION (NZ)
4yo Gelding
STEPHEN AUTRIDGE
M MCNAB
57.5
$25.80
5th
12. MONGOLIAN BEAUTY (AUS)
4yo Mare
MURRAY BAKER
JOHNATHON PARKES
55.5
$27.90
6th
10. HELLO IT'S ME (NZ)
4yo Mare
D LOGAN
CAMERON LAMMAS
55.5
$10.70
7th
9. CHARLI ROSE (NZ)
4yo Mare
MURRAY BAKER
DANIELLE JOHNSON
55.5
$22.10
8th
2. IAGO (NZ)
4yo Gelding
GRAEME & DEBBIE ROGERSON
LEITH INNES
57.5
$7.90
9th
7. OWEN PATRICK (NZ)
4yo Gelding
SHAUNE RITCHIE
SAM WEATHERLEY
56.0
$27.10
10th
5. SECRET AMBITION (NZ)
4yo Gelding
BRUCE WALLACE & ALLAN PEARD
MARK DU PLESSIS
57.5
$38.40
11th
11. ALTERNATIVE FACT (NZ)
4yo Mare
RICHARD COLLETT
SAMANTHA COLLETT
55.5
$47.00
12th
6. WARSET (NZ)
4yo Gelding
D LOGAN
VIN COLGAN
57.5
$26.40