2017 Ubet South Australian Derby Group 1 May 13 - Morphettville
Volatile Mix wins 2017 Ubet South Australian Derby Group 1 $600,000 at Morphettville (SA), 2500m.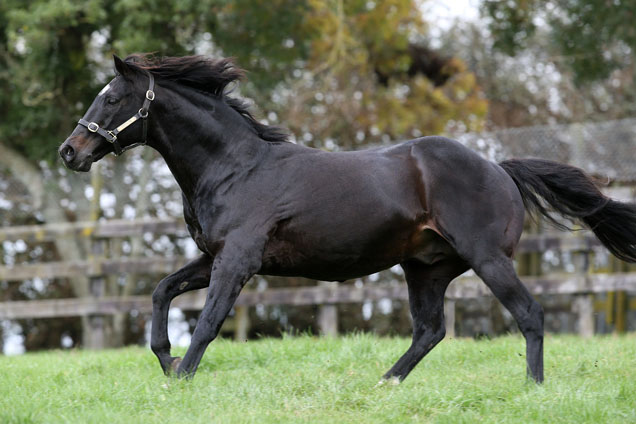 Volatile Mix
ambled out of stall 11 and was eased back to be second last (two wide) with a circuit to run. Down past the 1400m rider John Allen rode patiently and the pair were still second last but only eight lengths from the lead. They improved wide to be a little closer at the 800m then accelerated from the 600m to be in behind the leading group turning in. Into the straight, a gap opened at the 300m and they went after the leaders, strode to the front inside the 150m and outstayed them to win fairly comfortably, his third win in nine starts.
Ruthven
was second, outside the leader past the 600m, took over turning in, led to the 200m but was outstayed, yet held on well for second.
Odeon
had a lovely trip, three back and one out down the back, moved closer at the 600m and was ready to pounce when they straightened, ranged up to lead briefly but ran out of steam just before the line.
The first filly home, favourite Savvy Dreams
was handy enough, challenged five wide turning in but could not make any ground on the first three.

R7 MORPHETTVILLE

13 May 2017

Ubet South Australian Derby 3 , 2500m
Race Synopsis: Volatile Mix ambled out of stall 11 and was eased back to be second last (two wide) with a circuit to run. Down past the 1400m rider John Allen rode patiently and the pair were still second last but only eight lengths from the lead. They improved wide to be a little closer at the 800m then accelerated from the 600m to be in behind the leading group turning in. Into the straight, a gap opened at the 300m and they went after the leaders, strode to the front inside the 150m and outstayed them to win fairly comfortably, his third win in nine starts. Ruthven was second, outside the leader past the 600m, took over turning in, led to the 200m but was outstayed, yet held on well for second. Odeon had a lovely trip, three back and one out down the back, moved closer at the 600m and was ready to pounce when they straightened, ranged up to lead briefly but ran out of steam just before the line. The first filly home, favourite Savvy Dreams was handy enough, challenged five wide turning in but could not make any ground on the first three.


FP

Horse
Age & Sex
Trainer
Jockey
WT
SP
12. VOLATILE MIX (NZ)
4yo H
DARREN WEIR
J ALLEN
56.5
$16.00
PENTIRE (GB) - UTOPIA (NZ)

G L Huddy & Mrs L F Huddy

1. RUTHVEN (AUS)
4yo H
CIARON MAHER
MARK ZAHRA
56.5
$4.00
DOMESDAY (AUS) - RUDDIGORE (AUS)

Rehame Racing (Mgr: W K Cox), C B McKenna, Mrs J M McKenna, P J Mole, P A Roach, Mrs B D Beiziters, C Jackson, S Shirtliff, J Webb, D Bowman & C L Maher

5. ODEON (NZ)
4yo Gelding
MATHEW ELLERTON & SIMON ZAHRA
DAMIAN LANE
56.5
$3.20
ZACINTO (GB) - THEATRE BUFF (USA)

H H Wee, M J Bracchi, Mrs E M Bracchi, J Kovacevic, Mrs O Kovacevic, D W Franklin, K W Franklin, S D Kempster, Mrs A Kempster, R Hafner, Mrs D Hafner, Leacra (Mgr: J M Rayner), R M Crook, Mrs T L Crook & T R Pocock

4th
14. SAVVY DREAMS (NZ)
4yo Mare
GUY LOWRY & GRANT CULLEN
PAUL GATT
54.5
$17.00
5th
4. ANAHEIM (AUS)
4yo H
TRENT BUSUTTIN & NATALIE YOUNG
BEN MELHAM
56.5
$17.00
6th
13. NETHERFIELD (NZ)
4yo Gelding
MICK PRICE
DAMIEN OLIVER
56.5
$6.00
7th
3. GRAND CHANCELLOR (NZ)
4yo H
PHILLIP STOKES
NOEL CALLOW
56.5
$12.00
8th
7. LYCURGUS (AUS)
4yo Gelding
DANNY O'BRIEN
KATELYN MALLYON
56.5
$41.00
9th
16. WHEAL LEISURE (AUS)
4yo Mare
ARCHIE ALEXANDER
JORDAN CHILDS
54.5
$51.00
10th
8. CASTA (AUS)
4yo Gelding
TONY MC EVOY
LUKE CURRIE
56.5
$67.00
11th
6. DORNIER (AUS)
4yo Gelding
JOHN MOLONEY
RYAN MALONEY
56.5
$61.00
12th
11. HE EKSCELS (NZ)
4yo Gelding
RICHARD LAMING
JAMIE MOTT
56.5
$21.00
13th
15. SEDANZER (AUS)
4yo Mare
G WATERHOUSE & A BOTT
STEPHEN BASTER
54.5
$21.00
14th
9. GUN GURU (AUS)
4yo Gelding
LEON MACDONALD & ANDREW GLUYAS
JASON HOLDER
56.5
$51.00