2018 Bcd Group Sprint Group 1 February 10 - Te Rapa
Start Wondering wins 2018 Bcd Group Sprint Group 1 NZ$200,000 at Te Rapa (NZ), 1400m.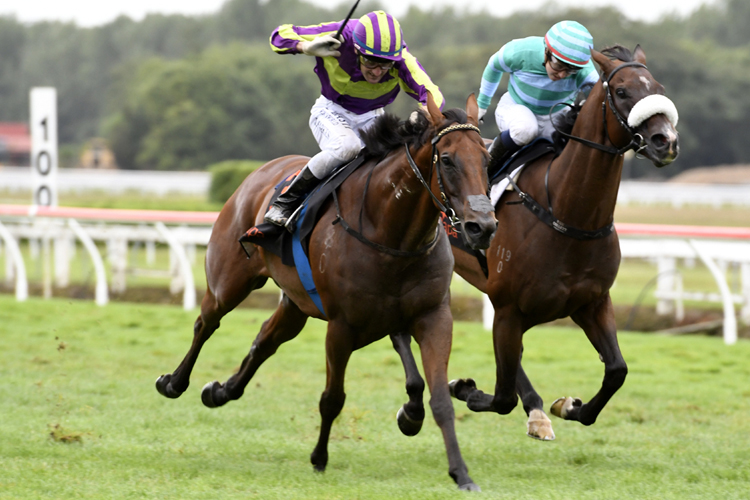 Not a definite starter due to the rain affected track, Start Wondering
made it back-to-back Waikato Sprints with a tenacious win here, his eleventh in 25 starts. He settled fourth early (inner) drifting to sixth passing the 600m.
In a packed field (all away from the fence) rider Jonathan Parkes kept Start Wondering on the inner and was presented with a great view entering the home straight. They made the lead at the 250m, put a couple of lengths on them but had to hold off a late challenge having just a head to spare at the line.
Packing Eagle
took over the pace into the straight, lost the lead at the 250m but came back hard over the last few strides for a tough second.
Brilliant Shine
led at the 600m, lost the lead turning in but held on well the length of the straight for third from Ronchi
who ran from last for fourth. Favourite Kawi
lost all chance after stumbling from the stalls.
| | |
| --- | --- |
| R8 TE RAPA | 10 February 2018 |
| Bcd Group Sprint , 1400m | PLAY REPLAY |
Race Synopsis: Just eight runners went to the barriers for this G1 WFA 1400m and over half the field are handicappers so the depth was rather dubious any way you slice and dice it if a fair marker. The awful Te Rapa wet track was an energy sapping swamp of sand-slitting and would have ironically raced fairer if looser had more rain had eventuated throughout the day. This only day of the year that this Racelub has G1 racing (two of them on the day today) has had its fair share of scandalous track conditions posted and what actually was presented. The race also had another epic defeat for the odds on Kawi in a career worst effort over his beloved 1400m to add more Kabuki theatre to an already make-up thick event. Two runners that had flopped badly last start at G1 in the Telegraph (1400m) at Trentham, on a very biased track, in Start Wondering and Packing Eagle formed the quinella and were well clear of the rest at the line. Start Wondering sat sixth and then improved though closer in but well away from the dreadful slower lanes to third and reached second angling wider all the time at the 300m. He took the front at the 200m but never broke clear and in fact was hanging on like grim death to score by a head in 1:25.80, which is an ordinary time for this level. It was the eleventh win in twenty-eighth starts for the 7yo and his third G1 in New Zealand where he has found things very easy since returning from Australia where just a midweek type and maybe lesser Saturday class at best. The idea he cannot handle wet ground is a bit of a myth as he has won on a bog at Rosehill and in awful Ellerslie ground on New Years Day this year in the G1 Railway (1200m) finished fourth after the rider cut the corner and took the lead too soon the run home in worse lanes. In fact that Railway at Ellerslie was the sort of awful footing that made that form in that race show up today as Packing Eagle was a good thing beaten when second in it and today he finished a brave runner up. The 7yo raced fifth and then came through to lead before the home turn closer in but well away still from the diabolical slower lanes that were instant defeat areas. Once headed at the 200m he fought back ever so well and another 50m to 100m would have been very interesting indeed. It is patently obvious the G1 Telegraph at Trentham under set weights and penalties is a total outlier this season and the G1 Railway under set weights and penalties at Ellerslie is just wet track form only hence it matching up today more applicably. Brilliant Shine made it a trifecta for the 7yo gallopers when leading up and finishing third at massive odds as he is a handicapper and was beaten three and three-quarter lengths. Ronchi missed away as usual and settled down last before running on okay all things considered for fourth beaten four and a half lengths. He was the closest runner in to the no go lanes and that adds more credence to his performance. Elusive Treasure, a three-win gelding only, finished fifth at G1 under WFA beaten four and three-quarter lengths and that tells you all you need to know about the lack of depth in this field. Kawi was slow out by three lengths and then on a tepid pace moved up wide to fourth at the 600m before a struggling fifth at the 300m and he never ever got near or in the lead despite what the commentary says strangely early the run home. Watch it for yourself and be the judge and the same conclusion will be drawn as Kawi was paddling the entire run home in the worst performance of his career over 1400m. Kawi is a known money-muncher for bettors and his record at Te Rapa sees no wins and has become very poor now plus he has won fifteen of thirty-nine starts and started favourite in 90% or more of those outings. His win rate there is 37.5% and getting worse plus the 7yo is not getting any younger so his chance to equal the most number of G1 wins in New Zealand of eight is running out of time and to break it will require an 8yo season most likely. Ja Ja Binks was outclassed at WFA at G1 and Sacred Star cannot handle wet ground so was only run because he is an 8yo ands not much is left for him. This was a weak G1 field and wet track form came through with the untrustable G1 Railway at Ellerslie held on awful biased wet ground proving more of a source to the result. This is yet another irrelevant G1 race this season in New Zealand because of being held on biased wet ground that is not always caused by weather as some of them have been manmade with excessive track watering and rail movements. The 2017-2018 season so far will live in infamy as Spring and Summer have been wet track debacles at the highest level and old horses are winning often too with the 7yo and 8yo gallopers being the new 4yo ranks risers In New Zealand. The racing population is not being replenished with promising younger gallopers and the overall amount of horses racing is shrinking like turnover alarmingly so a complete new gameplan and strategy warrants adoption immediately. Turnover will continue to collapse if the same seen for years and years older horses keep turning up at the highest level races and able to perform still as bettors sense and know when the same old same old is status quo. Whatever is being done now can safely be assumed as moribund for the sport of New Zealand Thoroughbred Racing and the vital lifeblood needed of wagering turnover. Vitality is robustness in thoroughbred racing both visually and financially as interest and turnover thrives when the changing of the guard can be seen to be happening and actually does.


FP

Horse
Age & Sex
Trainer
Jockey
WT
SP
3. START WONDERING (NZ)
8yo Gelding
J J & E RAYNER
JOHNATHON PARKES
59.0
$5.10
EIGHTH WONDER (NZ) - ROSEANBAR (NZ)

Mrs J M & S B Gudsell

2. PACKING EAGLE (NZ)
8yo Gelding
TREVOR CRUZ
SAMANTHA COLLETT
59.0
$10.50
PINS (AUS) - SPLASHING OUT (NZ)

Angel Cruz

6. BRILLIANT SHINE (NZ)
8yo Gelding
PETER & DAWN WILLIAMS
MARK DU PLESSIS
59.0
$28.60
GUILLOTINE (NZ) - BRILLIANT KIWI (NZ)

Terror Syndicate

4th
5. RONCHI (NZ)
6yo Gelding
BRUCE WALLACE & ALLAN PEARD
GRANT COOKSLEY
59.0
$8.00
5th
8. ELUSIVE TREASURE (AUS)
6yo Gelding
TREVOR CRUZ
TRUDY THORNTON
59.0
$12.20
6th
1. KAWI (NZ)
8yo Gelding
A SHARROCK
JONATHAN RIDDELL
59.0
$1.70
7th
9. JA JA BINKS (NZ)
6yo Mare
EMMA-LEE & DAVID BROWNE
M MCNAB
57.0
$34.80
8th
4. SACRED STAR (AUS)
9yo Gelding
TONY PIKE
VIN COLGAN
59.0
$15.60