2018 Ladbrokes C.F. Orr Stakes Group 1 February 10 - Caulfield
Hartnell wins 2018 Ladbrokes C.F. Orr Stakes Group 1 $500,000 at Caulfield (VIC), 1400m.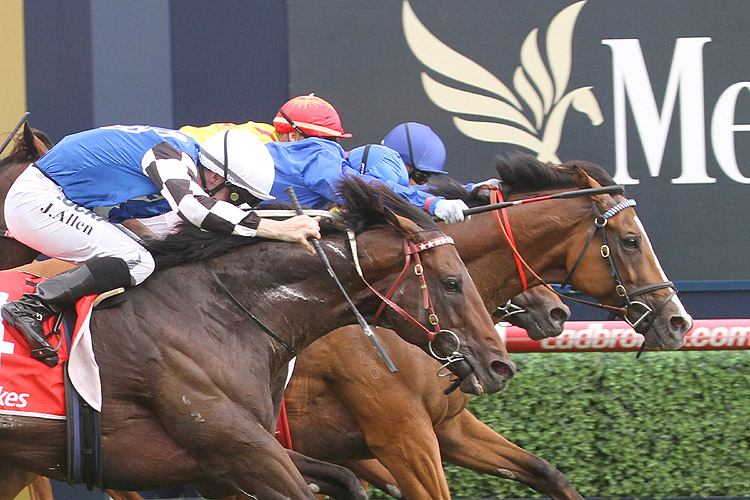 In a keenly contested finish where the entire field of 13 finished within 3.5 lengths of the winner, multiple Group One winner Hartnell
prevailed in a really smart first up performance. He settled back in eighth place (wide with cover) from his difficult barrier (11), improved from the 700m, moved up (under riding) at the home turn and responded over the latter stages, coming with a late bid to score narrowly but well.
Single Gaze
raced in tenth place on the rails, Kathy O'Hara got her along the inner in the straight and she ran on really well for a smart first up second.
Brave Smash
raced in seventh place, between runners, angled into clear running on passing the 200m and caught the eye with his late closing third in good first up run.
Thronum
went to the front as expected and battled on well for a close up fourth in a good effort, advancing in class here.
Lord Of The Sky
was slowly away, made and early move to race outside the leader and held on for (0.7 lengths) fifth putting up a smart effort.
Abbey Marie
made late ground and impressed with her late-closing (0.8 lengths) sixth while Caulfield Guineas (Gr 1, 1600m) winner Mighty Boss
made good late ground in restrict room for (0.9 lengths) seventh in another good first up run while the favourite Tosen Stardom
was caught deep from his outside barrier (13) and after being back in the field early on, made a move to race in third place (thee wide) outside the leading duo before battling on for (2.4 lengths) 11th after a difficult trip.
R8 CAULFIELD

10 February 2018

Ladbrokes C.F. Orr Stakes 3U , 1400m
Race Synopsis: In a keenly contested finish where the entire field of 13 finished within 3.5 lengths of the winner, multiple Group One winner Hartnell prevailed in a really smart first up performance. He settled back in eighth place (wide with cover) from his difficult barrier (11), improved from the 700m, moved up (under riding) at the home turn and responded over the latter stages, coming with a late bid to score narrowly but well. Single Gaze raced in tenth place on the rails, Kathy O'Hara got her along the inner in the straight and she ran on really well for a smart first up second. Brave Smash raced in seventh place, between runners, angled into clear running on passing the 200m and caught the eye with his late closing third in good first up run. Thronum went to the front as expected and battled on well for a close up fourth in a good effort, advancing in class here. Lord Of The Sky was slowly away, made and early move to race outside the leader and held on for (0.7 lengths) fifth putting up a smart effort. Abbey Marie made late ground and impressed with her late-closing (0.8 lengths) sixth while Caulfield Guineas (Gr 1, 1600m) winner Mighty Boss made good late ground in restrict room for (0.9 lengths) seventh in another good first up run while the favourite Tosen Stardom was caught deep from his outside barrier (13) and after being back in the field early on, made a move to race in third place (thee wide) outside the leading duo before battling on for (2.4 lengths) 11th after a difficult trip.


FP

Horse
Age & Sex
Trainer
Jockey
WT
SP
1. HARTNELL (GB)
8yo Gelding
JAMES CUMMINGS
CRAIG WILLIAMS
59.0
$6.00
AUTHORIZED (IRE) - DEBONNAIRE (GB)

Godolphin

10. SINGLE GAZE (AUS)
6yo Mare
NICK OLIVE
KATHY O'HARA
57.0
$21.00
NOT A SINGLE DOUBT (AUS) - REDALUCA'S GAZE (AUS)

K Yoshida

Jan 14, 2014 Gold Coast Yearling Sale, $70000, NICK OLIVE, NSW

4. BRAVE SMASH (JPN)
6yo H
DARREN WEIR
J ALLEN
59.0
$9.00
TOSEN PHANTOM (JPN) - TOSEN SMASH (JPN)

Aquis Farm, Glenlogan Park, G1g Racing & Breeding, K Chang, T Lau, P Kwok Wah, Australian Bloodstock, Power Thoroughbreds, A Brogan, Platinum Breeding & Racing, Carty Racing, Walker Racing & Bloodstock, Mount Hallowell, D Butcher, G Kairouz, T Bates, Dr Goel, K Davis & Brave Smash

4th
8. THRONUM (AUS)
5yo H
D & B HAYES & T DABERNIG
MARK ZAHRA
59.0
$10.00
5th
5. LORD OF THE SKY (AUS)
8yo H
ROBBIE LAING
DAMIEN OLIVER
59.0
$51.00
6th
12. ABBEY MARIE (AUS)
6yo Mare
MICHAEL KENT
LUKE NOLEN
57.0
$31.00
7th
14. MIGHTY BOSS (AUS)
4yo H
MICK PRICE
MICHAEL WALKER
55.5
$11.00
8th
7. MR SNEAKY (AUS)
5yo Gelding
ANTHONY FREEDMAN
KERRIN MCEVOY
59.0
$9.00
9th
9. DOLLAR FOR DOLLAR (AUS)
6yo Gelding
TONY MCEVOY
JAMIE KAH
59.0
$16.00
10th
11. SHILLELAGH (NZ)
7yo Mare
CHRIS WALLER
MICHAEL DEE
57.0
$10.00
11th
3. TOSEN STARDOM (JPN)
8yo H
DARREN WEIR
DAMIAN LANE
59.0
$4.00
12th
13. JESTER HALO (AUS)
6yo Mare
DARREN KOLPIN
CHRISTINE PULS
57.0
$101.00
13th
6. TSHAHITSI (AUS)
7yo Gelding
CHRIS CROOK & IMOGEN MILLER
BRENDON MCCOULL
59.0
$16.00
Most Read