2018 Mostyn Copper Grp R'wick Gneas Group 1 March 10 - Randwick
Kementari wins 2018 Mostyn Copper Grp R'wick Gneas Group 1 $1,000,000 at Randwick (NSW), 1600m.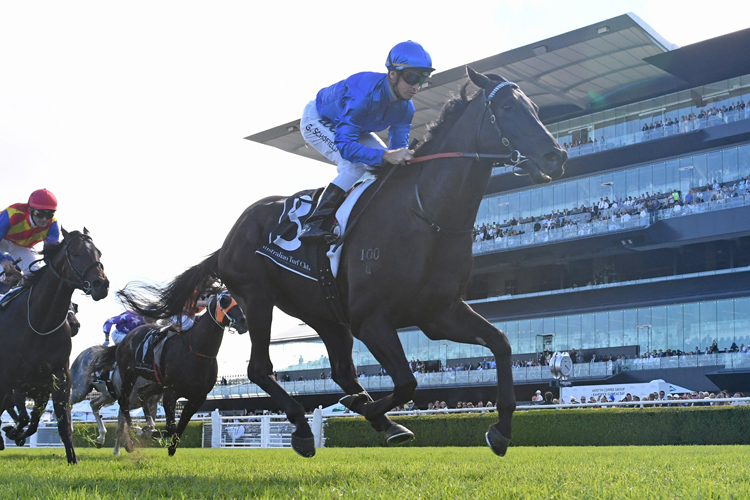 Kementari
is now unbeaten in all three starts this preparation and he capped his very promising young career by taking out this Group One race at his ninth start. He was settled nicely back in seventh place (one off the rails) behind a strong pace (first 1000m 59.00) before improving rounding the home turn. He then sprinted quickly, dashed to the front on passing the 200m and went on to score impressively.
Pierata
settled in fifth place on the rails from his inside barrier (1), improved between runners in the straight and kept fighting gamely for a very good second.
Trapeze Artist
showed good early pace and crossed to settle outside the leader (Condor) at a solid tempo (first 1000m 59.00). He briefly got to the front at the 300m and then did well in holding on to take third after his early efforts.
Ace High
settled in sixth place, one off the rails, made a wide move from the 600m to challenge at the 300m. He then kept battling on very well to finish (2.3 lengths) fourth in a good performance at his third start since winning the Victoria Derby (Gr 1, 2500m) in November.
Siege Of Quebec
settled in fourth place, made a wide move approaching the home turn and battled on well for (2.5 lengths) fifth.
R7 RANDWICK

10 March 2018

Mostyn Copper Grp R'wick Gneas 3 , 1600m
Race Synopsis: Kementari is now unbeaten in all three starts this preparation and he capped his very promising young career by taking out this Group One race at his ninth start. He was settled nicely back in seventh place (one off the rails) behind a strong pace (first 1000m 59.00) before improving rounding the home turn. He then sprinted quickly, dashed to the front on passing the 200m and went on to score impressively. Pierata settled in fifth place on the rails from his inside barrier (1), improved between runners in the straight and kept fighting gamely for a very good second. Trapeze Artist showed good early pace and crossed to settle outside the leader (Condor) at a solid tempo (first 1000m 59.00). He briefly got to the front at the 300m and then did well in holding on to take third after his early efforts. Ace High settled in sixth place, one off the rails, made a wide move from the 600m to challenge at the 300m. He then kept battling on very well to finish (2.3 lengths) fourth in a good performance at his third start since winning the Victoria Derby (Gr 1, 2500m) in November. Siege Of Quebec settled in fourth place, made a wide move approaching the home turn and battled on well for (2.5 lengths) fifth.


FP

Horse
Age & Sex
Trainer
Jockey
WT
SP
3. KEMENTARI (AUS)
4yo H
JAMES CUMMINGS
GLYN SCHOFIELD
56.5
$2.38
LONHRO (AUS) - YAVANNA (AUS)

Godolphin

5. PIERATA (AUS)
4yo H
GREGORY HICKMAN
COREY BROWN
56.5
$5.50
PIERRO (AUS) - NOVEMBER FLIGHT (AUS)

G Hickman, R Wilson, W Clegg, G Clegg, C Clegg, A Gianesi, A Merritt, K Ayton, B Turton, T Bonello, J Zammit, M Aurisch, M Mathews, C Testa, V Sikais, A Carney, Miss T Powers & Steelies Racing Synd (Mgr: L Caff)

Jan 16, 2016 Gold Coast Yearling Sale, Scone NSW, $160000, G Hickman, NSW

2. TRAPEZE ARTIST (AUS)
4yo H
GERALD RYAN
TIM CLARK
56.5
$10.00
SNITZEL (AUS) - TREPPES (AUS)

Vieira Racing (Mgr: B Vieira), B Vieira, Mrs S G Vieira, T Vieira, Mrs C Vieira-Choy & J A Choy

4th
1. ACE HIGH (AUS)
4yo H
DAVID PAYNE
TYE ANGLAND
56.5
$21.00
5th
11. SIEGE OF QUEBEC (AUS)
4yo H
G WATERHOUSE & A BOTT
CHRISTIAN REITH
56.5
$41.00
6th
12. KAONIC (NZ)
4yo H
CHRIS WALLER
BRENTON AVDULLA
56.5
$21.00
7th
10. D'ARGENTO (AUS)
4yo H
CHRIS WALLER
ANDREW ADKINS
56.5
$6.00
8th
13. CONDOR (AUS)
4yo H
PAUL PERRY
JOSH PARR
56.5
$151.00
9th
9. CAPITAL GAIN (AUS)
4yo Gelding
PAUL BUTTERWORTH
A HYERONIMUS
56.5
$201.00
10th
6. SULLY (NZ)
4yo Gelding
TRENT BUSUTTIN & NATALIE YOUNG
BLAKE SHINN
56.5
$61.00
11th
4. AGE OF FIRE (AUS)
4yo H
S AUTRIDGE & J RICHARDS
JASON COLLETT
56.5
$51.00
12th
14. TANGMERE (NZ)
4yo H
CHRIS WALLER
KERRIN MCEVOY
56.5
$101.00
13th
7. PEACEFUL STATE (AUS)
4yo H
DARREN WEIR
BRAD RAWILLER
56.5
$9.00
14th
8. TANGLED (AUS)
4yo H
CHRIS WALLER
JAY FORD
56.5
$101.00