2018 New Zealand Stakes Group 1 March 10 - Ellerslie
Saint Emilion wins 2018 New Zealand Stakes Group 1 NZ$200,000 at Ellerslie (NZ), 2000m.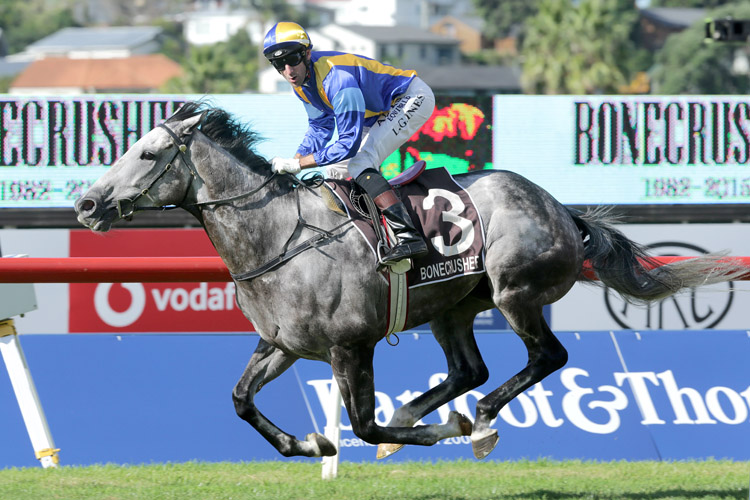 As he loves to do, Saint Emilion
set his own terms from the outset, breaking quickly to lead with a circuit to run. With a leisurely pace, he lobbed along in front by a length down the back and past the 800m. Rider Leith Innes applied some pressure at the 600m to draw another half length clear stretching to two lengths starting the home straight.
With 250m remaining Innes asked the question and the 6YO responded, maintained his two length advantage to the 50m and that was enough, he had them beaten and eased over the line by a length for win 13 and earnings of $387,045.
Darscape Princess
was sixth (one out) at the 1200m, was shuffled back at the 600m then pulled wide into the straight to be only runner to make ground on the winner, finishing well for a good second but never likely to to catch him.
Authentic Paddy
had the perfect trail (fence) to the straight, was ridden hard from the 350m and the old warrior fought doggedly to hold third from Savvy Dreams
who looked to have no chance at the 400m but kept on solidly late to grab fourth.
| | |
| --- | --- |
| R8 ELLERSLIE | 10 March 2018 |
| New Zealand Stakes , 2000m | PLAY REPLAY |
Race Synopsis: This was another poor G1 at WFA this season and confirmed yet again the ranks at this level in New Zealand are at an all time low. Runners that could not compete or even pay a dividend at this level and scale can now win or fancy their chances as no stable fears the supposed pinnacle of the sport under an internationally accepted scale. The race was notable for some glaringly different factors starting with the colossal flop of the odds on Lizzie L'Amour but also the winner Saint Emilion that up until today had never looked a G1 galloper and especially at this scale and trip. Saint Emilion prior to today had at 2000m run seven times for one win (at G3 under WFA) here in 2016 and recorded no placings. Prior to today he had raced four times at G1 for no wins or placings. Today that changed as the 6yo led up and ran along at a controlled rate and did not even have to sprint home a very fast last 600m to win this by three-quarters of a length in 2:02.47. The 6yo gelding has not improved on his prior record, so it is obvious the depth is not there anymore and rest have got worst or it is the same usual suspects running around each season. Saint Emilion has the right racing pattern for track bias towards on speed runners and that is near an uncontrolled disease in New Zealand racing at the moment the way tracks are being prepared and the false rail moved around willy-nilly. Today was also his first win second up in seven outings so he created a surfeit of firsts in this one race and many are very significant and telling. The G1 at WFA winners this season have been all different and many older well-tried horses that are considered handicappers, so everything is having a turn and this is the nail that hammers home the mediocrity of all of them as a bunch. Saint Emilion today was winning his thirteenth race in thirty-six starts and the on speed handicapper is now a G1 winner at WFA over 2000m in New Zealand. He has now had fifteen starts at G1, G2, G3 and Listed level for a G1 win, a G3 win and a Listed second, so has been tried in everything and often. His limitations have been well exposed and while not a Sydney big time player he may be a Queensland Winter carnival type but whether that is G1 seems far-fetched unless he can find a track where left alone in the lead that is helping on pacers. That seems most unlikely in Australia. Darscape Princess showed this was a poor field as the 4yo mare having her first race clockwise and at G1 under WFA and over 2000m stormed home for second. She was rising on her prior start to today from a Benchmark 85 win over 1550m in an 11K race to a 200K G1 at WFA over 2000m, so the climb in grade terms was five or more classes and umpteen lengths. The 4yo was sixth the outer then got shoved wide by the hotpot Lizzie L'Amour desperate to get off the inside and she lost ground and position in that incident. In just her twelfth start today she surged from centre track the run home to really unleash the final 200m and reach second at the 100m. It was a sublime effort and her upside exposed the tragic lack of depth WFA racing has in New Zealand at the moment as anything fancies it chances and that is not what a pedestal level was designed for in the sport. Darscape Princess beat the track and race bias at her first look in the supposed big time today under this scale and trip and direction and created more ticks than you would find in an unwormed animal. Authentic Paddy had been thrashed in his last three runs with some gutbusters and before that led up and stole a G1 at WFA here so a return to the scene of the crime proved lucrative with a distant third. He trailed the winning leader and one-batted on for third beaten over three lengths and the 8yo further highlights how bad the WFA depth is at the moment in New Zealand with no saviours in sight. Savvy Dreams ran on well for fourth but she needs a stronger run race and a track that does not punish her racing style. Start Wondering showed he is a sprinter-miler only after sitting fourth the outer in a great spot throughout but could not quicken the run home and finished fifth beaten over five lengths. Nicoletta is not a 2000m horse at this level against the boys too and is more a miler so may drop back to that trip in a G1 for her own sex on April 7 at Te Aroha. Lizzie L'Amour at $1.80 was a colossal flop and the mare never let go the run home despite being aggressively angled from fifth off the inside across the top. The rider and trainers and connections blamed the too firm footing for the epic flop, of which this mare has form of doing so more than once prior, but that is a convenient excuse. Three starts ago on this same track when the footing was as firm as today she ran a close second in a G2 carrying 58kg over 1400m and the winning time was 1:22.66, so the excuse looks dubious. Same track and same track Rating of a Good3 so it is hard to seriously use the footing as a reason. The mare won this race last year albeit on Dead ground in 2:03.64. The winner of today it should be noted was her stablemate. Ronchi was away poorly as usual but settled down seventh the inner and never fired a shot so maybe 2000m is beyond his range as four runs at this trip up to 2100m have returned a fourth only. Beefeater was outclassed and is a left-handed handicapper at the moment. Brighton reared at the start and was last on settling and never looked a hope. This was nowhere near of a G1 standard and the WFA form this season has been as low as ever seen. When old or older handicappers are winning four of these and almost five in a season then the depth is not there as shown by the names scoring such as Close Up (8yo and almost won twice), Wait A Sec (7yo), Authentic Paddy (8yo) and now Saint Emilion (6yo). Devise won a G1 mile at WFA last month then ran a very distant last at Flemington in the G1 Australian Cup (2000m) and was already struggling when squeezed up early the run home. The form is not stacking up at home let alone in Australia so bettors will be getting turned off and very distrusting so the turnover suffers in what is a circular firing squad of trying to increase wagering. The stayers and sprinters and WFA depth in New Zealand at the moment is non-existent and at an a all time low so the it is up to the female gallopers and the usually reliable 3yo form at 2000m or more as being the last hope for this season in Australia. Something is wrong and the calendar unhelpful and/or the breed now is all early burners chasing inflated stakes for specific Sales sold runners only. Breeding speedy squibs is not a future-proofing plan and to make matters worse the New Zealand sprinter has no credibility at all outside our borders and has not for decades so this approach is absurd. Stayers were a cast iron guarantee in New Zealand that may have needed time but they were durable and good things come to those that wait, so they were a trusted commodity. Why this proven formula has been shunned and binned defies belief and the turnover on the local betting product is becoming unexciting and a surefire loser for any models done with future numbers projections as they will be all hopelessly false and fanciful. The strengths of New Zealand racing have been forgotten for the 'want it now and want immediately' mindset and that is to the detriment of the once great sport. Not many business models survive and thrive when going against what always worked and well paid Boards may need a clean out or total rethink before the damage done is irreparable. New Zealand thoroughbreds have lost their reputation as hardy, reliable and durable breeds and the vision of G1 racing here and blacktype racing in general now is quite sad and unattractive for an overseas audience let alone the locals that have left in their wagering droves. Something has to change and fast, as fast as this now influx of speedy squibs that can run 800m flat out at best have appeared to litter the landscape. The once noble Sport Of Kings has become an X-Games of boutique obscure sporting splash and dash for the cash contests to feed the desire of an impatient and instant gratification demanding culture.


FP

Horse
Age & Sex
Trainer
Jockey
WT
SP
3. SAINT EMILION (NZ)
7yo Gelding
MURRAY BAKER
LEITH INNES
59.0
$11.00
MASTERCRAFTSMAN (IRE) - ROSEARIO (NZ)

Est Late R A Horton

9. DARSCAPE PRINCESS (NZ)
5yo Mare
FRASER AURET
DAMIAN BROWNE
57.0
$8.90
DARCI BRAHMA (NZ) - CAPE PRINCESS (NZ)

Bromley Bloodstock Ltd

2. AUTHENTIC PADDY (NZ)
9yo Gelding
MS L LATTA
TRUDY THORNTON
59.0
$26.20
HOWBADDOUWANTIT (USA) - AUTHENTIC CROSS (NZ)

Mrs J E Berry, C, P J & T Gray & M Tepaa

4th
11. SAVVY DREAMS (NZ)
5yo Mare
GUY LOWRY & GRANT CULLEN
SAMANTHA COLLETT
57.0
$12.40
5th
1. START WONDERING (NZ)
8yo Gelding
J J & E RAYNER
JOHNATHON PARKES
59.0
$9.30
6th
10. NICOLETTA (NZ)
5yo Mare
MURRAY BAKER
OPIE BOSSON
57.0
$13.40
7th
8. LIZZIE L'AMOUR (NZ)
6yo Mare
MURRAY BAKER
MATTHEW CAMERON
57.0
$1.80
8th
4. RONCHI (NZ)
6yo Gelding
BRUCE WALLACE & ALLAN PEARD
SAM SPRATT
59.0
$23.00
9th
5. BEEFEATER (NZ)
6yo Gelding
R BERGERSON
R J MYERS
59.0
$19.80
10th
6. BRIGHTON (NZ)
6yo Gelding
N W TILEY
M MCNAB
59.0
$27.00