2018 Newmarket Hcp Group 1 March 10 - Flemington
Redkirk Warrior wins 2018 Newmarket Hcp Group 1 $1,250,000 at Flemington (VIC), 1200m.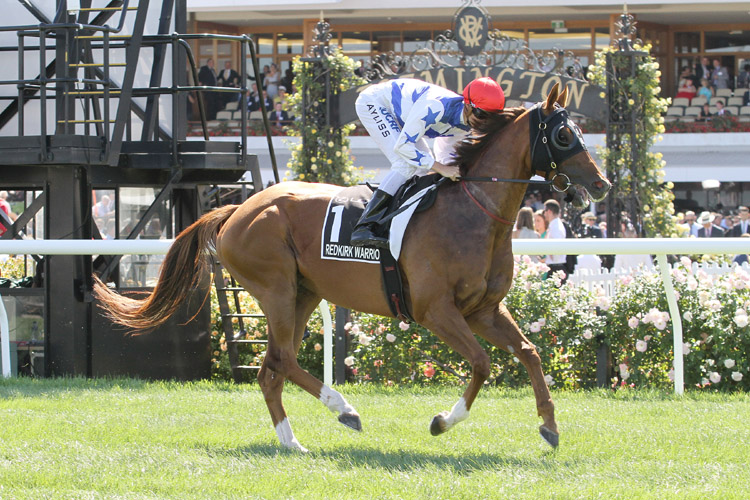 In a crowded finish with the first two home very wide apart, Redkirk Warrior
made it back-to-back Newmarket Handicaps with a tough win here, his eighth in total (17 starts) and fifth group race.
The field split into two soon after the start and rider Regan Bayliss had little option (from the outside stall) but to head to the grandstand side, taking over the lead on the outside and holding the lead over the crossing and past the 400m.
Bayliss got to work outside the 200m and among the outer group pulled clear at the 100m then ground his way to the line to last by a head.
Of the inside runners, Brave Smash
was in behind the leading group at the crossing and past the 400m, accelerated hard at the 100m and flew at the line but had to settle for a close second.
Merchant Navy
, with the inside group, mounted a strong run at the 200m but was not able to withstand Brave Smash's burst, to be a neck away for a sound third.
Rock Magic
led the inside group at the 150m then held on pretty well for fourth.
R6 FLEMINGTON

10 March 2018

Newmarket Hcp , 1200m
Race Synopsis: In a crowded finish with the first two home very wide apart, Redkirk Warrior made it back-to-back Newmarket Handicaps with a tough win here, his eighth in total (17 starts) and fifth group race. The field split into two soon after the start and rider Regan Bayliss had little option (from the outside stall) but to head to the grandstand side, taking over the lead on the outside and holding the lead over the crossing and past the 400m. Bayliss got to work outside the 200m and among the outer group pulled clear at the 100m then ground his way to the line to last by a head. Of the inside runners, Brave Smash was in behind the leading group at the crossing and past the 400m, accelerated hard at the 100m and flew at the line but had to settle for a close second. Merchant Navy, with the inside group, mounted a strong run at the 200m but was not able to withstand Brave Smash's burst, to be a neck away for a sound third. Rock Magic led the inside group at the 150m then held on pretty well for fourth.


FP

Horse
Age & Sex
Trainer
Jockey
WT
SP
1. REDKIRK WARRIOR (GB)
7yo Gelding
D & B HAYES & T DABERNIG
REGAN BAYLISS
57.5
$7.00
NOTNOWCATO (GB) - FLAG (GB)

M B Lee & Miss Y C J Tam

2. BRAVE SMASH (JPN)
5yo H
DARREN WEIR
CRAIG WILLIAMS
56.5
$9.00
TOSEN PHANTOM (JPN) - TOSEN SMASH (JPN)

Aquis Farm, Australian B'stock, Mt Hallowell Stud, Power T'breds, G Kairouz, Carty Racing, Walker Racing, A Brogan, D Butcher, Platinum Breeding & Racing, Dr P Goel, D Canny, T Porter, T Ginnane, M Johnston, D O'Connor, B Shannon, Mrs K Davis, Mrs K Cicciarelli, Brave Smash & A Bates

11. MERCHANT NAVY (AUS)
4yo H
AARON PURCELL
CHAD SCHOFIELD
52.0
$6.50
FASTNET ROCK (AUS) - LEGALLY BAY (AUS)

MERCHANT NAVY SYND/SMITH/MAGNIER/TABOR

4th
5. ROCK MAGIC (AUS)
9yo Gelding
CHRIS GANGEMI
DAMIAN LANE
53.0
$13.00
5th
6. SUPIDO (AUS)
7yo H
MICHAEL KENT
BEAU MERTENS
52.5
$15.00
6th
4. RICH CHARM (AUS)
6yo Gelding
UDYTA CLARKE
PATRICK MOLONEY
52.5
$8.00
7th
12. MISSROCK (AUS)
5yo Mare
ROBBIE LAING
CRAIG NEWITT
52.0
$21.00
7th
14. BOOKER (AUS)
4yo Mare
MATHEW ELLERTON & SIMON ZAHRA
BEN THOMPSON
50.0
$7.00
9th
9. KEN'S DREAM (AUS)
5yo Gelding
DARREN WEIR
DEAN YENDALL
52.0
$21.00
10th
10. LUCKY LIBERTY (AUS)
7yo Gelding
HENRY DWYER
CHRIS PARNHAM
52.0
$61.00
11th
15. CATCHY (AUS)
4yo Mare
D & B HAYES & T DABERNIG
COREY PARISH
50.0
$13.00
12th
7. THRONUM (AUS)
5yo H
D & B HAYES & T DABERNIG
MICHAEL DEE
52.5
$12.00
13th
13. SO SI BON (AUS)
5yo Gelding
D & B HAYES & T DABERNIG
MICHAEL WALKER
52.5
$26.00
14th
3. LORD OF THE SKY (AUS)
8yo H
ROBBIE LAING
KATHY O'HARA
52.5
$81.00
15th
8. FASTNET TEMPEST (IRE)
5yo Gelding
D & B HAYES & T DABERNIG
BEN ALLEN
52.0
$41.00
Most Read