2018 Sir Tristram Fillies Classic Group 2 February 10 - Te Rapa
Dijon Bleu wins 2018 Sir Tristram Fillies Classic Group 2 NZ$100,000 at Te Rapa (NZ), 2000m.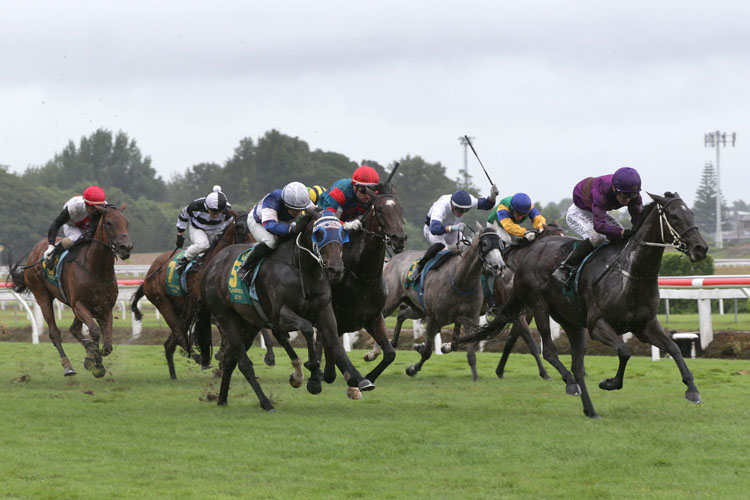 Leg seven of the NZB Filly of the Year series was a replay of Leg Six with Dijon Bleu
outclassing her opposition and squashing any doubts about getting the 2000m.
She settled third last with a lap to run and was still well back down the back straight. At the 700m the field compacted but rider Jonathan Riddell remained patient despite turning in third last.
Out in the centre of the track at the 300m a gap opened and Riddell drove her through, quickly gathered in the leaders and put the race away inside the 200m with Parkes just shaking the reins for win six from 11 starts.
An impressive run from the maiden Mark Two
who was last and widest at the 400m and ran on strongly for second from Milseain
who almost got to the lead at the 300m and kept on well to the line, the first three being clear of the rest. Rondinella
lunged into fourth late from midfield.
| | |
| --- | --- |
| R4 TE RAPA | 10 February 2018 |
| Sir Tristram Fillies Classic 3F , 2000m | PLAY REPLAY |
Race Synopsis: The track at Te Rapa looked and raced biased after a deluge of rain and with the rail out 3m the inside collapsed after one race and that was with many small fields on the day too. The dreadful wet footing and incredibly exhaustive and energy sapping nature of this heavily sand-slitted track (as a human try and run on wet sand and fatigue sets in a lot quicker) makes margins of defeat for some colossal. This was never more so on display in the latter two G1 at WFA races on the card but also to some extent in this G2 3yo filly 2000m event. Dijon Bleu is a deadest swimmer and has had a wonder run of wet ground all season so far and to get this wet sandy morass in Summer is mindboggling. She got back today but that was not a negative at all as long as making good progress near the home turn and scouting wider then all would be sweet. Dijon Bleu was trucking across the top eighth or ninth but had some rivals ahead going nowhere so was held up in effect by slower ones. Once angled around them she surged in the wet loving the damp swampy conditions early in the run home and led at the 250m. She was well clear at the 100m but in the end won by only three-quarters of a length so whether she is a stayer still remains in some doubt but on wet ground there is no concerns. On a dry track she would be very vulnerable at the Oaks trip of 2400m but on rain-affected ground her class shows through as she is beating many of the same rivals again and again. Her turn of foot in wet ground is her biggest weapon as that margin she can gain on key rivals makes all the difference at the finish. Today was her sixth win in eleven starts and five of those have come at G2 once, G3 twice and Listed twice and her wet track record is six starts for five wins and a fresh up this season third at 1100m. In her last six runs she has won four times and been runner up the other two and notably the seconds came on good footing including a distant G1 runner up. The missing piece this season is a G1 success so Weather With You by Crowded House looks the thoroughbred tune on loop as the Autumn arrives. Mark Two ran home strongly from the rear for second and was hauling back the winner every stride and she is an Oaks contender for sure even if after today just a three-start maiden. Milseain did her Oaks prospects no harm after sitting seventh and wide and coming up deeper before the home turn. She was the second widest runner turning in and keep coming like a stayer showing fight and resilience Rondinella was fourth and although beaten four and a half lengths she at least showed her last start shocker after cardiac arrhythmia was now a thing of the past. She in fact hit a flat spot and looked to be paddling halfway up the run home then got her second wind to find the line well. Marcellina, a maiden filly, sat third and then attacked at the 600m and turned for home second then was fourth at the 200m and fifth at the 100m but kept trying hard. Kapoor sat second and attacked at the 600m too and actually led turning for home before being headed at the 250m and she was fourth until the last little bit. Glendalough, a maiden filly, settled last and ran on closest in for a more meritorious seventh beaten five lengths than it can ever read or seem. She would be odds on back to all maidens. Fiscal Fantasy was the unsung effort of the race by far with an eighth beaten just over five lengths after being trapped fourth and three-wide for the first 1400m then having the audacity to attack four-wide for the lead at the 600m. She was third turning for home and fifth at the 200m then sixth at the 100m but fought bravely and the effort can only be labelled huge. Trail Blazer plugged on and Belle Du Nord either never copped the footing or does not stay or a combination of both. She had prior run second at G1 and so this effort just makes the 3yo form more murkier and unreliable than ever. Maybe give her another chance as fresh up this season she beat home Dijon Bleu. Bet She Is led up and compounded so was outclassed and for the second start in a row did not stay. Dijon Bleu is the only 3yo in all of New Zealand to be consistent all season so far and while that is due to striking an unreal run of wet ground it has to be credit given where credit is due. She has been up since August and is not exactly built like a tank but on wet footing her slight stature sees her skip through bogs and Jet Ski on rain-affected conditions. They are only three years olds once so if you have fit horse that can swim and has a class edge over all her rivals in the wet then make hay while the sun does not shine and it rains or over-watering of tracks continues unabated so close to Group and Listed racing days. Mark Two is likely the best maiden in the country. Marcellina is not too far behind nor is Glendalough. Fiscal Fantasy was a remarkably brave effort and maybe her effort shows this was not that strong a field as many maidens ran super too. Wet track racing is never ever a guide you can rely on to line up top of the ground ability and pecking order of an age group or sex and only matters for comparative wet track racing and results. This season has been absurdly affected by wet tracks galore and over-watered tracks (manmade bias) for some alarming reason on Group racedays especially, so the question mark and doubt of actual relative form worth remains.


FP

Horse
Age & Sex
Trainer
Jockey
WT
SP
2. DIJON BLEU (NZ)
4yo Mare
MS L LATTA
JONATHAN RIDDELL
56.5
$2.40
BURGUNDY (NZ) - PRISTINO (AUS)

K T J Dixon, P Finlayson, Miss L M Latta, Ms D A Masters, M G Passey, A J Rennie & T D Tomlins

5. MARK TWO (NZ)
4yo Mare
STEPHEN MARSH
ALYSHA COLLETT
56.5
$21.60
PINS (AUS) - ZEPHYR SONG (NZ)

A J A Bosma, A N G Collins, Dr P H Mitchell, Ms C Lorre, Mrs J J Paterson, I G Paterson, R Satherley, P Vinaccia, Mrs H M Cunningham, D Rayner, Mrs A Rayner, J M Rayner, P G Gillespie, T Pankhurst, C Krammer, Mrs J Harris & G Harris

8. MILSEAIN (NZ)
4yo Mare
MURRAY BAKER
OPIE BOSSON
56.5
$8.10
TAVISTOCK (NZ) - BAGALOLLIES (AUS)

Sona Thoroughbreds (Mgr: K Pitstock), R Pitstock & Mrs S Pitstock

4th
10. RONDINELLA (NZ)
4yo Mare
R JAMES
VIN COLGAN
56.5
$13.70
5th
4. MARCELLINA (NZ)
4yo Mare
MURRAY BAKER
MATTHEW CAMERON
56.5
$9.10
6th
3. KAPOOR (NZ)
4yo Mare
JOHN BELL
JAKE BAYLISS
56.5
$4.70
7th
12. GLENDALOUGH (NZ)
4yo Mare
PETER & DAWN WILLIAMS
MARK DU PLESSIS
56.5
$58.20
8th
7. FISCAL FANTASY (AUS)
4yo Mare
FRANK RITCHIE
TRUDY THORNTON
56.5
$38.00
9th
6. TRAIL BLAZER (NZ)
4yo Mare
ROBERT PRISCOTT
MICHAEL COLEMAN
56.5
$13.40
10th
1. BELLE DU NORD (NZ)
4yo Mare
EMMA-LEE & DAVID BROWNE
JOHNATHON PARKES
56.5
$10.90
11th
11. BET SHE IS (NZ)
4yo Mare
STEPHEN MCKEE
SAMANTHA COLLETT
56.5
$74.70