2019 Barfoot&Thompson Auckland Cup Group 1 March 09 - Ellerslie
Glory Days wins 2019 Barfoot&Thompson Auckland Cup Group 1 NZ$500,000 at Ellerslie, 3200m.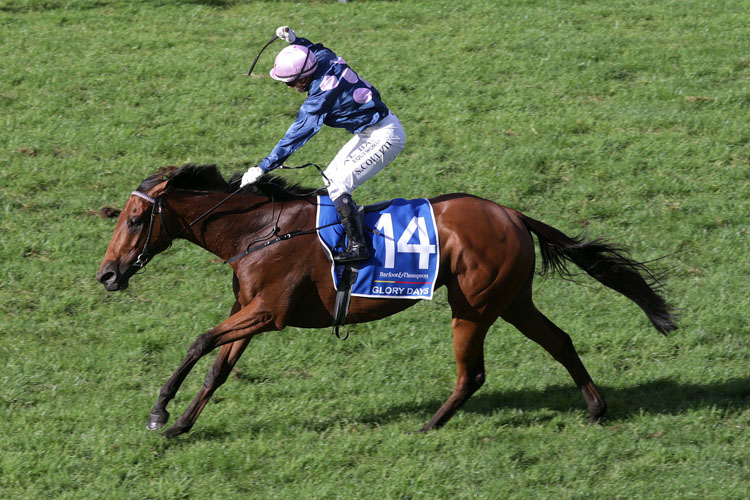 Glory Days
proved that her big win in the Avondale Cup (Gr 2, 2400m) here three weeks ago was no fluke with another top staying effort, taking out her tenth win and six of her last eight starts.

She was last away and equal last at the judge with a circuit to run. Second last at the 1200m the field compacted and rider Samantha Collett had the mare widest then made a sharp move from the 600m to be within a length of the lead at the top of the straight.

Widest at the 400m she soon took over and had them in trouble, cleared out by three lengths at the 150m and that lead proved too much for the placegetters. Another honest run from Five To Midnight
who was also second here last year.

He was back of midfield at the 800m, second last at the 600m but cut the corner into the straight and was handy enough. He looked beaten at the 250m but rallied hard to fight back and grab second just short of the post.

Blue Breeze
sat a handy fourth at the 600m, co-led at the top of the straight, looked to hold second but was outgunned late. Dee And Gee
led mostly, carted them to the 500m, was caught then battled away for fourth.

| | |
| --- | --- |
| R9 ELLERSLIE | 9 March 2019 |
| Barfoot&Thompson Auckland Cup 3U , 3200m | PLAY REPLAY |
Race Synopsis: This G1 3200m under set weights and penalties saw a 6yo mare Glory Days, which ran second favourite, win easily carrying just half a kilo above the minimum. This race is unlikely to retain its G1 status for much longer as it has not been anywhere near that level for many years now and should have been downgraded a long time ago to G2 or even put it on a par with the G3 NZ Cup and G3 Wellington Cup. The race has become ho-hum and keeps drawing worse and worse line ups and this year did not even get a capacity field, plus some runners got beaten fifty and sixty plus lengths. Where are all the stayers? The track at Ellerslie was dreadful and a sodden Heavy10 plus the draining never really worked as it got worse and worse throughout the day and some of the beaten margins in G1 races were absolutely astounding. The race winners and where they turned for home in race order were third (four-off and a length and a half from the leader), sixth (four-off and two and a half lengths from the leader), ninth (twelve-wide and five lengths from the leader), third (ten-wide and a length from the leader), seventh (seven-off and three lengths from the leader), fifth (twelve-off and a length and a half from the leader), led (ten-wide and a head in front), led (fifteen-wide and a neck in front), second (twenty-wide and a neck from the leader) and fourth (sixteen-wide and a length from then leader). Glory Days can stay and swim and sits out the back then sustains a long run and keeps going on dry or wet footing but what is she actually beating? Today she had 53.5kg and came in as nine-win 6yo mare that had won at G2 prior and Listed level in December but the likes of Verry Flash in the field today, a 4yo male winner of four races had 55kg. In his last seven runs he has not filled a placing even but has to give Glory Days 1.5kg and that is just silly to anyone that sees it. The highest race he has won is a Benchmark85 in August last year and Glory Days had won up to G2 prior to today plus she has won six times this season (today was her seventh success), so how she gets 1.5kg from him is just plain ludicrous. Glory Days sat back as usual and then swept around wide across the top and came up the deepest and a close second turning for home then swam clear to win by two lengths in 3:32, a very poor time indeed. It was her tenth win from twenty-four starts and the 6yo mare has matured with a bang this season and in six runs from 1800m to 3200m has won five of them and missed once when ridden tactically appallingly trying to go through closer in amongst traffic when she is best let roll around wide in clear air. To say her form has been a revelation is an understatement but the lack of stamina depth in New Zealand at the moment is eye opening. When she won at G2 in the race prior to today she beat narrowly Blue Breeze and Five To Midnight was a distant third. The same two runners provided the trifecta again with Five To Midnight dropping 3kg and getting two and a half lengths closer to Glory Days and Blue Breeze absurdly rose 3kg today and lost two lengths to Glory Days. Blue Breeze for a second to Glory Days rose 3kg yet she only rose 1kg and that is ridiculous as Blue Breeze has only won three races lifetime. Five To Midnight settled back and ran home stoutly as usual and was second beaten a nose last year when overweight, which cost it the race clearly. Today from twelfth on settling he came through closer in than most for fourth before reaching third and then nabbing second on the post. Blue Breeze settled back early but improved sixth wide a lap out and kept coming forward deep thereafter and was third turning for home. Dee And Gee at $33 finished fourth after taking the lead over a lap out and this South Islander had been a distant tenth in the G3 NZ Cup and second in the G3 Wellington Cup and is very hit and miss. Vengeur Masque ran fifth beaten almost ten lengths after racing handy wide and never liked the footing one iota. Gundown ground home down the outer form back and wide on settling while the favourite Charles Road was an awful seventh beaten almost fifteen lengths. He was too close in during the running and after a seventh in the Melbourne Cup last November runs seventh today too in a race run 11 seconds (sixty-six lengths) slower. Verry Flash liked the wet ground but could not stay though he could be back next year praying for rain or track over-watering. Kamanda Lincoln was a plugging distant ninth and Rock On was ditto for tenth while Duplicity, which was a close second in the NZ Cup and eighth in the Wellington Cup finished eleventh beaten almost eighteen lengths. The rest got beaten twenty-two lengths and as far as sixty-three lengths and were strung out like Brown's cows. This was a very weak field and bar a handful of runners there was no depth whatsoever and the majority of the line up were stamina suspect on breeding let alone raceday performance. Prince Jabeel won a G2 2400m here at Ellerslie on New Years Day and was locally given a 20 points rating rise, which on the face of it seems outrageous. Fifth and seventh that day were Five To Midnight and Blue Breeze, the second and third finishers today. Prince Jabeel today finished fourteenth beaten almost thirty-three lengths and the runner up too him that New Years Day was Peso, that today finished twelfth beaten twenty-two lengths. The form cannot and should not be trusted. Glory Days has a lightweight in the Sydney Cup on April 19 and why not target that rich race as while the depth will be stronger for sure she is an in form mare and it is best to keep racing them. She will need to go a heck of a lot quicker than the 3:32 of today but the winners of this race are not intimidating at all as you have to go back to 2004 to find a big name in Makybe Diva. Only three mares have won the Sydney Cup this century in Jessicabeel (started favourite) with 52kg in 2010, Makybe Diva (started second favourite) with 55.5kg in 2004 and Honor Babe (started favourite) with 53kg in 2003.


FP

Horse
Age & Sex
Trainer
Jockey
WT
SP
14. GLORY DAYS (NZ)
6yo Mare
B THURLOW
SAMANTHA COLLETT
53.5
$5.20
RED GIANT (USA) - BILANCIA (NZ)

G D Thurlow, Mrs P A Thurlow, B J McAree & Mrs S McAree

3. HOME BY MIDNIGHT (NZ)
6yo Gelding
MS L LATTA
JOHNATHON PARKES
56.0
$5.70
DOMESDAY (AUS) - FASTNET LADY (AUS)

K & Mrs M Pratt

7. BLUE BREEZE (NZ)
5yo Gelding
A J MORLEY
C DELL
55.0
$17.00
BULLBARS (AUS) - PEONY ROSE (NZ)

A J Gavigan, C D Anderson, S Imrie, W Bevins, T Cooley, R Cann, Aston Racing & P A B Mills

4th
15. DEE AND GEE (NZ)
5yo Mare
TRACEY CHARLES
SAM SPRATT
53.5
$33.30
5th
2. VENGEUR MASQUE (IRE)
7yo Gelding
MICHAEL MORONEY & PAM GERARD
OPIE BOSSON
57.0
$7.40
6th
8. GUNDOWN (AUS)
4yo Gelding
MURRAY BAKER
MATTHEW CAMERON
55.0
$9.20
7th
1. SIR CHARLES ROAD (AUS)
5yo Gelding
LANCE O'SULLIVAN & ANDREW SCOTT
CRAIG GRYLLS
57.0
$4.00
8th
11. VERRY FLASH (NZ)
4yo Gelding
NICHOLAS BISHARA
R L SMYTH
55.0
$31.00
9th
10. KAMANDA LINCOLN (NZ)
5yo Gelding
MS L LATTA
CAMERON LAMMAS
55.0
$52.20
10th
5. ROCK ON (NZ)
6yo Gelding
G VILE
ROBERT HANNAM
56.0
$41.60
11th
9. DUPLICITY (NZ)
6yo Gelding
ASHLEY MEADOWS
RYAN ELLIOT
55.0
$59.70
12th
6. PESO (NZ)
7yo Gelding
P NELSON
R J MYERS
55.5
$16.50
13th
13. DELEGATE (NZ)
6yo Gelding
Shaun & Emma Clotworthy
M MCNAB
55.5
$121.90
14th
4. PRINCE JABEEL (AUS)
5yo Gelding
L NOBLE
LEITH INNES
56.0
$21.00
15th
16. AUGUST EDITION (NZ)
6yo Mare
Shaun & Emma Clotworthy
DARREN DANIS
53.0
$105.40
16th
12. THE REBEL KNIGHT (NZ)
6yo Gelding
M, M F & M L ROGERS
TRUDY THORNTON
55.0
$88.00